This Former Judge Has Condemned The Government For Leaving People In Court With No Lawyer
Exclusive: Sir James Munby, former president of the family court, said there is "a very real concern" about the state of justice.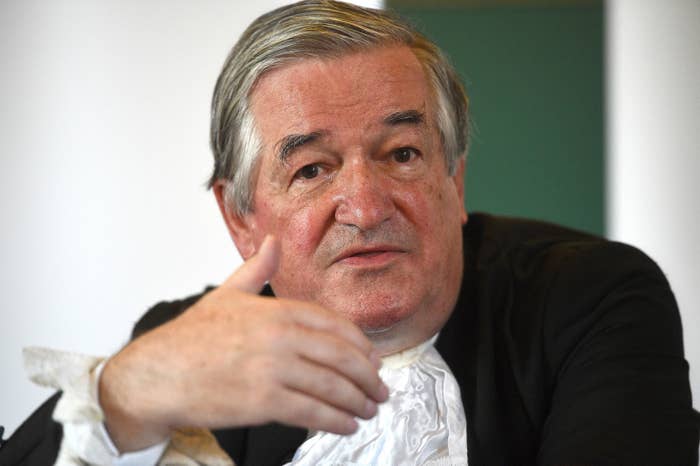 The former head of the family court, Sir James Munby, says the family courts have "suffered a double whammy" of government reforms, creating "a very real concern" about the state of justice.

He detailed the "decidedly negative" impact of legal aid reforms in a speech at the annual conference of the National Association of Child Contact Centres on Saturday. Munby, who retired as president in July, also said that the government's attempt to push couples to mediation instead of the courts had also been "a disastrous failure".
BuzzFeed News has obtained a copy of the excoriating speech, which details how people have been left to flounder in court without a lawyer since the Legal Aid, Sentencing and Punishment of Offenders Act (LASPO) was passed by the coalition government in 2012.
He described "the baleful and, one fears, all too predictable, and indeed actually predicted, effects of LASPO," saying its effect "has been to make the family court an increasingly lawyer-free zone, with ever-increasing numbers of litigants having to appear unrepresented and without legal advice."
BuzzFeed News has been exposing the impact of legal aid cuts in a series on access to justice. The government has said it will publish a review of the legislation by the end of this year.
He said the government's policy of promoting mediation — where separated couples are helped to resolve disputes amicably outside court — had been a "disastrous failure".
The government made it compulsory to go for an initial assessment for mediation, hoping it would encourage more people to take it up, but instead the numbers opting for it plummeted following legal aid cuts as lawyers had previously encouraged some couples towards it. The combination of complicated procedures relating to mediation and cuts to legal aid had, Munby said, a "double whammy" impact on justice.
Describing the many different rules related to the mediation assessment requirement, he said: "How is a litigant in person supposed to be able to understand and navigate all this? And, most worrying of all, the number of mediations continues to fall dramatically, with no real sign of any likely improvement.
"It is little wonder that, anecdotally and on the basis of the day-to-day realities, there is very real concern, to put the point no more starkly, on the part of most family justice professionals."
Munby, who was the most senior family judge in England and Wales before he retired in July, said it was "absolutely clear that there is still much — too much, far too much — wrong with the system." He added: "Occasionally, a searchlight is suddenly focused on particular cases, thus, and far too often for comfortable complacency, revealing in painful detail and with profoundly distressing clarity just what is going on."
The first example he gave was a judgment in a case heard earlier this year where a woman had no lawyer while trying to protect her 10-year-old daughter from an abusive and controlling ex-husband who she accused of raping her. The second was BuzzFeed News' recent reporting on parents fighting for access to their children without lawyers, which he said showed the "utter disempowerment" of those attempting to navigate the system.
He said: "Events such as those described in these two documents are an affront to justice and trouble the conscience of anyone with a proper concern for what the family justice system is and what it ought to be."

Munby detailed some positive developments in the speech, including updated child arrangements, a trial of an online method of organising child arrangements, and guidance on domestic abuse, but largely focused on those that had been "decidedly negative".

He said that official statistics did not "necessarily disclose the full reality" of what was happening in court because of the way they were gathered. Some figures suggest that cases without lawyers actually take less time, despite judges and lawyers arguing the reverse.
Munby said: "No doubt, this kind of analysis is comforting and convenient for the powers that be, but what is actually going on? May it not reflect what is so painfully obvious to those with real experience and understanding of what is going on, that so many cases involving unrepresented people 'go short', because of lack of understanding, because, unsurprisingly, they find the process completely alien and utterly daunting, and because, all too often (and however much a sympathetic and empathetic judge tries to help them), they simply 'dry up' and sit down?"
Now that fewer people have lawyers in family court, Munby argued that the process needed to become less adversarial and more cases needed to be solved before they got there. He proposed a triage system for cases, to decide whether they should be in court at all, whether there should be a fact-finding hearing, and whether the case is likely to be straightforward or complicated.
A Ministry of Justice spokesperson said: "Ensuring everyone can resolve legal problems is vital to a just society and we have sought the views of the judiciary as part of our wide-ranging review of LASPO.

"We have also invested £6.5 million since 2015 to make sure that unrepresented parties in family court cases have the practical support and information they need, along with guidance on how to obtain free or more affordable legal advice.

"Legal aid remains available for mediation and family cases with exceptional circumstances."