Immigration Judges Say "Too Many People Are Banged Up" In Detention
A Bar Council report shown exclusively to BuzzFeed News reveals many detainees do not get the legal advice they're entitled to, and are held for months for no crime.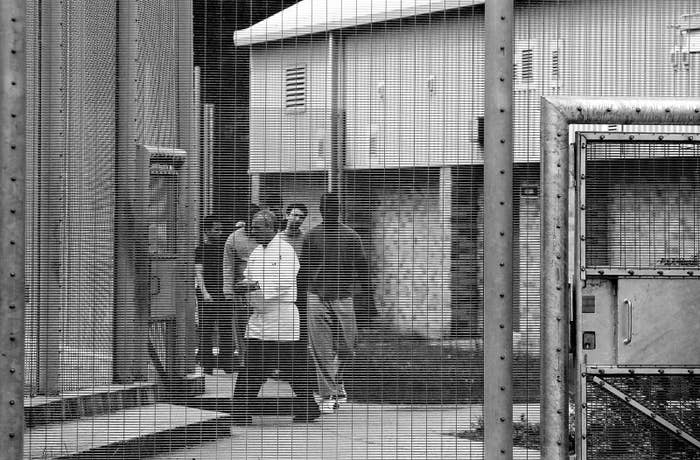 Judges, barristers, and immigration experts say Britain's routine and lengthy detention of immigrants is resulting in "numerous injustices", according to damning new research seen by BuzzFeed News.
Three judges speaking on condition of anonymity revealed their concerns about the barriers to justice for people held in immigration detention for a Bar Council study shared with BuzzFeed News ahead of publication on Thursday.
One judge said: "Too many people are banged up. The [book of immigration rules] bangs on about presumption of liberty ... and connection to removal, but look what happens."
Another judge said the Home Office gives misleading information to immigration tribunals and that poor training and supervision of its officials was wasting court time and money.
Britain holds around 30,000 people in immigration detention every year, with one of the highest rates in Europe.
Funding for free legal advice has been cut in almost all immigration cases, as part of the Legal Aid, Sentencing and Punishment of Offenders Act (LASPO) in 2012. Since BuzzFeed News has been reporting on the devastating impact of these cuts, the Ministry of Justice has begun a review into the impact of the legislation.
One judge told the Bar Council study that since LASPO, "We see far more litigants in person. It is shocking when you consider that this is about liberty, a key human right."
Although it is possible to get legal aid to make bail applications from immigration detention, it is not available for most other aspects of immigration law and in practice many people never see a lawyer.
In over 1 in 5 of the more than 1,500 hearings monitored by SOAS's Dr Anna Lindley for the Bar Council, the applicant did not have a lawyer. There was significant regional variation too – in Stoke and Birmingham, there was no lawyer listed in around a third of bail hearings.
Chair of the bar Andrew Langdon QC said: "Many people are surprised to learn that individuals can be locked up indefinitely in prison conditions, not for committing a criminal offence but for administrative convenience whilst their immigration status is decided or arrangements are made for their removal.
"Presently, a decision to detain an immigrant can result in their detention for sixth months, a year, or even longer. Because these decisions are 'administrative' decisions delegated by the Home Office they do not require judicial oversight." He said detainees had no opportunity to challenge the often "highly questionable" initial decision to detain them.
Langdon said the quality of the Home Office's decision-making is "unacceptably poor" with "officials acting with little accountability, unable or unwilling to pursue obvious and viable alternatives to detention".
He added: "The quality of decision-making by immigration officers is exacerbated by the difficulties faced by detainees in obtaining legal advice and representation."
As yet unpublished figures from the charity Bail for Immigration Detainees seen by BuzzFeed News also show the scale of the problem. In a survey of more than 100 people currently in detention this autumn, 56% did not currently have a lawyer and almost a third had never had a lawyer while in detention. Fewer than a quarter of the detainees interviewed by BID had a solicitor funded by legal aid.
Celia Clarke, BID director, said the "disproportionate" use of detention to effect immigration control was inflicting "lasting damage on those unlucky enough to be caught up in it". She added: "Parents are routinely separated from their children by detention without the Home Office making any enquiries as to the effect of this separation on those children. Individuals with severe mental and physical ill-health are detained even when those conditions are known to the Home Office.
"Not only is its impact so severe, but it does not even serve its stated purpose – more than half of those detained are released back into the community. The Home Office is supposed to only consider detention as a last resort but in our experience it is used as a matter of routine."
The Bar Council says that since funding for legal help has been taken away in most immigration cases at the same time as immigration law has become increasingly complex, it is harder than ever to get justice in a case.
A duty solicitor can be seen for an allotted 30 minutes in detention, but this often is not enough time to pick up the merits of a case, which can only be taken on with legal aid if it is assessed that it has at least a 50% chance of success.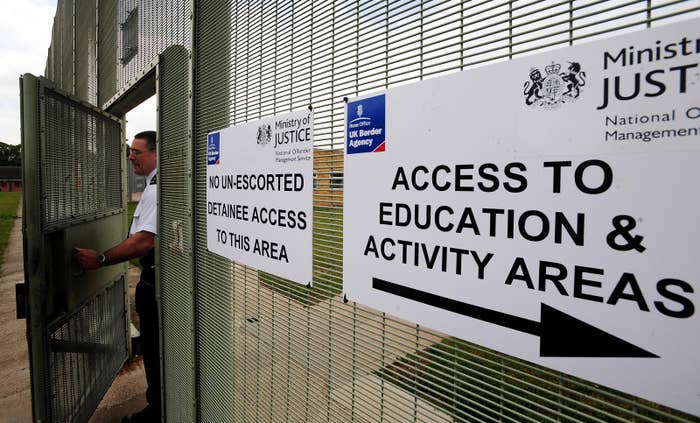 One detainee told the study: "In detention I never had a lawyer, never had access to any lawyer. Any lawyer that I tried they all said that my case is weak and they cannot take me. So they were dropping me."
BID says the charity's success rate in the cases it takes on shows how many legitimate cases are being missed in these initial half-hour appointments. "In terms of the cases that we deal with, we should be picking up the dregs and the cases not eligible for legal aid, but our success rate in bail hearings is 65%," a spokesperson said.
Three quarters of those in detention wait more than one week to see a lawyer and 39% wait more than two weeks. Given the imminent threat of being deported, these long waits are a barrier to justice, the Bar Council says.
Leonie Hirst, a public law and human rights barrister, said: "It's extraordinarily difficult to get legal help in detention. The duty rota scheme is designed not to help challenge detention but to give immigration advice. But because of cuts to legal aid, lots of areas on which you might need advice on you can't get legal aid, such as deportation."
Commenting on the bigger picture of the Home Office's treatment of immigrants, she said: "Immigration detention is part of what's still being called the hostile environment. The stated aim of this government is to make the UK an unpleasant and unwelcoming place to be if you're not British."
Bail hearings are often via video link to minimise costs, which makes it harder to present a case, particularly given the difficulty of sound quality and the fact that many of those making their case without a lawyer do not have English as a first language.
Britain is the only country in the EU without a time limit on immigration detention, and the Bar Council study says the Home Office increasingly uses it for "administrative convenience" rather than as a temporary place to hold people ahead of removal. Most European countries have signed up to a cutoff of six months, while others have a significantly lower limit. In Iceland, for example, nobody can be held for immigration purposes for more than 84 days.
At the end of June 2017, 56% of people living in detention centres had been held for more than 28 days, which the Bar Council said shows how "liberally" the Home Office is interpreting its own rules. Two hundred and seventy-one people were held for more than six months, and 80 for more than one year. A significant minority are held for several years.
Immigration barrister and blogger Colin Yeo told BuzzFeed News: "The main problem is a lack of a time limit on detention which means people end up being detained for administrative convenience rather than genuinely as a means to removal. It feels at times like people are almost being coerced into leaving and persuaded through detention."
Speaking about the impact of LASPO, Yeo said: "The problem is there's no legal aid to help with immigration problems. In theory you can get legal aid to help with bail but that's not much use to you because the real problem is your immigration status and there's no legal aid for that. Even if you've got a good case it's almost impossible to put that together yourself from being in detention."
Immigration detention cost the government £125 million in the year to April 2016, at a cost of around £34,000 per detainee per year. There are nine dedicated centres around the UK, many run by private profit-making security contractors using detainee labour at wages as low as £1 per hour to augment their competitive edge.
Although many of the people detained for the longest indefinite stretches have a criminal record, they are held because there are legal or logistical barriers to deportation. Currently, some people spend longer in immigration detention than they served in their prison sentence.
The Ministry of Justice and the Home Office did not respond to BuzzFeed News' request for comment ahead of publication.
UPDATE
A government spokesperson said in a statement: "Detention and removal are essential parts of effective immigration controls, especially in support for the removal of those with no lawful basis to stay in the UK.
"It is vital these are carried out with dignity and respect and we take the welfare of our detainees very seriously. We operate on the basis of a presumption against detention, and the adults at risk policy aims to improve our approach to identifying individuals who may be particularly vulnerable to harm in detention."