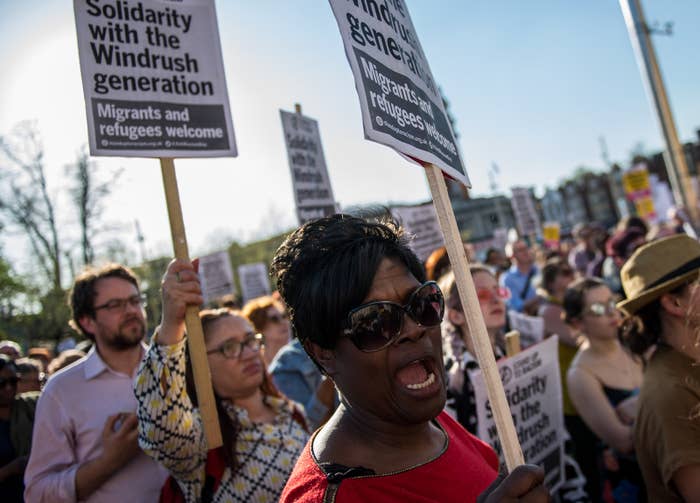 The Home Office pulled all funding for a charity helping people the UK has deported to Jamaica — just days before it announced funding for Windrush victims, BuzzFeed News can reveal.
For the last seven years, the National Organisation of Deported Migrants (NODM) in Jamaica has received funding from the Home Office via the British High Commission. They provide transport, accommodation, and other help to people just arriving in the country.
The charity estimates that the British government has given them between £160,000 and £180,000 over the last seven years. But on April 1, just three days before the Windrush compensation scheme went live, NODM says it stopped all funding.
Oswald Dawkins, president of NODM, told BuzzFeed News: "We had to let go every single member of staff. I'm doing voluntary work now."
The charity's work includes meeting returnees at the airport, transporting them to a place to stay, and navigating the bureaucracy of getting documentation so they can start work. They also arrange care packages and follow-up meetings with vulnerable people struggling to find their feet and have forums bringing together people adjusting to life in a country that many have never known as an adult.
The Home Office offered no explanation for the funding decision. Dawkins said: "We don't know what's taken place that end or the real reasons. I'm just concerned that the services that we could provide are not going to be resumed. It's a bit alarming to me that people are going to arrive — and people will be arriving — [and not get the same help]. I'm worried about the gaps that will be left."
The funding has fallen gradually over the last three years, which Dawkins says means all paid staffers have had to go. Three staff members had their contracts end at the end of March this year and seven staff were let go six months ago.
Shadow home secretary Diane Abbott said: "This is a terrible extension of the government's hostile environment policies. Removing funding from vital agencies which are there to help vulnerable people and potential Windrush victims. The government has failed to understand the full extent of the Windrush scandal that they caused. This decision only deepens this scandal."
Those being sent back to Jamaica include people in long-term relationships with British citizens who do not meet the stringent earning requirements for a spousal visa and people with family ties to Britain. Many are pushed out of the country after serving a prison sentence, despite often living in the UK since they were young children or having to leave behind British children of their own.
Minnie Rahman, public affairs manager at the Joint Council for the Welfare of Immigrants (JCWI), said: "It is outrageous that just days before it announced a flawed compensation scheme for the Windrush generation the government also pulled funding from an organisation helping people deported overseas.
"The Home Office's ongoing practice of deporting people who've grown up in Britain to countries they've never known is shockingly cruel. Without fundamental reform of the Home Office and the scrapping of policies like the Hostile Environment, we can expect many more scandals like the Windrush scandal to come to the surface."
Last year, while the Windrush scandal was still unfolding, many deportations were halted. Despite this, 62 people were still forcibly removed and a further 115 returned voluntarily following pressure from the UK. In the preceding four years Britain was sending back an average of just under 250 people a year, with a further 200 returning voluntarily after exhausting all immigration options.
There are signs the numbers being deported are picking up again, as political pressure to stop removals recedes. In February a mass deportation flight carrying 29 people from the UK landed in Kingston, though around 50 were originally expected on it.
BuzzFeed News understands the Home Office is still supporting some local NGOs that help returnees, including a meet-and-greet facility, transportation and access to temporary accommodation shelters if required. However, the Home Office would not give any detail on the scale of this financial support or whether it matched the work they were doing with NODM.
Dawkins said he was only aware of one other organisation the British government worked with that provided accommodation for people who were homeless, but said he did not know where the other support would come from. "I don't know what they are referring to in terms of organisations that assist with transportation, redocumentation, follow-up visits, and follow-up phone calls."
Dawkins was particularly concerned about whether the UK was now supporting services helping British returnees find birth certificates and other essential documents for building a life in Jamaica. "One of the main things is redocumentation. Let's say a person will come down and reach home, redocumentation is one of the main areas where people run into problems.
"One guy came down on the charter recently and they couldn't locate his birth certificate. He's been here since February, and it's only recently we were able to locate that number. You have to have the birth certificate to have a tax registration number. That's the number you have to have if you want to get a job or open a bank account."
Asked if the British government had learnt the lessons of the Windrush scandal, he said: "It seems not. There were 50 people scheduled for return on that charter flight and they ended up moving 29. If they had learnt lessons those 21 people would not have been on the flight in the beginning."
BuzzFeed News recently revealed that a vulnerable British man had gone missing after his Jamaican wife of 17 years was told she could not live with him in Britain.

A Home Office spokesperson said: "The Home Office continues to work with non-governmental organisations that provide support on arrival for returnees. The level of support varies and is based on the needs of the returnee.
"We are committed to ensuring safe and dignified returns and reintegration is a key part of that."