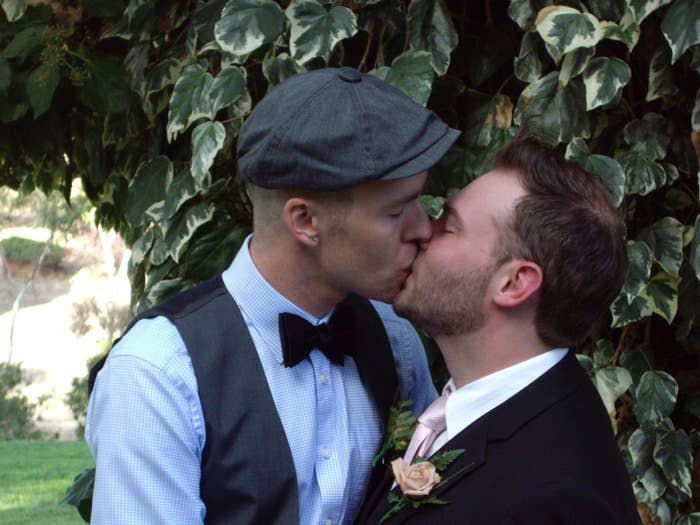 The Home Office told a gay couple it did not believe they were in a long-term relationship because their utility bills were in one name.
Adam Armstrong, 34, from Adelaide, Australia, applied for a visa to join his British boyfriend, Duke Westwood, 36, in Swansea. The couple have been in a relationship for 11 years and lived together in Adelaide before deciding to relocate to the UK.
The couple submitted a dossier of evidence with their application, including a joint tenancy agreement, bank statements from their joint accounts, holiday records, call logs, and paperwork showing joint car ownership.
They also provided witness statements from people across their local community, including two justices of the peace and a family doctor, lawyer, nurse, and pharmacist, all testifying to their relationship of more than a decade.
But the Home Office rejected Armstrong's application for a settlement visa as the partner of a British citizen on the grounds that it was "not satisfied" that their relationship was "akin to marriage" because a water and energy bill they provided had only Westwood's name on them.
In its rejection letter, the Home Office appeared to ignore the rest of the couple's evidence, saying: "You have stated that you and your sponsor have been in a relationship akin to marriage since 2007. However I am not satisfied that the documents provided support this claim. The utility bills provided are predominantly from 2017 which are addressed solely to your sponsor."
The letter added: "While I note that you have provided some documents addressed to both of you, like a bank statement dating back to 2016 these do not confirm that you have been living together for a 2 year period akin to marriage."
The couple meet the financial requirements for a visa. Westwood works for HSBC as a commercial banking associate and Armstrong helps run a café in Adelaide, and they have shared savings.
Westwood told BuzzFeed News he was shocked at their treatment. "It seems that they've clutched at straws and thought, 'What can we use as an excuse to refuse this application?' We've got all the records showing us at the same address."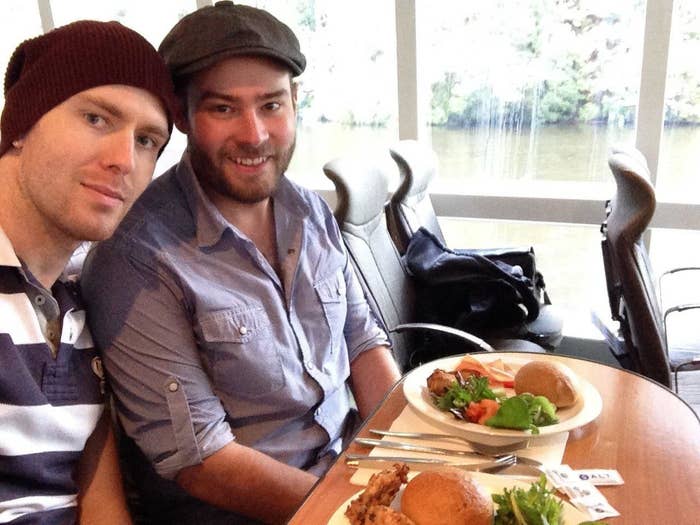 The couple met on Australian MySpace in June 2007 and started dating the following month in Adelaide. In February this year, Westwood returned to Britain to start work and apply for a visa for Armstrong to join him.
In an email to BuzzFeed News, Armstrong said: "It's destroying our lives. He is my soulmate and we've been together for over 11 years now. It's been eight months and I can't handle another year for an appeal; I feel it will finish me. We are suffering financially, mentally, and physically over this."
He said they were exasperated that such a common arrangement as having a bill in one name had scuppered their application.
"Honestly, how many people when they find their soulmate ring up the utility companies saying, 'Hello, Mr Water Company, I've got great news. I'm in a relationship!'" he said.
"I never realised it was an absolute must for all couples 'akin to marriage' to make sure utility bills are in joint names. Us gays must have missed that memo when it comes to finding your loving partner and the vows — 'Do you take this man to love and to hold, and to have only JOINT utility bills 'til death do you part?'"
Shadow home secretary Diane Abbott told BuzzFeed News: "It is astonishing that the Home Office would deny a visa on this basis causing such despair. A right to a family life is a human right and should apply to all."

The couple got engaged in Adelaide in July 2017 on the 10th anniversary of the day they first met. They went out for dinner and when they got home, Westwood proposed by carrying their cat, Milo, with an engagement ring balanced on his belly.
Armstrong, who was keen to join his partner as soon as possible, tried to come to Britain earlier this year after reading online about a premium service to make a visa application in-country. Thinking he'd be able to relocate, he flew to London in April, even bringing Milo the cat. But when he arrived at Heathrow and explained the reason for his one-way flight, he discovered he was ineligible because he needed to have a longer visitor's visa to qualify.
Armstrong asked if he could buy a return flight and at least visit for a month and see his partner, but the Home Office declined.
Westwood said the incident, which was not a factor in their refusal, left them devastated. He had driven to Heathrow to meet Armstrong from the flight. "I was in pieces," he said. "I had to drive back to Swansea in tears the whole way."
Milo the cat, meanwhile, was able to stay in Britain. Westwood said: "The cat was on the same flight as Adam, so I got the cat but not the boy. The cat seems to have more rights than Adam; he's got an EU pet passport now."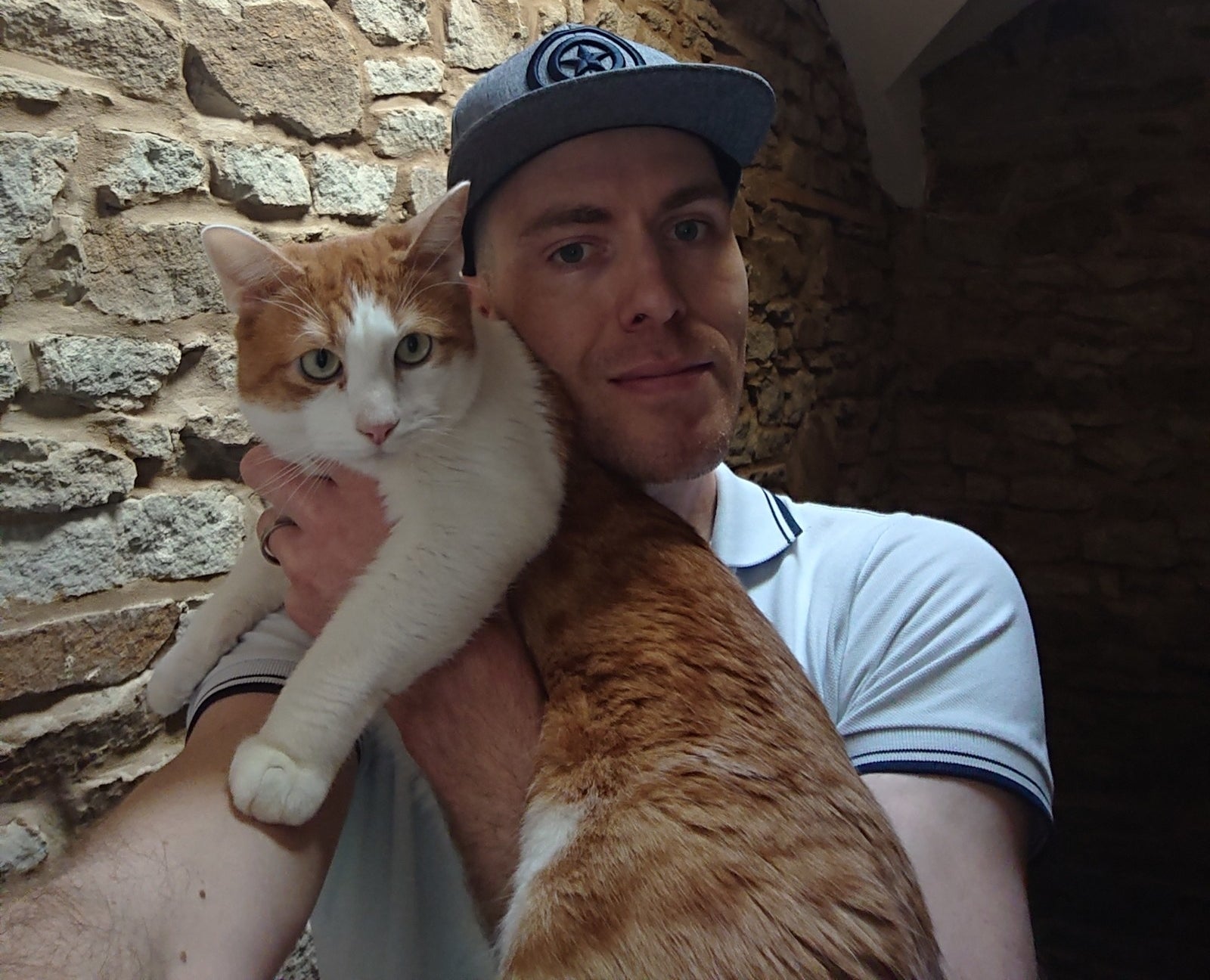 The Home Office did not provide a comment, but four hours after BuzzFeed News contacted the press office, the couple received an email from the department saying the case would be reviewed. It is yet another example of the two-tier process uncovered by BuzzFeed News in August, which means cases that generate negative publicity get a rapid response service.

Westwood said: "Even if they turn around tomorrow and say 'ok, you can have your visa', the system of treating people like that and looking for excuses is horrible. The system needs changing."
UPDATE
Just 23 minutes after BuzzFeed News published this story, the Home Office emailed Armstrong and Westwood again to say it had changed its mind. "The decision to refuse your visa application has been overturned and our office will now proceed to the next stage of your application," the message said, before asking for an immigration health surcharge payment.