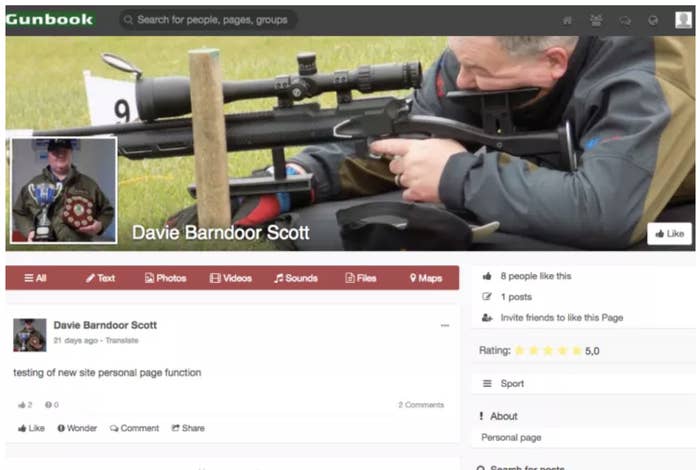 A social network for firearms enthusiasts called Gunbook has been forced to change its name and branding after Facebook threatened legal action.
The site was set up in March by David Scott, a shooting instructor from near Dunblane in Scotland, after his friends got banned from Facebook for posting pictures and adverts about guns.
The following month Facebook sent a series of emails to Scott threatening legal action, just weeks after BuzzFeed News brought its existence to their attention.
The global media giant told Scott they had the rights to both "face-" and "-book" in the context of a social network.
Gunbook, which anti-gun campaigners described as "tasteless", has now been completely rebranded, and the address has been changed to Shooters.network. Scott says it has around 4,000 members.
In an email which makes a series of demands to avoid legal proceedings, Beverly Hills lawyers for Facebook said: "You have chosen names incorporating a –BOOK suffix for use in connection with websites and services providing online social networking services identical to those offered by Facebook, which overlap directly with Facebook's registered rights in the FACEBOOK Marks, and which use Facebook's "Like" Logo and the overall Facebook look-and-feel. For the reasons detailed above, Facebook is concerned that consumers are likely to conclude that your services are offered, endorsed by, or associated with Facebook, when that is not the case.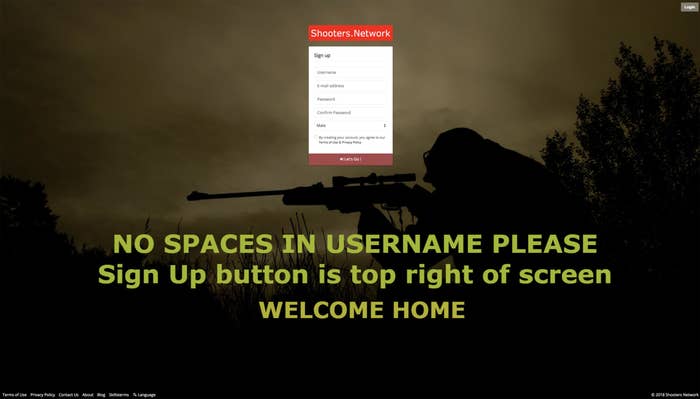 "In addition to the real risk of confusion, it is also clear that use of the "Gunbook" names will bring to mind the well-known FACEBOOK Marks. This use is without due cause and takes unfair advantage of the reputation of the FACEBOOK Marks."
Since the initial email, Scott has made substantial changes to the look of the site and has changed its name, but the emails from Facebook's lawyers have kept coming. The site's latest demands include that the gunbook.co.uk address redirects to Facebook, rather than Scott's new site; that he remove all references to its previous incarnation as Gunbook; and that he hand over the name of the software he used to build the site.
"We have changed all the branding and apps and domain names to www.shooters.network but they still are not happy," Scott said.
"I made a pile of changes. It's absolutely over the top. They're going absolutely nuts. The last email I got from Facebook said 'don't allow anyone to use the word Gunbook on your pages'.
Scott said the fight with Facebook had increased demand for Gunbook-branded T-shirts. But in a post on Shooters Network shortly after speaking to BuzzFeed News, Scott wrote: "Due to some issues with a biggish social network we will not be selling GUNBOOK t-shirts. We also have three people willing to advertise but who are waiting until our issues with Facebooks lawyers being resolved.
"We have done everything we can to comply with their requests including changing the site name/fonts/colours and more. We will not under any circumstances be handing over our domain names as they have asked."
Facebook successfully sued an American social media site for teachers called Teachbook in 2010, arguing that it owned "-book" for the purpose of online networking.
Facebook would not comment on a legal discussion but insisted its emails had not been threatening and that the changes had been agreed amicably.
The subject of the first email was "Infringement of Facebook's Intellectual Property and Brand Guideline Violations – "Airgunbook" and "Gunbook" Platforms" and listed a series of demands. It concluded: "To be clear, we are not objecting to your service itself. We are only objecting to the names and branding you have chosen to use in connection with that service. We hope to resolve this matter amicably and without the need for legal proceedings. To that end, we would appreciate prompt confirmation of your intent to comply with Facebook's requests by April 16, 2018."
Since an article about Gunbook appeared on BuzzFeed News, Gunbook's British web host, Krystal, told Scott it would only host a site relating to air guns, forcing him to find a new web host in Texas.
Scott said: "We had to start a new website in Dallas which cost us a fortune. We had to find a gun-friendly web host because Facebook and [BuzzFeed News] got hold of our original web host and they said they're happy to host air gun but not any other firearms part."
As with Gunbook, many users on Shooters Network appear posing menacingly with firearms and advertising guns for sale.
Speaking to BuzzFeed after the launch of the original site, Scott said: "Quite a lot want to talk about guns and shooting and target shooting and their families can see and often people comment. Gunbook is the place where people can talk about guns without their families seeing because a lot of people have got anti-shooting and anti-hunting friends on these sites."
Rosemary Hunter, one of the people behind the Snowdrop Petition, which helped ban handguns in the wake of the Dunblane massacre, said at the time Gunbook was set up that the site was "entirely tasteless".
She added: "It's surprising that a local person has set it up. It wouldn't surprise me to see that over in America but it's a bit strange to think it's someone here that's done that."
A spokesperson for the UK Gun Control Network said they hoped that Gunbook – now Shooters Network – would be closely monitored by police. "They're all in one place and will be looked at. That's the only comfort really that we can take."