Grenfell Tower Campaigners Are So Angry With The Police They Are Creating Their Own Database Of Victims
The Met police have said 79 people are missing and presumed dead, but Justice 4 Grenfell campaigners have rejected the figure and say they're now doing their own investigation.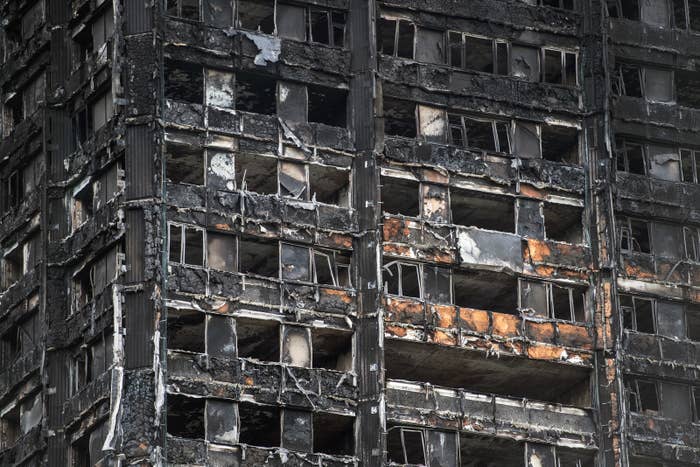 Campaigners for victims of the Grenfell Tower fire have begun work on their own investigation of those presumed dead as frustration at the lack of official figures turns to anger.
Almost two weeks on from the west London disaster, many in the community are furious that the Metropolitan police has refused to give even a ballpark estimate for the number still unaccounted for.
The Met says previously said at least 79 people are dead or missing but Grenfell campaigners believe the number is much higher. The Met themselves also acknowledge this figure is likely to grow.
The Justice 4 Grenfell group, set up in the wake of the disaster, has set up its own database to confirm the numbers likely to have died that night.
Ishmahil Blagrove, one of the group's coordinators, told BuzzFeed News: "We're trying to mobilise the members of the families with people missing. We can't expect the authorities to do it for us."
"Just so we can get a more accurate figure we are collecting our own information, which might give us a more accurate figure," he added. "We're building a database."
Speaking about the likelihood that the number killed in the disaster is higher than the police figures, Blagrove said: "It was Ramadan, there were people together. That figure of 79 we're not content with."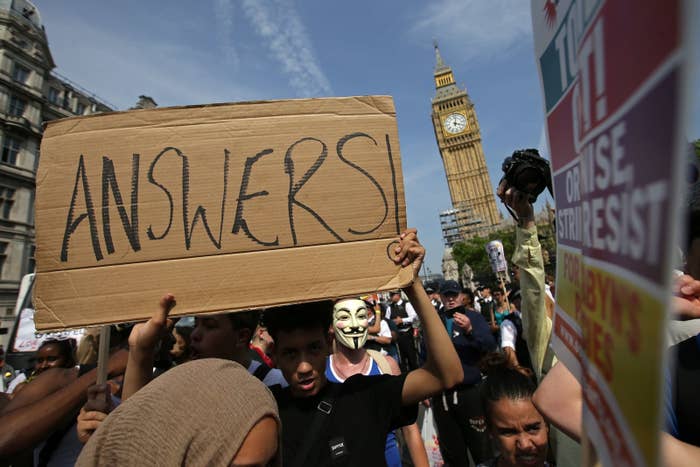 The Met has said all along that it fears the figure will be higher but will not make an estimate until they have gathered enough evidence to confirm more individuals are dead or missing.
Blagrove said its refusal to even publish an estimate was making people fear a cover-up. "This whole community has been left to deal with this ourselves," he said. "We know the police have been liaising directly with families but there's a lack of information.
"This tragedy is of a comparable scale to Hillsborough and the shortage of answers is also a concern."
Yvette Williams, coordinator of the Justice 4 Grenfell group, said she would be raising the issue with a Gold Command meeting on Tuesday afternoon.
She said: "I think it's got to be done. It's making the community more angry at the moment.
"I'm linking in with gold command group and I will raise that. They've got to deal with this a different way now. We can't play this game anymore."
Tottenham MP David Lammy, who knew one of the victims of the fire, has been outspoken about the need for the police to update the number of those suspected to have died in the blaze.
He tweeted on Tuesday: "There has been no update on a) the death toll b) number of survivors or c) number of people in Grenfell Tower for over a week (8 days)."
He added: "I have never said that there is a cover up. But I have listened to the survivors and the community. I hear their concerns. I have listened to them explain how 79 is an impossibly low number. How they want some closure so that they can begin to grieve."
Detective Superintendent Fiona McCormack, who is overseeing the investigation into the fire, said on Friday that she remained "really concerned" that the Met did not yet have "the full picture". She urged people to come forward if they knew someone missing since the fire adding that their immigration status would not be investigated.

A Met spokesperson said: "Based on what we know, the MPS believes there is currently about 80 people who are dead or missing presumed dead.
"At this time, the MPS is unable to say with certainty the final number of people who died in the fire at Grenfell Tower. The MPS has, and will continue to provide details, when we know them to be accurate. "We have also stated that we fear the number of people who have died may rise as we better understand if there was any one in Grenfell Tower that we have not yet been told about.
"Our search and recovery operation to find those who died is ongoing will take a considerable period of time. We continue to support the families of those who are missing and are working tirelessly to provide them with answers."