Tens of thousands of disabled children and adults are being denied NHS wheelchairs in England because of a postcode lottery in services.
A BuzzFeed News investigation has uncovered a huge variation in access to NHS-funded wheelchairs across England, driven in part by the lack of national eligibility criteria for receiving mobility equipment. Almost a quarter of people referred by GPs to wheelchair services are not given any equipment at all.
The situation means that in some parts of the country families have to turn to crowdfunding, charities, and their last savings to get the chairs they need – while in others the right chairs are provided free of charge.
Many people also face huge delays in getting urgent equipment, with 96% of areas missing their target to supply all wheelchairs within the 18 weeks guaranteed by the NHS constitution.
As well as interviewing individuals who have struggled to get the chairs they need, and the charities who help them, BuzzFeed News has analysed previously unreported NHS England data to look at the local differences in getting a wheelchair.
People are usually referred to wheelchair services when a GP thinks they need a wheelchair. But decisions on who gets one and how much that should cost vary wildly according to the policy and budget set by each local GP-led clinical commissioning group (CCG).

This map shows the percentage of patients referred to wheelchair services who received no equipment – the darker the area, the higher the proportion of patients who were not provided with equipment. Tap the map to see the data for specific areas.
Chris Applegate / BuzzFeed News
The data is not complete, and different clinical commissioning groups may have interpreted questions differently, so it's not recommended for directly comparing one CCG against another – but it does illustrate the wide range of outcomes across England.
In some parts of the UK three-quarters of those referred to wheelchair services are given no equipment at all, while elsewhere, every single person referred is given a chair or other mobility aid. In other cases, CCGs will offer a basic chair without the adaptations needed to make it useful, meaning individuals still have to pay thousands to adjust it.

The postcode lottery exposed by BuzzFeed News' analysis of NHS England data in the year to March 2017 reveals:
In 19 CCGs adults who are referred to wheelchair services by a clinician are more likely to be given no equipment than they are to receive it.

At the opposite end of the spectrum, there are 28 CCGs where all adults referred to wheelchair services are given equipment.

Children face similar problems: In 16 CCGs children are more likely to be given no equipment after getting a referral to wheelchair services than they are to receive it.

96% of CCGs have not met the target of supplying all wheelchairs within the recommended 18 weeks, with some failing to provide even half of their chairs in this time.

At least 19,929 adults and 4,815 children had to wait at least 18 weeks to get a chair in the last financial year, in breach of the NHS constitution.
This map shows the differences in how quickly equipment was provided in different CCGs – darker areas had a higher percentage of equipment that took over 18 weeks to deliver. Tap the map to see the data for specific areas.
Chris Applegate / BuzzFeed News
Paralympian and crossbench peer Tanni Grey-Thompson, who set up the Wheelchair Leadership Alliance in 2015 to get a better to deal for wheelchair users, said: "This is similar to what we found. The cost of not getting the right wheelchair is significant. It could keep a young person out of school or someone out of work. A pressure sore [from an ill-fitting wheelchair] costs tens of thousands to fix."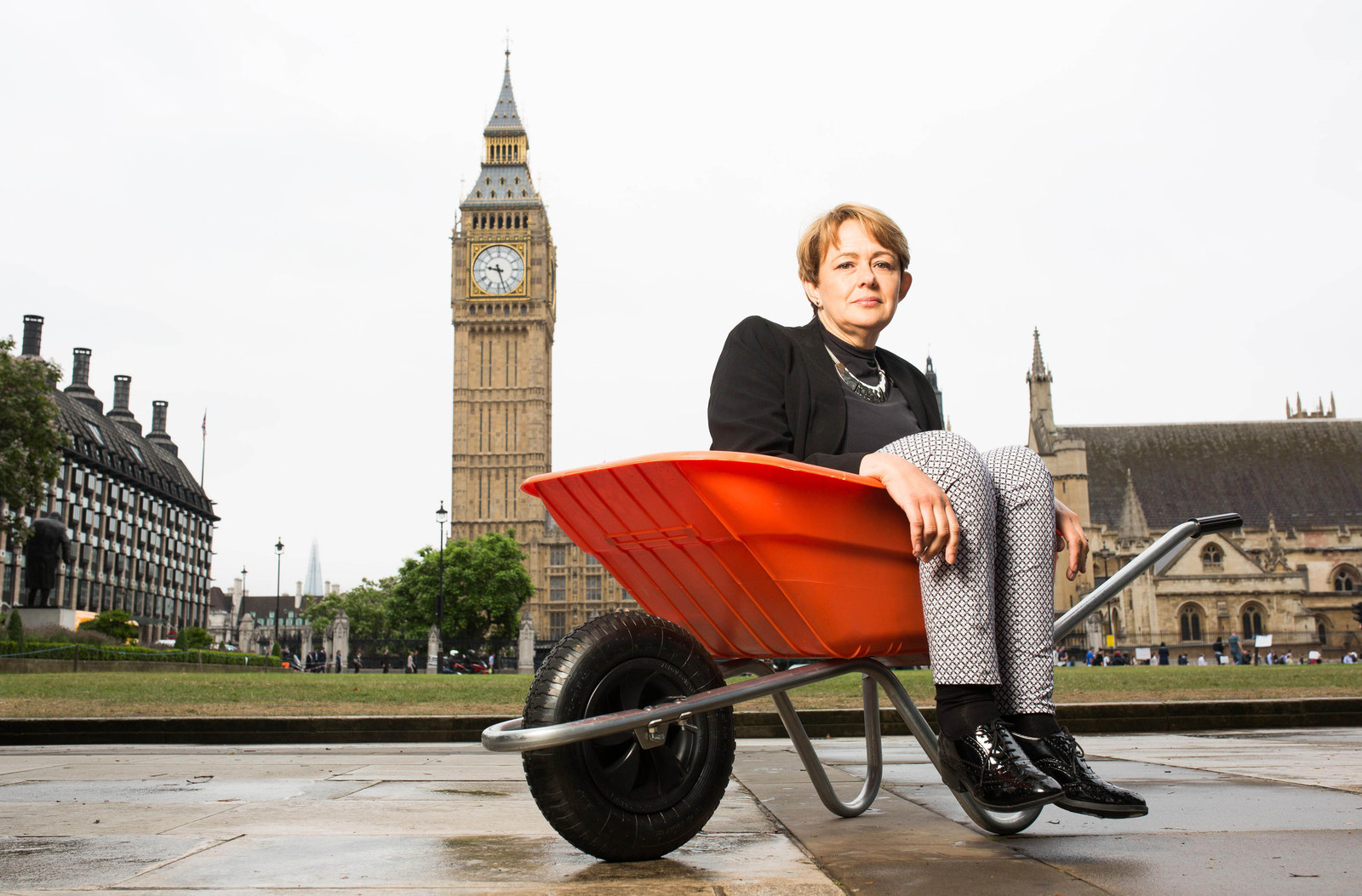 She added: "The gathering of data is a big step forward but it has to continue to be able to get the right support. Wheelchair services is the Cinderella service. There needs to be a greater understanding of what the right chair can do."
It is currently voluntary for CCGs to send detailed data on wheelchair services to NHS England, and around 95% do. The NHS began collecting the data in 2015, and there are still a handful of CCGs who have not returned data or have interpreted questions differently. For this reason NHS England cautions against using it to make direct comparisons between areas, which is why BuzzFeed News has not ranked the CCGs for performance.
Some CCGs will offer only a basic wheelchair, and if that does not meet a person's needs they are left to find a suitable chair either with their own money or by fundraising. Some CCGs offer vouchers towards a better chair up to the value of the basic wheelchair they originally offered, but many don't, or will only do this for certain brands of chair.
The situation leaves thousands of families with five-figure bills for expensive – but essential – equipment.

It took 16 different charity applications and three months of crowdfunding for Dan Southall to get the wheelchair he needed.
The 17-year-old, from Worthing, West Sussex, has duchenne muscular dystrophy and is completely reliant on an electrically powered chair to have a life.
He outgrew his current chair at the end of last year, leaving him in almost constant discomfort. But when he was referred by his GP to his local NHS wheelchair services for a replacement, he was offered only the most basic chair – one that couldn't go flat for physio or be adjusted to fit him properly – and no money towards funding the £24,000 one that would improve his life immeasurably.
Dan's mother Penny, who had to take time off work to fill out all the charity application forms, said: "The NHS said 'you can have a basic chair', and they wouldn't even give us a voucher towards the one we needed because it wasn't made by one of their partner companies. It's not fair. You look at other places like Scandinavia and you just get a decent chair. I don't think it's too much to ask, because that's your independence and freedom."
Currently there are no national eligibility criteria for wheelchair services – just guidance. This means local providers and CCGs can decide for themselves who qualifies and what kind of chair they receive.
Celia Thomas, Liberal Democrat peer and disability spokesperson for the party, called for there to be consistent provision of suitable wheelchairs for disabled people. "The difference in wheelchair provision by CCGs across the country is shocking," she said. "It means that disabled people are in a postcode lottery as to whether they can get a suitable wheelchair or not. This has been a problem for far too long and it is high time the government sorted it out.
"A national eligibility criteria is needed as a start. It is especially important for children to get the wheelchair they need, particularly as they grow and their needs change. Families shouldn't have to resort to charities or crowdfunding for such a basic right."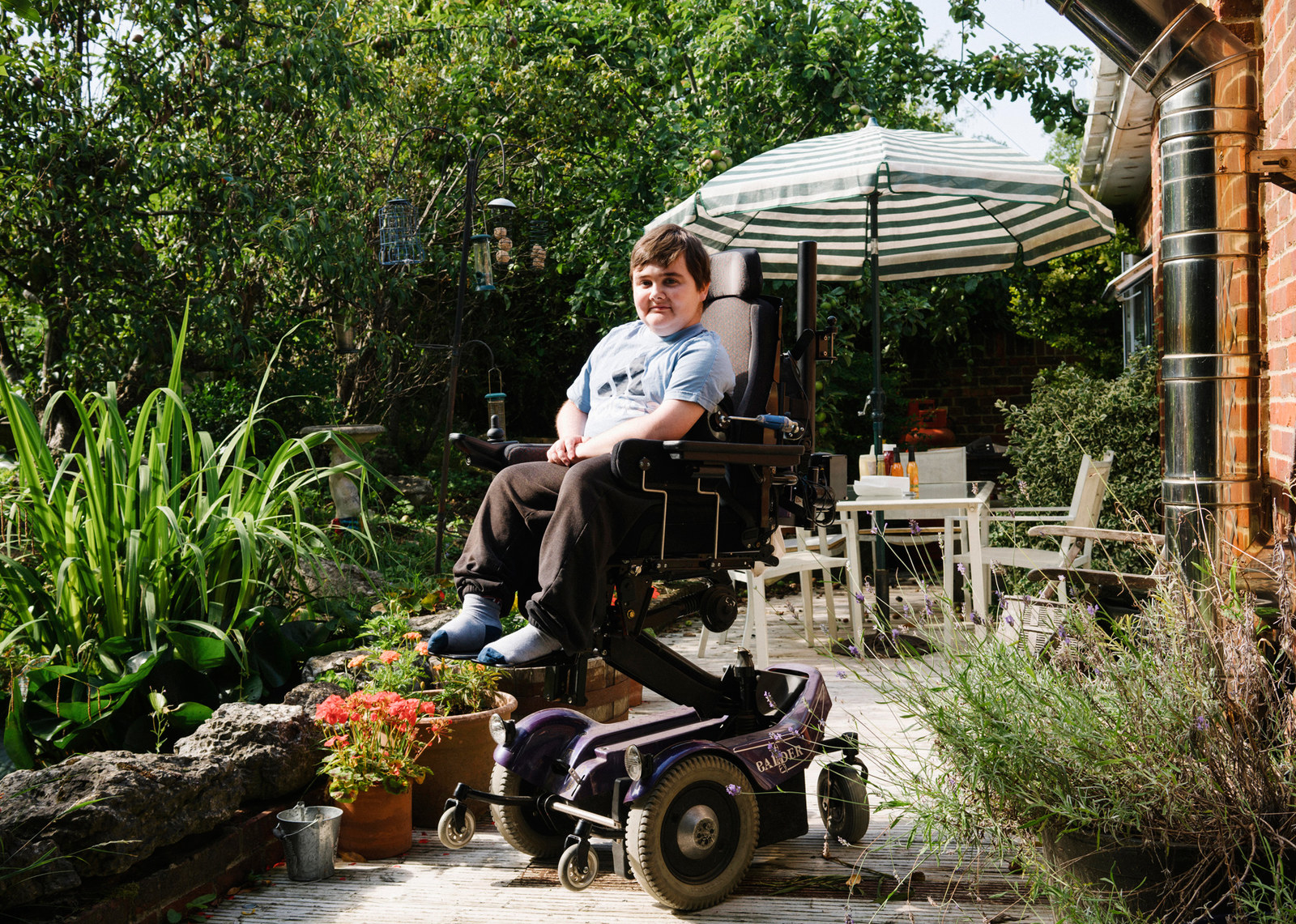 After three months of begging, eight of the 16 charities Dan's family applied to gave them money towards a chair, and they crowdfunded the remaining £2,100.
The new chair has the adjustable footrests Dan needs, will lie flat for physio, and can go faster, giving him more independence. He can't wait for it to arrive: "With my chair now, by the end of the day all you want to do is get out of the chair. The new one will be better because it will fit and the ride will be a lot more comfortable."
Dan is hoping the chair arrives in time for a Dizzee Rascal concert later this year, but he wishes it had not taken so much work to get it: "I think the NHS should pay for the chairs people need. It's a very stressful time getting the funding together and not knowing if it will be possible. It would take a lot of pressure and stress off of getting the wheelchairs."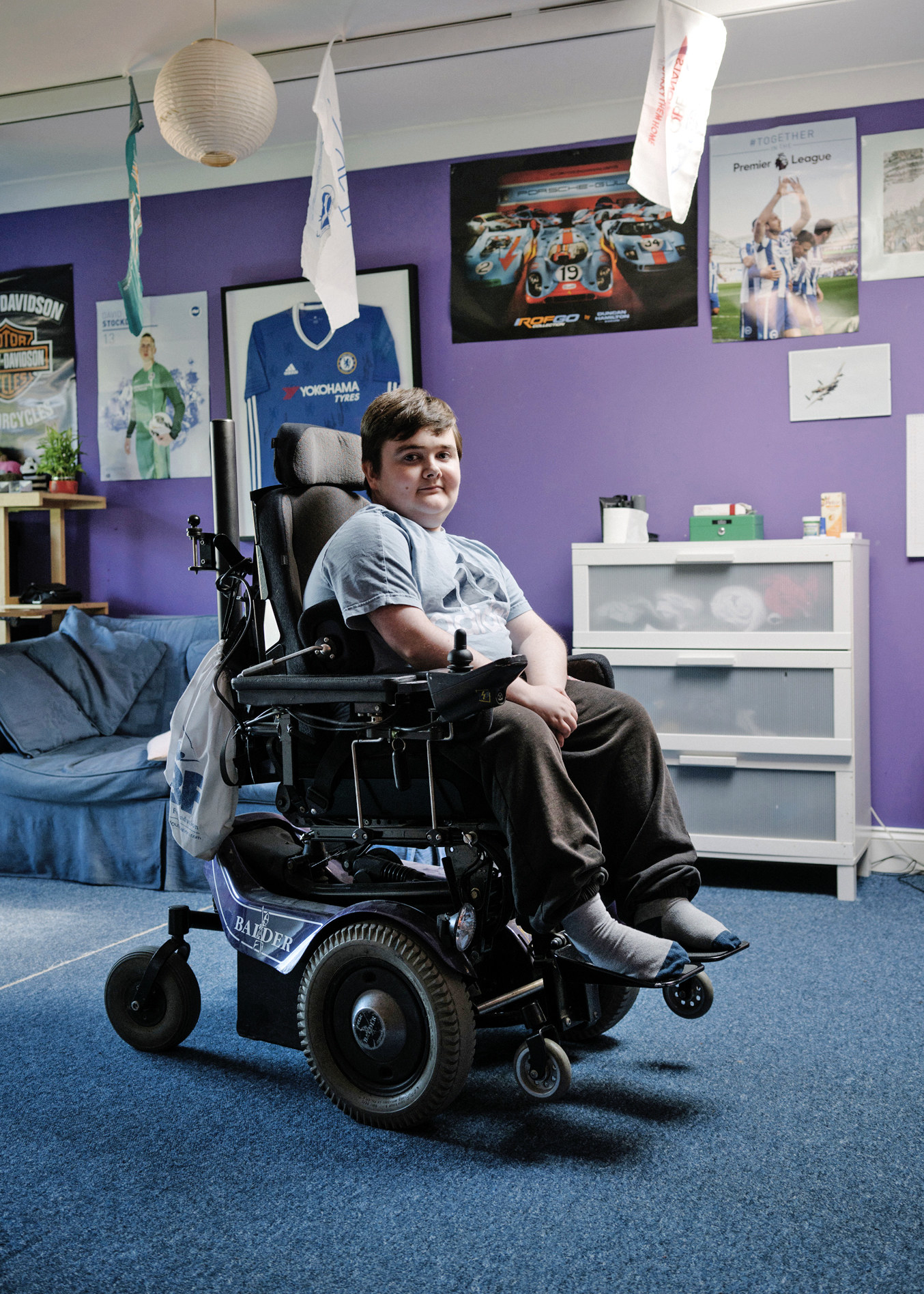 Coastal West Sussex, Dan's local CCG, has below-average rates of giving wheelchairs or equipment when patients are referred to its services. In the last year 44% of children and 31% of adults referred to its wheelchair service were not given any equipment at all. The CCG says this is because they will have been assessed as not in need of a wheelchair – but the threshold for deciding someone needs a chair varies from place to place.
Dr Richard Quirk, medical director at Sussex Community NHS Foundation Trust, said: "We can't comment on individual cases but we work hard to find solutions for all our patients. We make decisions based on clinical need and have a wide range of powered and unpowered wheelchairs available. Our eligibility criteria – based on national guidance – matches the best practice nationally.
"We also provide wheelchair vouchers for manual chairs if someone wants to top up with their own money to buy something else. We are not commissioned to provide vouchers for powered wheelchairs but clients can fund risers [wheelchairs which have seats that elevate to reduce pain or boost mobility] where they have a powered wheelchair from within our range."
Shadow work and pensions minister Alex Cunningham said BuzzFeed News' findings were "unsurprising" from a government "who are refusing to give the NHS the funding it needs".
"Labour recognises the barriers that disabled people face in society," he said, "that's why we have committed to over £30 billion of funding for the NHS, and to ensure that those people in need of Personal Independence Payments for mobility can access support."

The South East of England has some of the lowest rates of providing wheelchairs. In Surrey, for example, the data suggests CCGs are more likely to offer no equipment at all than provide a wheelchair when someone is referred to their service.
However, a spokesperson for the Surrey-wide wheelchair services contract with Virgin Care said CCGs in the county had interpreted the NHS England question as including all people seen by the service, not just new referrals. They argued the reason the data shows low rates of wheelchair provision is because it includes "clients who are seen for advice, training, adjustments (including to headrests, postural belts, thoracic supports and leg rests) or basic repairs".
They also said commissioners in Surrey have invested additional money into the equipment budget for this year and are "working closely with Virgin Care to find ways to further improve the service".
Dominic Lincoln, 13, lives in a small village near Dorking in Surrey. The NHS gave him a small power chair, but it does not work outside. To get around independently he needs an outdoor power chair, but when his parents asked the NHS for help they were told it would not fund it.
Dominic has muscular dystrophy and cannot push himself in a manual chair. The family like to go out walking, but the paths near their house are muddy and uneven, so if they go outside either his mother Jackie or father Rob has to push him in a manual chair. Jackie said: "I asked if he could have an off-road wheelchair so we can go out of the house. The NHS said they didn't do that.
"He's 13 years old and seven stone. He can't do any sport and he's indoors on his PS4 – I want to get him outside the house. I dread the holidays because if you go out with him it's such an effort to push him around. I go stir crazy.
"An off-road wheelchair is between £12,500 and £16,000. We can't afford to buy him that. The CCG offers a chair for everyday living, but for us that means going out in mud. For all the autumn and winter it's just caked in mud, and it's not my fault where we live. It's just like needing school shoes and wellies to go through the mud, but his wellies cost £16,000.
"We asked for a voucher towards the cost but they said no, they don't do that. I'm pushing him up and down the road and he's almost 14 and needs independence. He's a teenager who wants to be able to do things for himself."
Jackie's husband Rob is a telephone engineer and landscaper, and she does bookkeeping. She says getting the right chair is just one of the astronomical costs associated with bringing up a disabled child.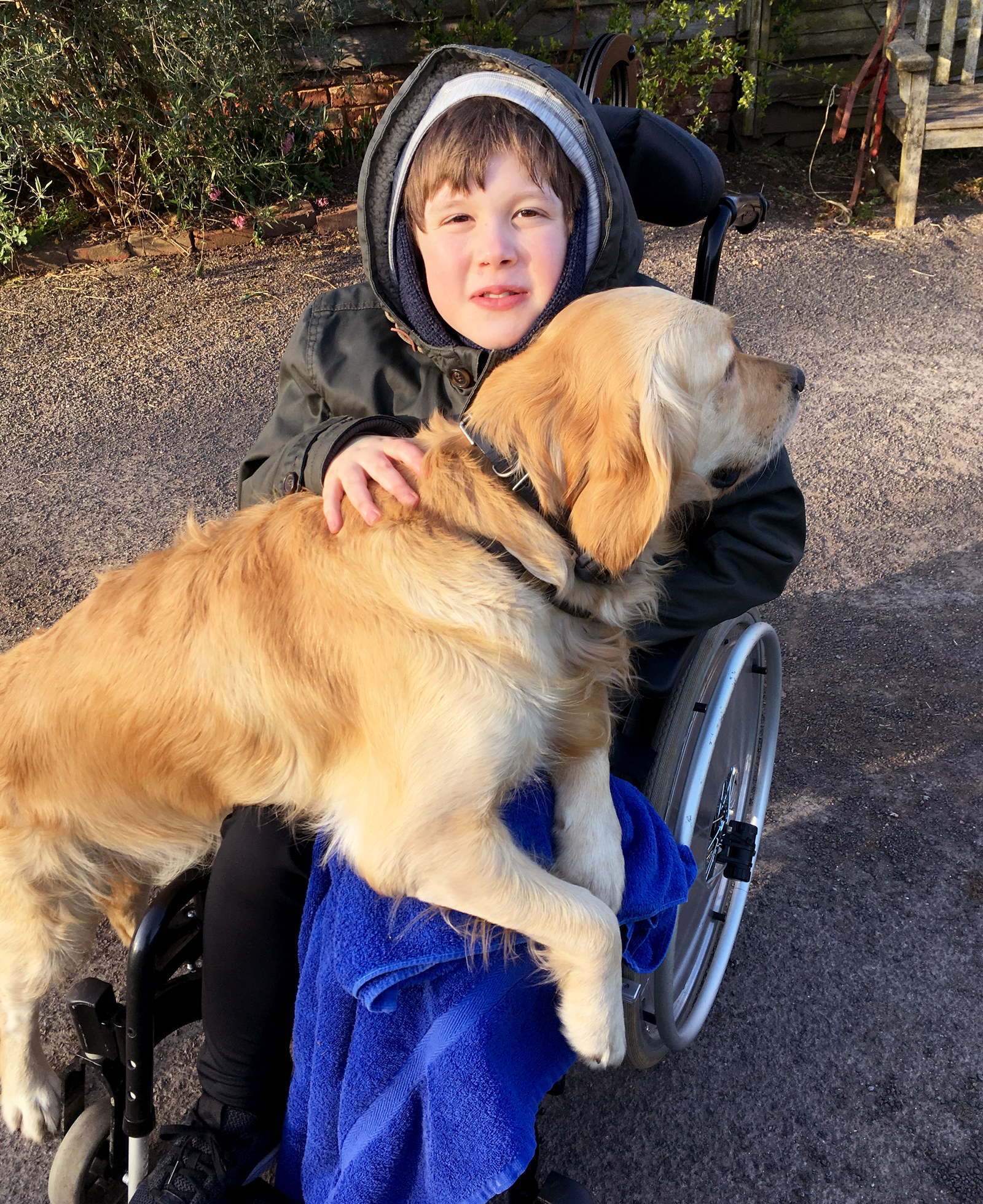 "We've got regular jobs and try to make the best of it. Rob always says anything to do with disabled people, you have to add a few zeros."
Andrew Demetriades, of NHS Surrey Downs Clinical Commissioning Group, said: "As a commissioning group we commission a wide range of equipment and support from community wheelchair services but unfortunately this does not extend to more specialist, and advanced, wheelchair models."
Research by the charity Scope found that there is in effect a "tax on disability", a financial penalty that means many spend on average £550 more per month as a result of their impairment or condition.
In the last year, more than half of all applications to the Joseph Patrick Trust – the grant-giving arm of Muscular Dystrophy UK – were for wheelchairs or wheelchair adaptations. Thirty-six per cent of applicants said they would have to personally fundraise to make up the rest of the cost of the wheelchair, and another 32% said they would be approaching other charities to make up the balance.
Nic Bungay, a director at Muscular Dystrophy UK, said: "Wheelchairs are not luxuries – they are essential for disabled people to move safely both in and out of the house, get to work and education, and to live their lives as independently as possible. The right wheelchair can help someone to stay healthy and well, while the wrong wheelchair can result in unnecessary discomfort and pain.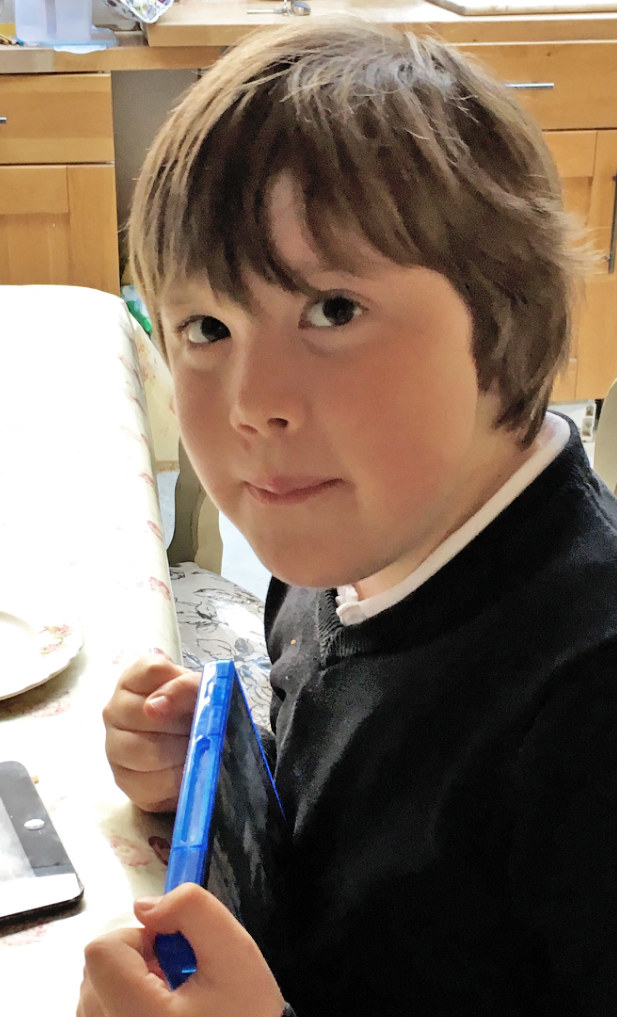 "The NHS's longstanding failure to provide suitable wheelchairs is landing many people with five-figure bills, forcing them to either fundraise for it themselves, rely on charities like ourselves, or spend their already limited savings.
"What is particularly shocking is the number of areas that offer an unsuitable basic chair but without the adaptations that make it safe to use, which can amount to three-quarters of the total cost. When it comes to wheelchairs, it is not a case of one size fits all, but the NHS in many areas won't even allow people to put the cash value of the basic chair towards something more suitable. This means they are essentially offering some people nothing at all and demonstrates a system completely at odds with what disabled people actually need."
Over the next year all CCGs in England will be introducing personal wheelchair budgets, where people are told upfront how much money is available for their wheelchair, based on an assessment of their individual needs and goals. But again, experts are concerned that the criteria and decision-making will continue to differ wildly until there are clearer guidelines on who needs a chair and what the right budget that should be.
Linda Burnip, cofounder of Disabled People Against the Cuts, says she believes it is getting harder than ever to get a wheelchair on the NHS: "Wheelchair services are definitely refusing people who they weren't refusing two or three years ago.
"It's getting really difficult. More and more people have been refused a chair and have to crowdfund to get it. Nothing is clear and it doesn't seem to be transparent who qualifies.
"People who've been getting replacement chairs for years are suddenly being told they can't have one any more. A lot of CCGs have changed their criteria for who can get one.
"There are six people I know who've been turned down, and that's just friends and people I campaign with. I don't think it's ever been terribly good but it definitely seems to be getting worse, and fewer people seem to be qualifying, particularly for outdoor power chairs."

Just as getting a chair can be a lottery, so can the time it takes a chair to come. BuzzFeed News analysis of NHS England data shows huge variation in how long it takes a CCG to provide a wheelchair. While eight CCGs managed to deliver all wheelchairs within 18 weeks, the majority do not.
Almost 56% of CCGs failed to deliver 10% of their chairs within 18 weeks in the last financial year. The worst offenders – 7.2% of the CCGs who supplied data – deliver more than half of their wheelchairs late.
Rianna Davis, 25, from Putney in southwest London, knows all about waiting for chairs. She has a rare form of myasthenia gravis and relies on a power chair to get around.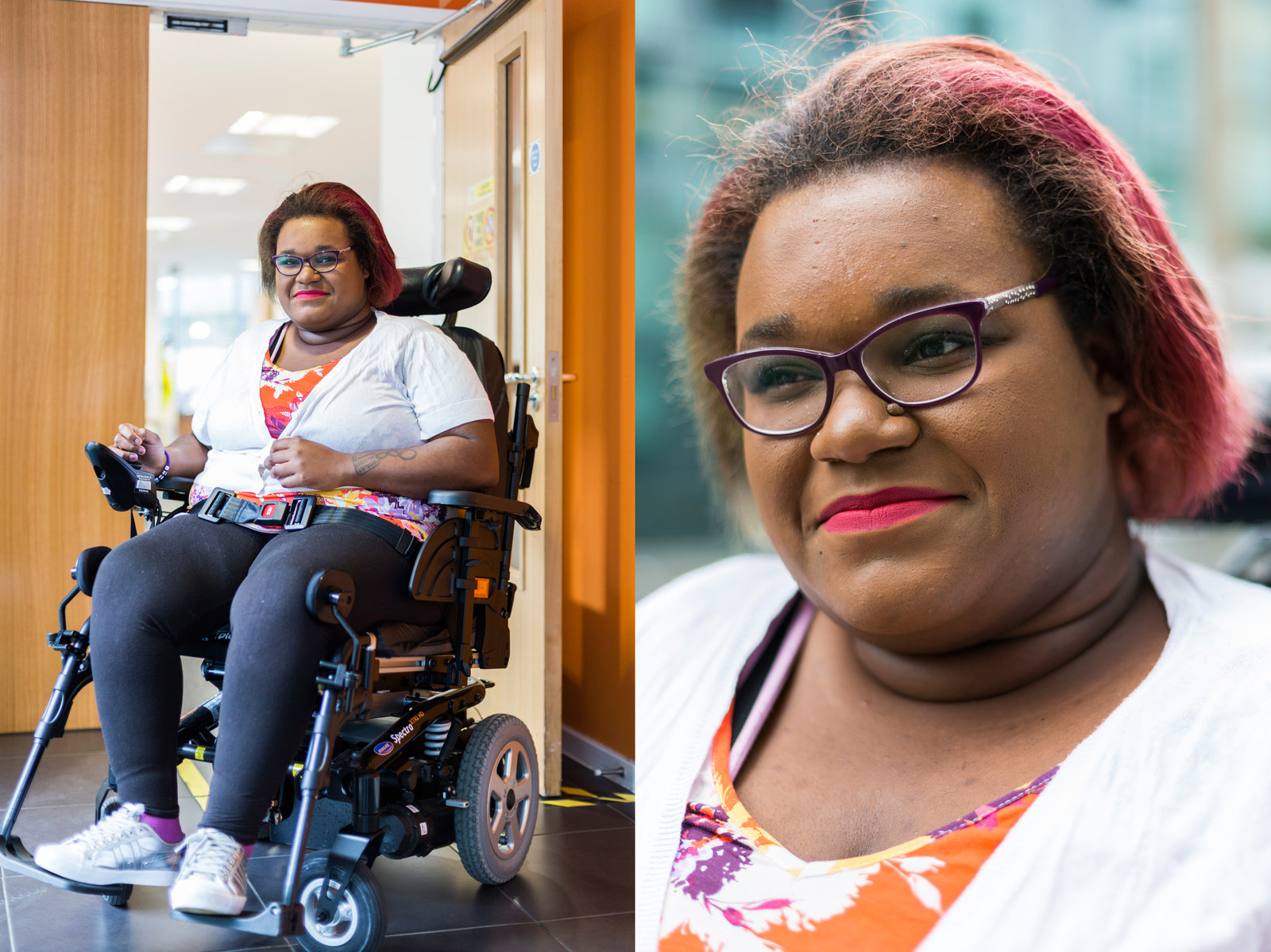 When her childhood power chair finally gave up the ghost last year, she saw an occupational therapist to arrange a new one. Davis said it took some effort to persuade her that she needed a power chair. Initially she was told she would be fine with a manual chair.
When she explained that she was exhausted after less than five minutes, they ordered a small power chair – but it quickly became apparent that it wasn't fit for purpose.
"The chair itself is quite light and I'm quite heavy, and I would just skid," she said. "I felt really unsafe. I'd be on a slope waiting for the lights to change, and I would just slide into the road. My carer was scared to take me out because I was sliding everywhere. She had to jump in the road to stop it."
It was only after Davis injured her own foot running over it at a road crossing and ended up in an emergency clinic that wheelchair services took notice and prioritised replacing her chair, she says. Even then it was another four months before a permanent replacement was sent.
"I was told I would get it in six weeks but it took four months," Davis recalled. In the meantime she was given a large temporary replacement that was too wide to fit into her house or travel around London in.
"There was an internship that Transport for London was going to do with me but the only way I could get there was on the underground. At Waterloo and Southwark stations they looked at the [temporary] chair and said, 'You're not going to get a train.'"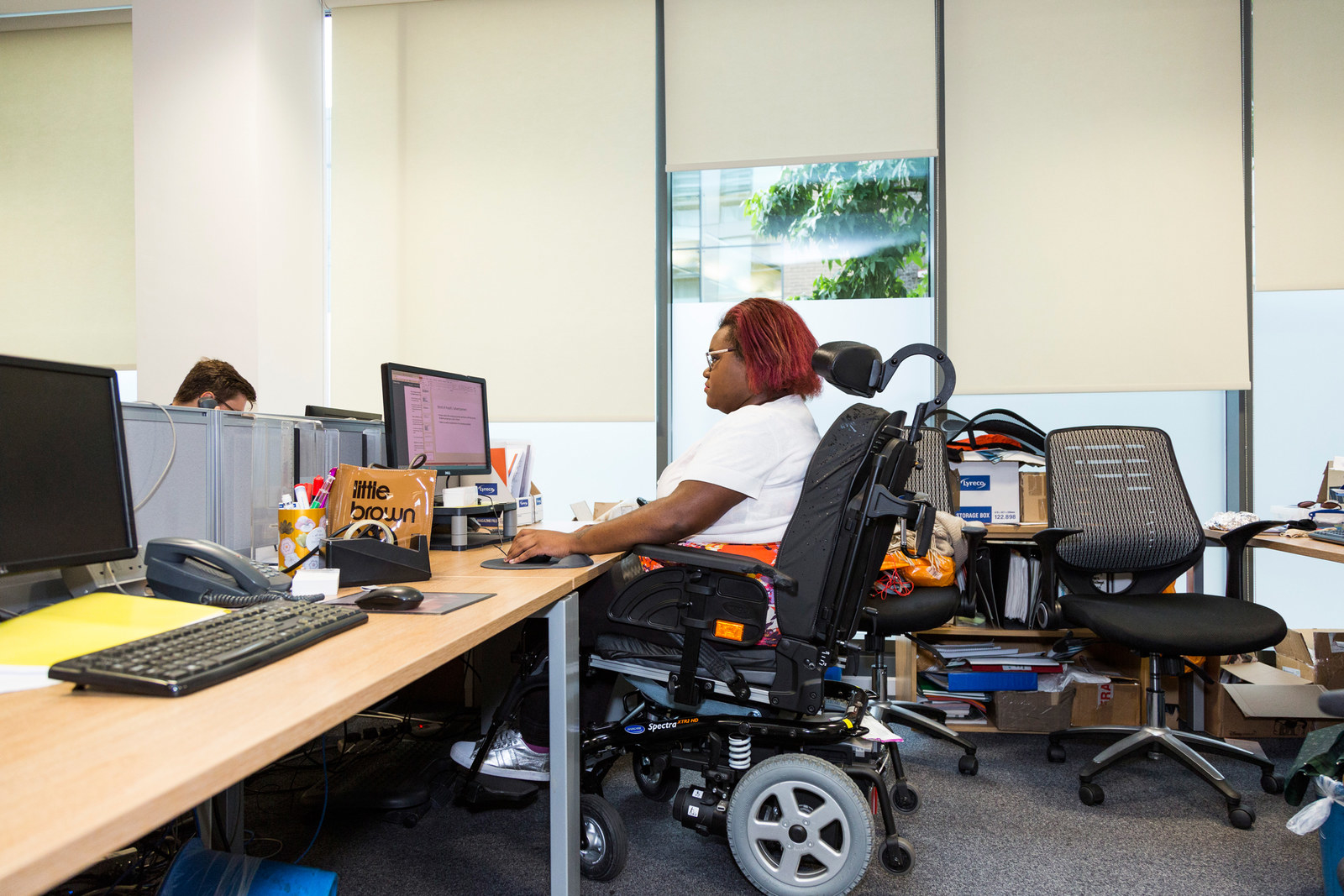 She continued: "I ended up getting a bus to Greenwich and being half an hour late for the interview. At the interview I explained what happened. TfL tried to find other ways of getting there but all the routes involved me going on the underground. By the time we found other routes they were more than two hours each, so I didn't do the internship."
Davis's local CCG, Wandsworth, told BuzzFeed News it could not comment on individual cases but that it would follow up feedback about its services.

James Taylor, head of policy at Scope, said: "The significant variation in access to wheelchairs across England is leading to a postcode lottery of availability and delays for disabled people.
"Not only do disabled people face unreasonable waiting times for wheelchairs but when they do receive them many are then experiencing a one-size-fits-all approach and are provided a basic chair that does not include the personalised components and features they require.
"As a result of this, many people are forced to rely on their own funds or resort to crowdfunding to access a suitable wheelchair.
"Having access to the right wheelchair is vital in enabling disabled people to get out and about, go to work, and live independent lives.
"With wheelchairs sometimes costing in excess of £10,000, the funding pressures the NHS is facing need to be urgently addressed so disabled people no longer have to bear the brunt of these costs themselves."
An NHS England spokesperson said: "Local GP-led commissioning groups are ultimately responsible for securing and funding wheelchair services for people locally. However, NHS England is working with the National Wheelchair Leadership Alliance to develop best-practice standards as well as introducing personal wheelchair budgets to give people more choice on the best wheelchair for them."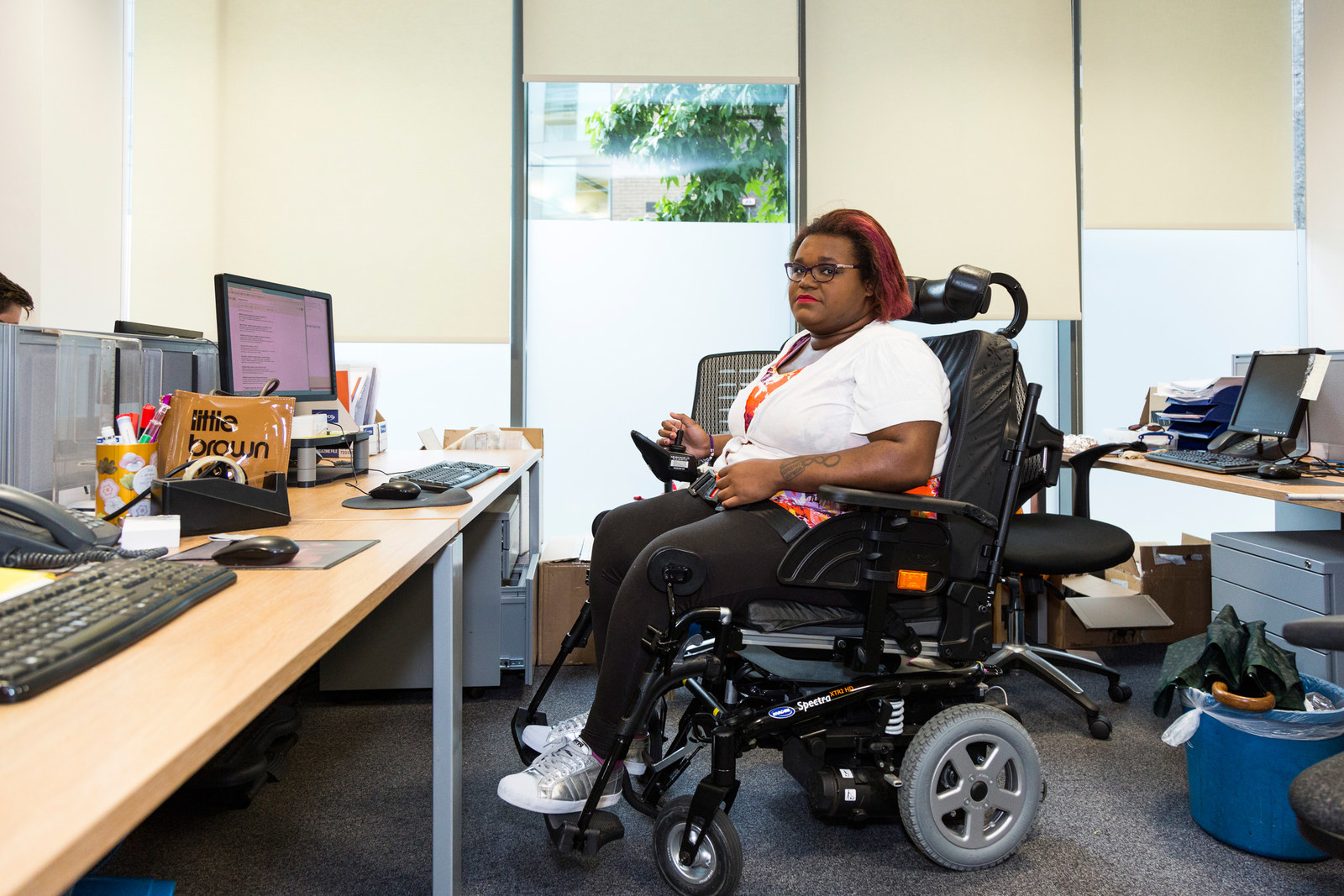 Davis has now had her new chair for a week and is excited by the change. "It makes a massive difference. The other chairs I had you can't even go on the underground. It means I can go and see my friends around London.
"I'm doing an internship at the minute. It's made a difference to my confidence and anxiety, particularly getting on and off buses and public transport. I feel completely safe."