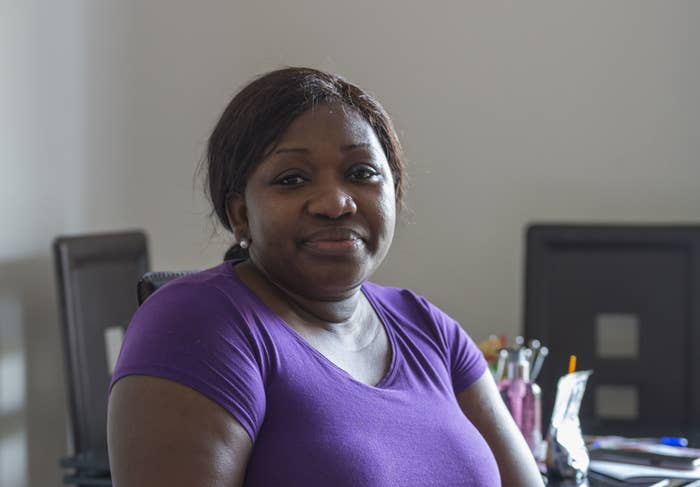 A single mother who almost lost her flat because of mistakes made by Universal Credit has had eviction proceedings cancelled less than 48 hours before she was due in court.

BuzzFeed News revealed on Wednesday morning that Barbara Ampofo's social landlord was still pressing ahead with a suspended possession order, despite the fact that a payment for arrears was on its way from the Department for Work and Pensions.
After the article was published, Clarion, Britain's biggest social landlord, contacted Ampofo to say that following further conversations with DWP, Friday's court hearing had been dismissed.
Ampofo lives in Croydon, south London, with her two young daughters and was so terrified that Universal Credit's administrative errors would cause the loss of her flat that she hardly slept for months. She told BuzzFeed News: "When they told me the case was dismissed I was so relieved that burden had gone. I was so happy I slept well for the first time.
"They called me about four times yesterday. They told me the case has been dismissed and they don't have to go to court. They said they're going to get the money from Universal Credit on the 28th and there's no point in going to court."
Ampofo believes there are still some arrears outstanding that DWP should have paid and is going through bank statements to make her case.
Leena Jangra, the lawyer from the local law centre who represented Ampofo, said: "It's amazing news. I'm just really upset that [Clarion] put her through all this ordeal for nothing when they knew she had benefit issues. It's so scary for her."
She added: "They knew there were benefit issues but they never offered welfare advice. All they did was say 'we're not getting rent payments and we're going to take her to court for eviction', and that's not what a social landlord is supposed to do."
Clarion claims that Ampofo got support and that staff liaised directly with DWP a number of the times on her behalf. But despite knowledge of her benefit difficulties, it did not stop Clarion pressing ahead with court proceedings intended to evict her and her children.

A Clarion spokesperson said: "As circumstances change and payments are made we review rent arrears cases to ensure we are taking the most appropriate action. Having reviewed the case following direct confirmation from the DWP that a payment would be made, we decided withdrawing the court application would be the most appropriate course of action because the outstanding arrears would be at a very low level."
A DWP spokesperson said: "We have worked closely with Ms Ampofo's landlord to resolve all payment issues. There are now no further arrears due in this case."