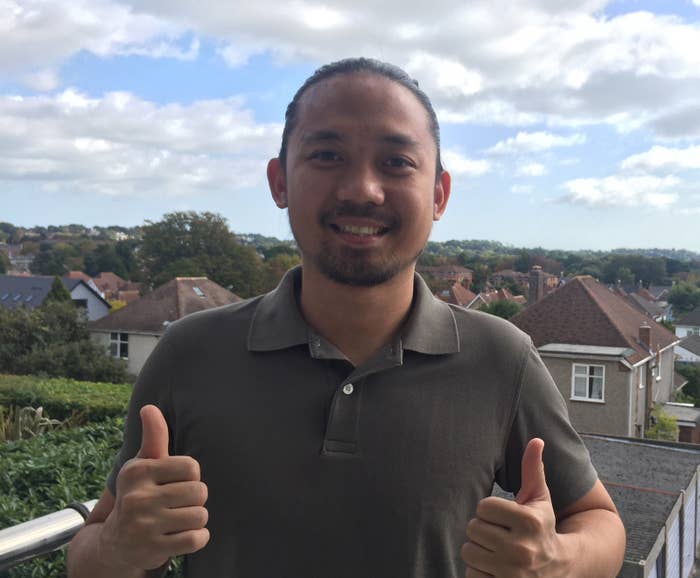 A cardiac expert and a nurse who were facing deportation over a child benefit error have been granted visas to stay in Britain.
Paul Ermitano was an essential part of Poole Hospital's cardiac team for more than three years, and his wife, Jamila, was a respected assistant practitioner on the respiratory ward. The Home Office told them their visas would not be renewed and that they had to return to the Philippines because they briefly claimed child benefit for their son.
The couple were called by the Home Office on Wednesday morning, less than 48 hours after their case was covered by BuzzFeed News and picked up across the media. They were told it had been reconsidered and that they had been granted visas until June 2020.
"I was gobsmacked. I couldn't say any words," Paul told BuzzFeed News. He is relieved to be able to stay, but also angry at the double standard in the handling of their case, saying: "I'm still upset with the government, but I love Britain."

The couple contacted the hospital and were told that they both still have their jobs. The Home Office's decision means that Jamila, who is six months pregnant and nearly died of complications with the birth of their son, will be able to have their second child in Britain.
Before their situation attracted media and political attention — and a viral petition —the Home Office had repeatedly refused to change its mind, despite the couple's explanation that accepting child benefit had been an "innocent mistake," and the fact that it was paid back in full.
Paul said: "Whenever we tried to ask — 'What made you change your mind? What did we do to get your decision reversed?' — they wouldn't say anything. I think it was the media; I think it's BuzzFeed.

"I think it's not only me who's been in this situation. What if people just decide to give up and just go back because they don't have people like the doctors and the MP and the media who backed me up? What if they didn't have that? I don't think it's a fair system."
The sudden U-turn in the handling of their case reflects the department's rapid response strategy to decisions that generate bad publicity, as revealed by BuzzFeed News last month.

Dr Christopher Boos, a consultant cardiologist at the hospital who wrote a letter of support to lobby the Home Office to change its mind, welcomed the news that the family could stay. "I've just heard a few moments ago," he said. "There've been a lot of tears all round. I just can't describe my happiness."
The family sold most of their possessions in anticipation of leaving. Paul says he feels bad for his 15-month-old son, who "misses his toys". They had to sell his ride-on car and walker, which they couldn't have transported back to the Philippines.
Their only remaining furniture is a sofa bed. "We are eating on two storage boxes pushed together to have a dining table."
The ordeal has left them nervous to celebrate until they have their passports in their hands. "Friends are saying we need to celebrate, but it's only an email and a phone call; we don't have our passports."
A Home Office spokesperson said: "After receiving further information from Mr and Mrs Ermitano, we have reconsidered and granted their visa application."