Yvette Cooper has branded Tory ministers "cowards" for failing to open up Britain to thousands more refugees.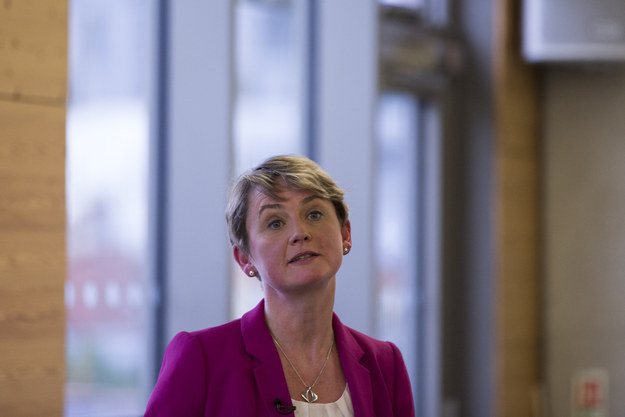 The Labour leadership candidate said the government should brave "uncomfortable headlines" and face up to Europe's biggest humanitarian crisis "since the second world war".
In a speech to the Centre for European Reform in London, Cooper said: "We seem paralysed to respond. Stuck in the troubled politics of immigration when this is about asylum instead.
"Stuck treating immigration and asylum as the same thing when they are completely different and we should keep them so. Stuck hiding behind disputes over student visas, illegal working, or European agency workers, when none of that has anything to do with refugees.
"Stuck talking only about 'migrants' when we should mean fathers, sons, sisters, brothers, daughters, mothers. Stuck in political cowardice that assumes British voters' unease about immigration means they will not forgive anyone who calls for sanctuary – even though our nation has given shelter to the persecuted for centuries, and sometimes moral leadership is needed.
"And it's not just us. All Europe is struggling to respond. We cant carry on like this. It's immoral, it's cowardly, and it's not the British way."
Cooper demanded an "urgent national conference" with local communities to see how many places Britain can offer to refugees from Syria and the Mediterranean.
She said: "If every city took 10 refugee families, if every London borough took 10 families, if every county council took 10 families, if Scotland, Wales, and every English region played their part, then in a month we'd have nearly 10,000 more places for vulnerable refugees fleeing danger, seeking safety.
"Ten thousand instead of 200."
Her speech came days after 71 decomposed bodies, including that of a two-year-old girl, were found in a truck on an Austrian roadside, close to the Hungarian border. They appeared to be refugees from Syria who had died from suffocation.
Lisa Doyle, head of advocacy for the Refugee Council, said: "The rising death toll within Europe and on its doorstep requires Britain to consider how it treats refugees. The British government must do some serious soul searching as it seeks to respond: will Britain demonstrate true leadership by enabling more refugees to reach our shores, or will it continue to close its eyes to their suffering by ignoring pleas for help?"
Cooper's speech on Tuesday appeared to mark a shift in tone towards people seeking to live in Britain.
She insisted that "migrants" should be known as "fathers, sons, sisters, brothers, daughters, mothers". But in November last year, she referred to some people trying to get across to the UK from Calais as "illegal migrants" who must be finger printed.
By this July, her language had already started to change. During a debate in parliament on Calais, she referred to individuals trying to enter the UK simply as "people" with no mention of the word "migrants".