Jeremy Corbyn Didn't Mean To Say Labour Wouldn't Lose Seats
The Labour leader's assertion that "we're not going to lose seats" has been "misinterpreted" by the media, his spokesman said.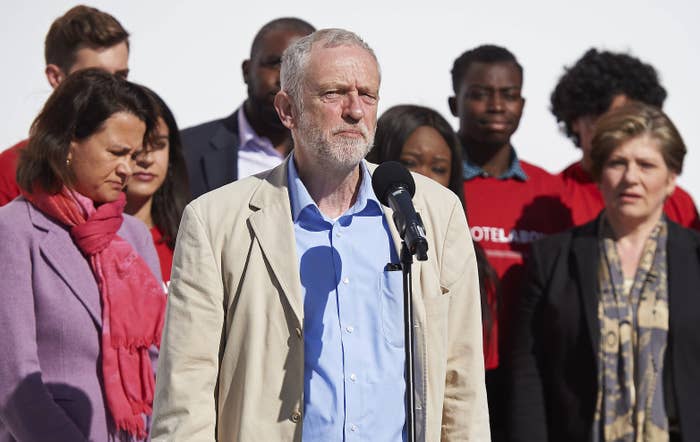 Jeremy Corbyn never intended to say that Labour wouldn't lose seats in Thursday's local elections, his spokesman has said.
The Labour leader raised eyebrows at a poster campaign launch on Tuesday when he told reporters: "We're not going to lose seats, we're looking to gain seats where we can."
But Corbyn's spokesman told journalists after Prime Minister's Questions on Wednesday that Corbyn had been "slightly misinterpreted".
The spokesman said: "I think what he said was that he will make no predictions about the number of seats to be won or lost in the local elections. We're not in the business of losing seats and we'll be fighting to win as many as possible tomorrow."
One reporter took issue with this, saying he had been standing right next to Corbyn at the time and that was exactly what he said.
Corbyn's spokesman continued: "The previous sentence was that he's making no predictions about gain or loss, and... I'm telling you what he intended to say.
"He was saying we're not in the business of losing seats. I'm just telling you what he was intending to say and what he was saying everywhere else.
"We're not making predictions about seat losses or gains. That's what he said yesterday and will continue to say. Obviously nobody can predict that and that's what we've said all along. We'll be fighting for every seat we can win."
Labour HQ is hoping for decent results on Thursday from English councils, the devolved assemblies, and the London mayoral contest as Corbyn seeks to assert his authority at the top of the party. But some polls are predicting big losses for Labour, raising speculation of a coup.