UKIP has cancelled its Welsh conference but denies that it did so because of "poor advance ticket sales".
Tickets for the event on 23 October – featuring leader Nigel Farage and ex-MP Mark Reckless – had been on sale at website TicketSource since last month.
But on Thursday those who bought tickets were sent an email, seen by BuzzFeed News, informing them the event had been cancelled.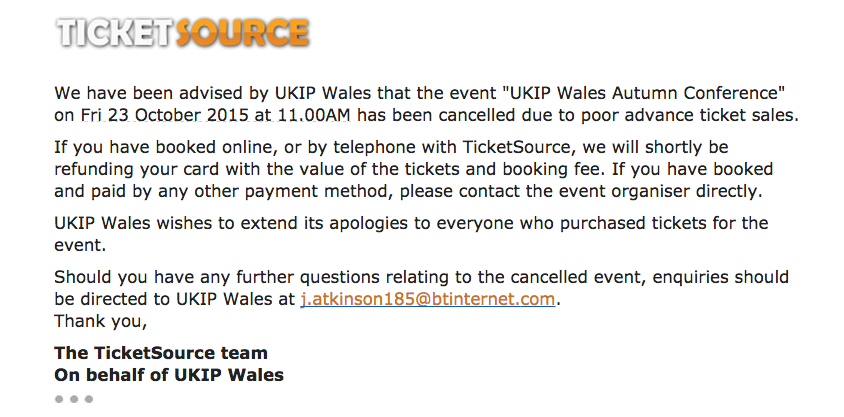 The email from TicketSource – "on behalf of UKIP Wales" – said the conference had been "cancelled due to poor advance ticket sales". The message was highly embarrassing for the party, which is hoping to win a sizeable number of seats in next year's Welsh assembly election.
UKIP's deputy leader Paul Nuttall told us earlier this year: "If we get this right, we could be the opposition to Labour." The party has no assembly members, or AMs, at the moment but came third in votes in Wales at the general election.

A UKIP source denied there had been low take-up of tickets – blaming the email on a "technical cock-up".
They said instead the event had been cancelled because UKIP had decided to hold its spring conference in Llandudno, north Wales.
When a UKIP official went to cancel the event on TicketSource, they were faced with a "drop-down box" where they had to pick a reason for the change. Inexplicably, they chose the "poor sales" option.
"They probably didn't realise it would go out in an automatic email to the hundreds of people who had bought tickets," the source claimed.
The autumn conference in Swansea was meant to showcase UKIP's Welsh assembly candidates – but so far only one has been unveiled.
Sam Gould, best known for getting stranded on the beach after writing "We love Nige" in the sand, has been selected as Welsh assembly candidate for Caerphilly. But dozens more are yet to be named.
Gould insisted ticket sales had not been poor, telling BuzzFeed News that Farage would still be holding a drinks reception and a "Say No to the EU" event at Liberty Stadium in Swansea on 23 October that would be "very busy".
A separate UKIP source said Rugby World Cup matches and a Plaid Cymru conference on at the same weekend meant it made sense to cancel the UKIP Wales autumn conference. "We had a meeting and decided we were going to hold our spring conference in Llandudno," they said. "The candidates list isn't finalised yet."
Looks like there are no comments yet.
Be the first to comment!