UKIP Spokesman Admits Party Can Be "Chauvinistic" And Should Do More To Win Over Women
Patrick O'Flynn said the party could be "boorish" – as UKIP launched its policies for women.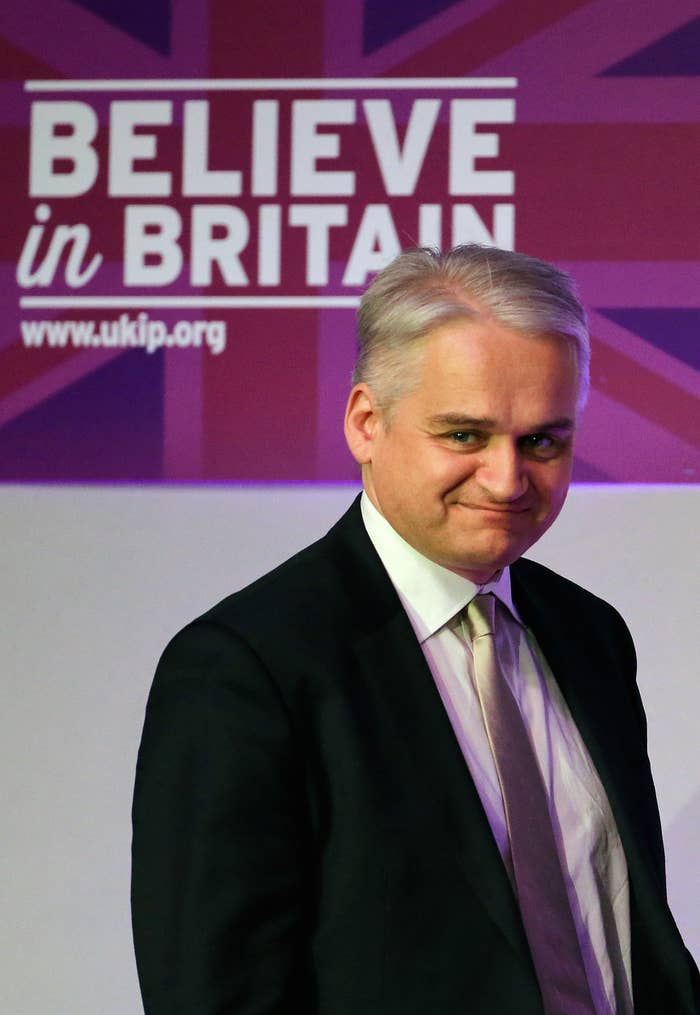 A UKIP spokesperson has admitted that the party can be "boorish" and "chauvinistic" and needs to work harder to convince women it's on their side.
Patrick O'Flynn, the party's economic spokesperson, said UKIP was "lagging with female voters" and was pulling out all the stops to win them over.
He was speaking at a launch of the party's "policies for women" alongside UKIP deputy chairman Suzanne Evans and UKIP MEP Diane James.
O'Flynn said: "I think Nigel [Farage] himself has said sometimes UKIP has resembled a rugby club on tour. I think that's probably less and less true, and indeed two top-rank female politicians sitting alongside me are two of the main reasons for that.
"But we need to work harder and there are still occasions where people in the party – men in the party who should know better – have occasionally resorted to boorishness or chauvinism. And when that happens, I make sure I express my own displeasure.
"We're a very fast-growing party, we're increasing our attraction – it clearly is daft for us to see a political context where we're not maximising our support in every potential group.
"And, as set out today, there is no reason why we should be lagging with female voters – we still are, we've got to work harder on addressing those issues and we are doing."
It follows a series of controversial remarks about women from leader Nigel Farage and other prominent UKIP members.
Former UKIP MEP Godfrey Bloom quit the party in 2013 after he joked that women who don't clean behind the fridge are "sluts".
Meanwhile, Farage has suggested that women who work in the City are "worth far less" to their employer after they take time off to have a child. He's also spoken out against "ostentatious breastfeeding" .
But Evans blamed UKIP's gender polling gap on "propaganda" from other parties. "I think it's because of the lies that the other parties have put out about us," she said. "There is the myth put about that we will scrap maternity leave, that we hate women, that we don't do anything for women.
"The depth of the propaganda that the other parties have put about on this unfortunately hit very hard and very deep."
James added: "I'd like to put on record for everybody here: 'Cameron's cuties', 'Blair's babes' – just to give you two – and the infamous situation in the House of Commons, 'calm down dear'.
"That did more, in my opinion and in discussions I've had with women across the United Kingdom, to denigrate – they felt quite insulted and I felt insulted by that. Nigel has made comments and I would dare to contradict the position that they are always as inflammatory as the media would like to pose."
James said the party fully backed maternity leave, breastfeeding in public, and carers' rights, and vowed to remove VAT from sanitary products.