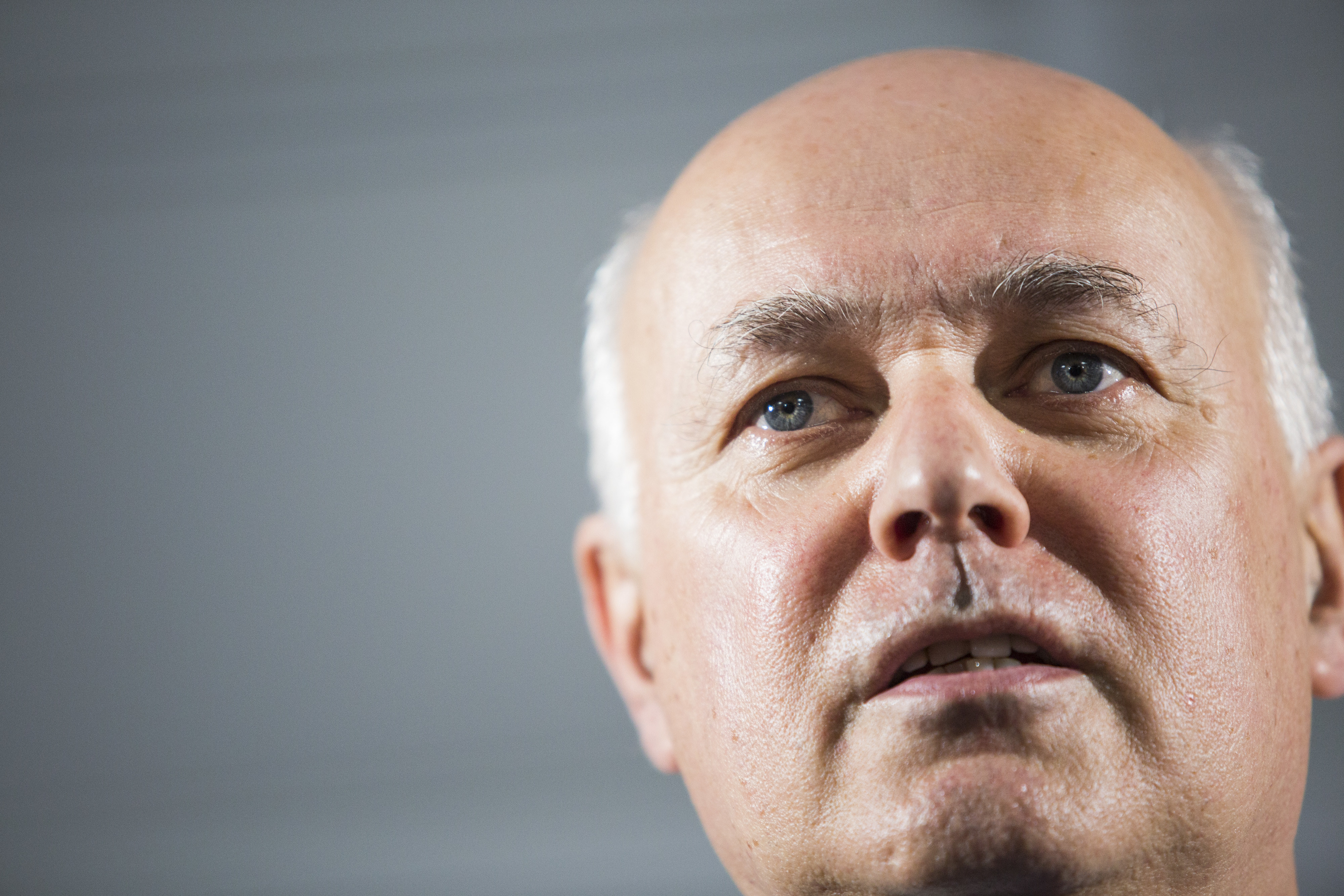 "Independence Day on 24 June!" Iain Duncan Smith cries as he knocks on doors in the sunshine. The former Tory leader is in high spirits as he marches down garden paths, ready to persuade anyone that Britain should leave the European Union. "Come and get me if anyone wants to speak to an MP!" he tells a young team of red-T-shirt–clad Vote Leave canvassers.
Duncan Smith, who resigned from David Cameron's cabinet in March, is being given something of a hero's welcome in this sleepy suburb of Maidstone, Kent. Elderly couples shake his hand and nod that yes, of course they will be voting Leave in the 23 June referendum. One woman hands him a slice of fruitcake. A man drives slowly past, stops his car, and gets out to say: "Can I shake your hand, sir? You've just made my wife very happy!"
BuzzFeed News has joined Duncan Smith on the campaign trail with employment minister Priti Patel and Tory MP Julian Brazier as they attempt to drum up last-minute votes. The village of Allington, a quiet ward of cul de sacs that was held by the Liberal Democrats at the last local election, has apparently been picked at random by Brazier for canvassing. Yet 90% of the people Duncan Smith speaks to are either planning to vote Leave or leaning towards it.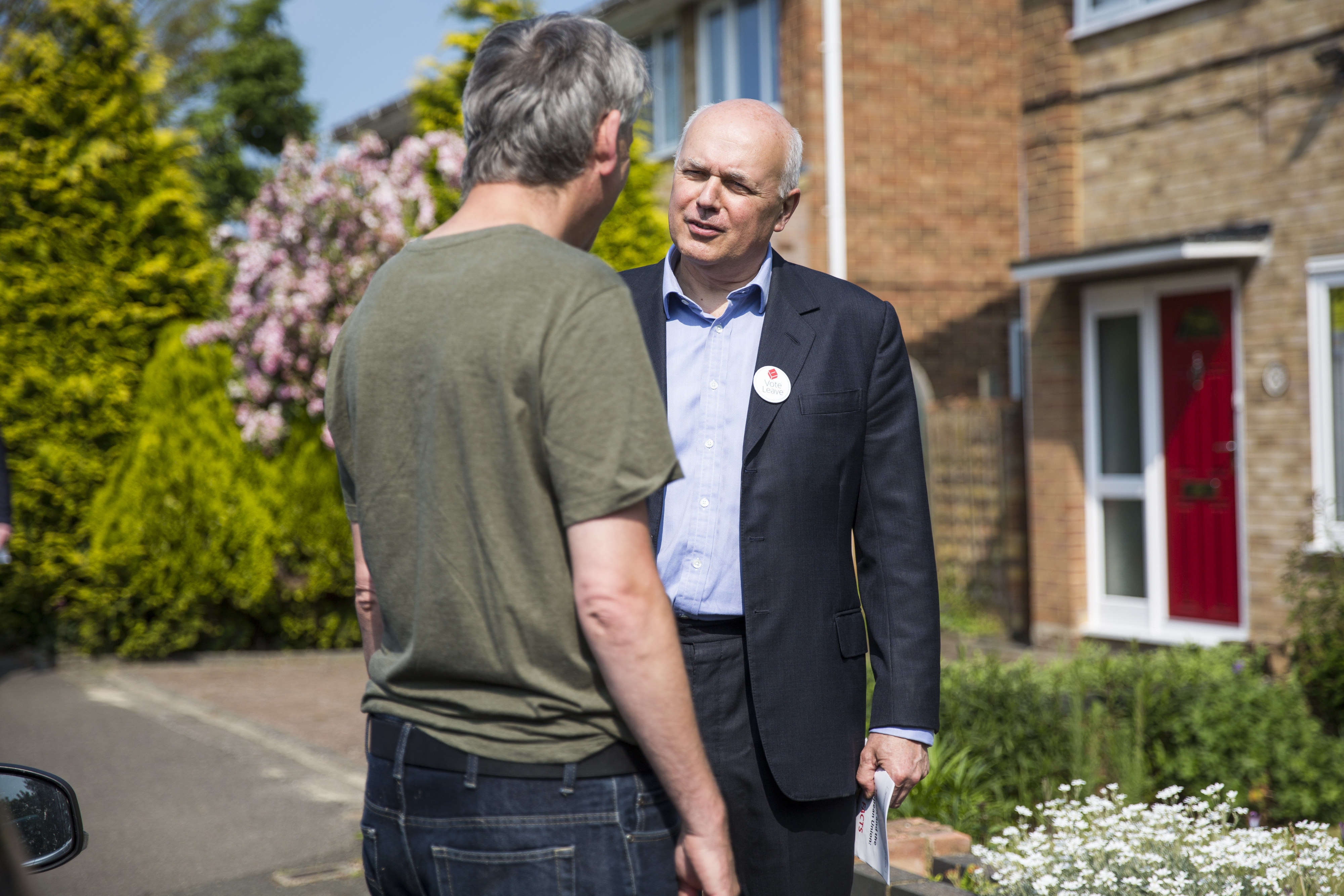 Before they set off, an enthusiastic activist shouts instructions to the clipboard-wielding canvassers: "Write down the appropriate number next to each address: five for Leave, four for moderate Leave, three for neutral, two for light Remain, and one for Remain!" There will be a lot of fives by the end of the day.

Duncan Smith is undoubtedly the star of the show – and is acutely aware of it. The former army officer has a self-confidence that is unshakable. Faces peer at him from behind lace curtains as he walks past. "Hello, Iain Duncan Smith," he loudly tells every resident he meets, hand outstretched. "I hope we can count on your support."
This is the latest stop on his pro-Brexit tour, following a trip to Boston in Lancashire on the Vote Leave battlebus last week. "It's good to be seen out and about," Duncan Smith tells BuzzFeed. "I knock on the door and people meet me – you can bet by Friday of next week, they'll have told 30 or 40 other people that I was on their doorstep talking to them."
It's easy to get carried away though. At one point he marches up to a bearded man standing outside a house and tells him: "Hello, Iain Duncan Smith!" The man shakes his hand warily. "Er yes, we've met before actually…" Turns out that he's one of the canvassers – his badge was briefly obscured by his anorak. "Oh, sorry, I thought you'd just come out of that house!" Duncan Smith says and marches onwards.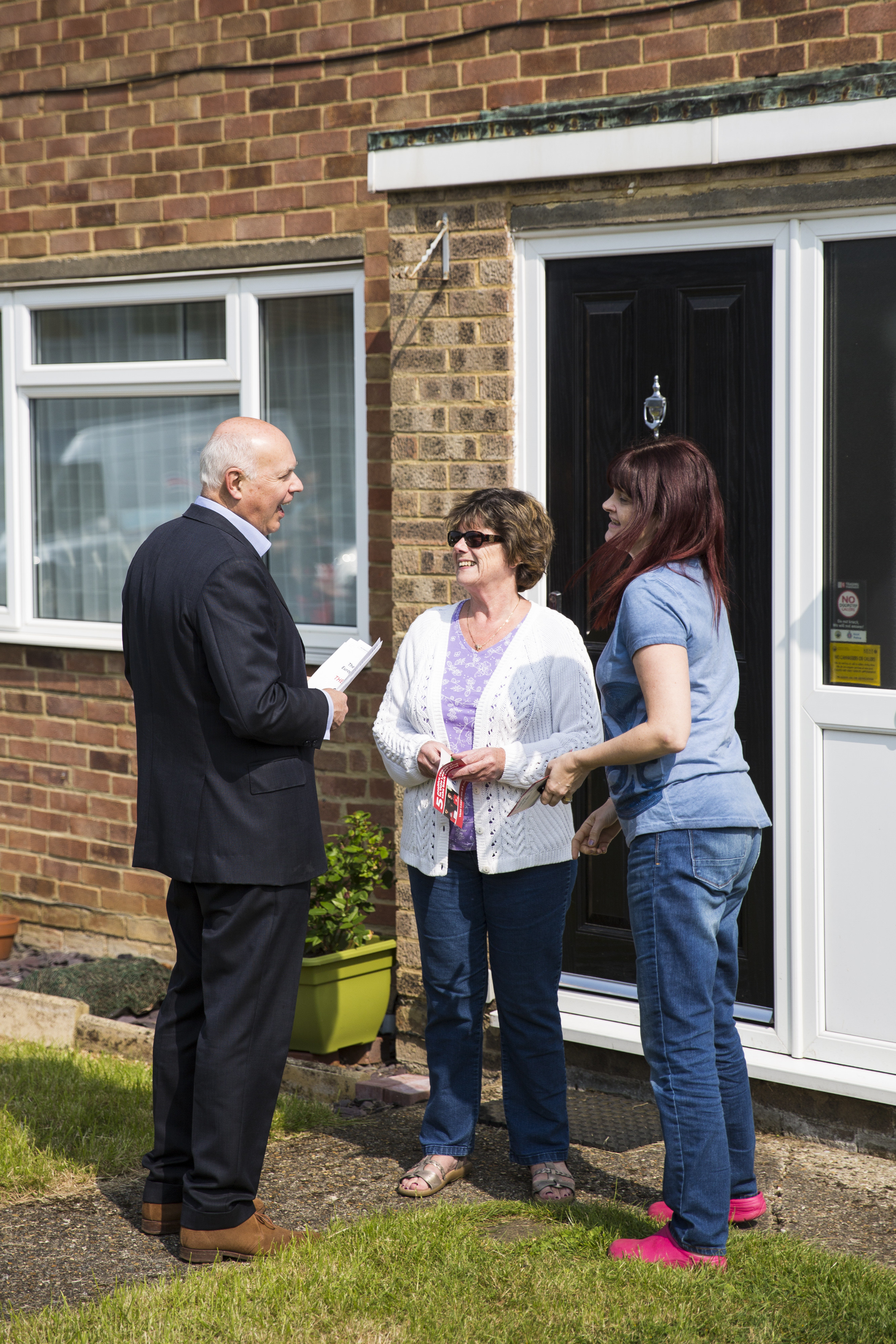 There are so many pro-Leave voters here that it's almost a relief when one woman gives a different opinion. Mind you, that's only because a TV soundman is trampling the flowerbeds in her front garden as he holds a microphone towards Duncan Smith, who's speaking to her neighbour.
"It would have been polite to ask!" she says, standing at her door with her arms folded. "There's no way I'm voting Leave now!" The man is duly scolded by activists and told he will now have to personally vote Leave to make up for it.
We catch up with Duncan Smith again later at Maidstone County Hall, where he's due to hold a rally with Patel and Brazier.
Sipping on a mug of tea and munching a Kit Kat, he says the visit has proved how little people in the real world really care about the constant "blue on blue" attacks highlighted by the media. The Tory party is split down the middle on the EU, with some Conservative MPs now openly calling for Cameron to stand down as prime minister if the vote is close.
Duncan Smith says: "I'm not surprised that this is an obsession of the media's, because the media always needs a shorthand to get to the issue, and the shorthand for them has been Conservatives on different sides of the argument. Westminster tends to be utterly obsessed with personality and who's said what to whom and who's up and who's down.
"But once you get out to places like this you find most of that's gone over the top of their heads – what they're asking is, 'So what's this all about?' And that gives you a chance to remind yourself that this debate is not about whether the prime minister likes Boris Johnson or nobody knowing where Jeremy Corbyn is."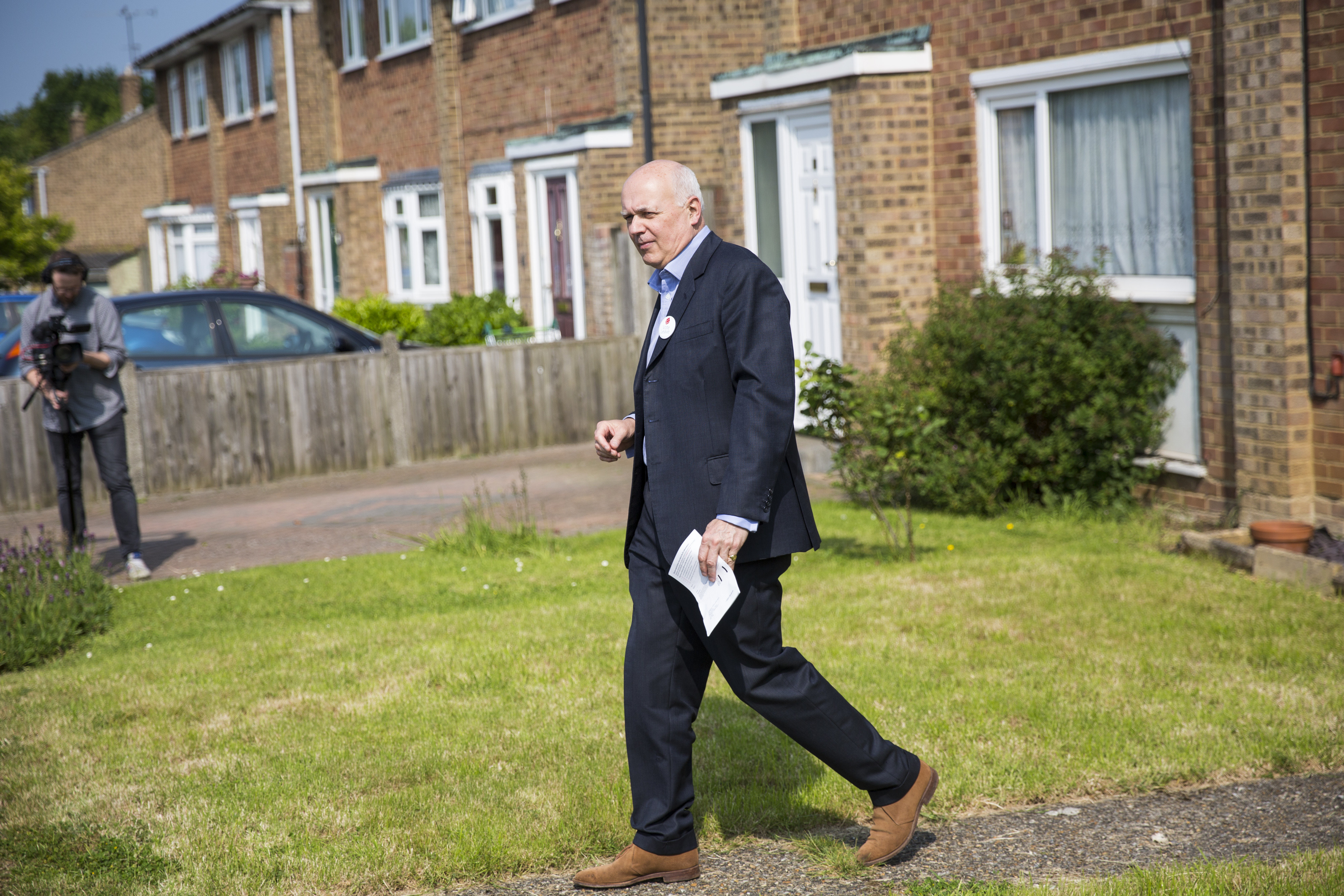 Duncan Smith says there are three Conservatives on the Leave side who are "probably nationally recognised" – himself, ex-London mayor Johnson, and justice secretary Michael Gove. He points to Patel, energy minister Andrea Leadsom, and justice minister Dominic Raab as "others coming through".
But it's clear that he and Johnson have very different roles in the campaign. Duncan Smith is the one sent on to the BBC Radio 4's flagship Today programme – he tells us proudly that he's been on it twice in one week – while Johnson is the wild-haired stuntman with a penchant for controversial soundbites.
"Boris is great at whipping up interest among people who don't take a lot of interest in politics," Duncan Smith says. "The public will come and see and hear him because it's the kind of Boris-y thing which is unusual for politicians; it's certainly unusual for a British politician to have that kind of thing, it's more noticeable in America."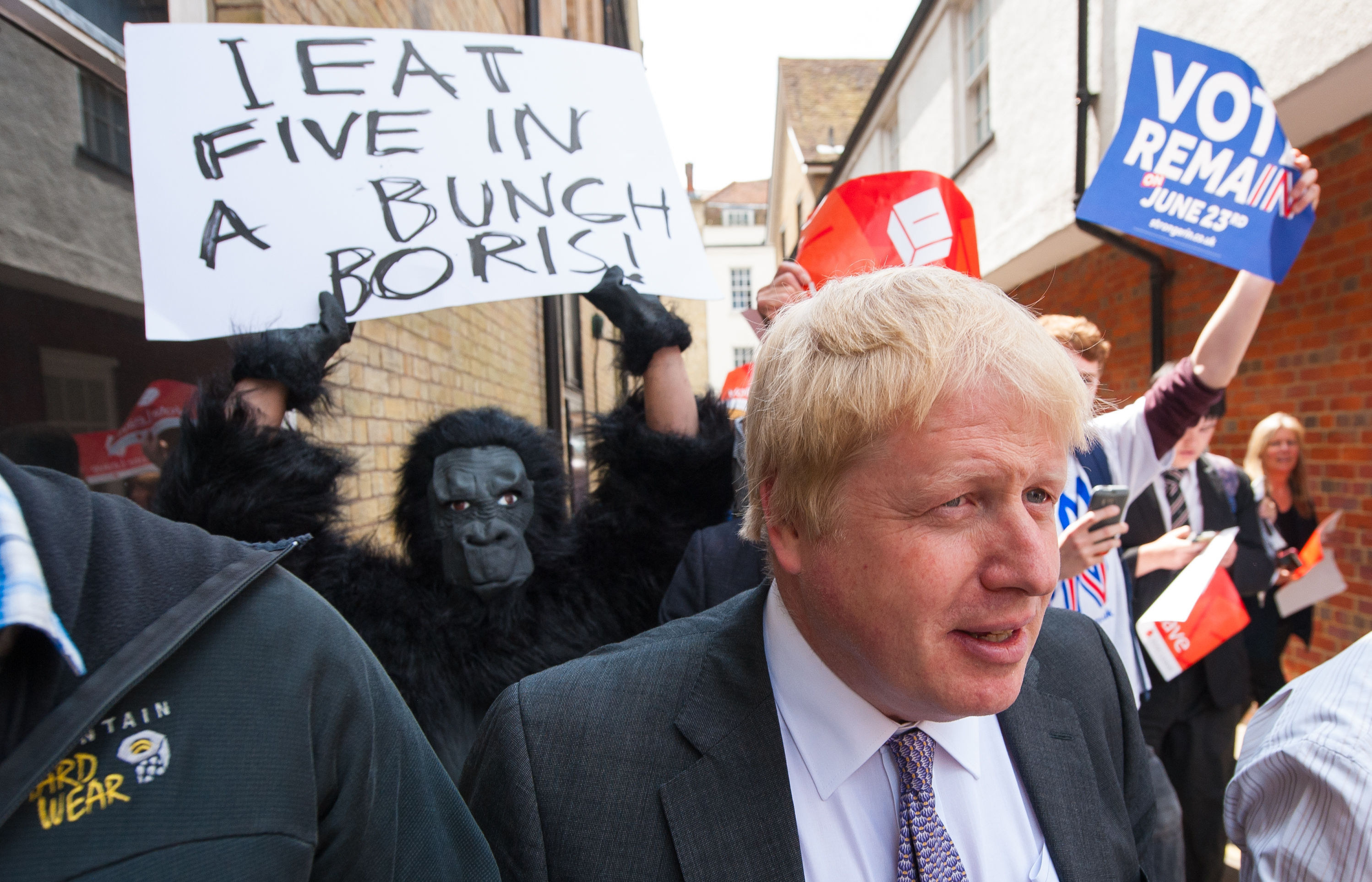 Recently Johnson has landed himself in hot water by comparing the EU's aims to Hitler's, remarking on Barack Obama's "part-Kenyan" ancestry, and claiming that EU rules prevent bananas being sold in bunches of "more than two or three".
Duncan Smith says diplomatically: "It's a different way of doing it, I guess. But it does whip up interest, it makes people notice there's a debate going on. I boarded the bus in Boston and some woman came charging forward and she said 'here, have some Boston bananas'."
He refuses to get drawn into whether Johnson could be the next Conservative party leader. "I don't have a view about that, and I'm not avoiding the question, I genuinely don't have a view about that," he says. "I've taken a vow that as I was leader myself, a) I would say to anybody: 'Don't – I promise you it's not all it's cracked up to be,' but b) I just haven't a view on it."

He insists instead that the prime minister has his full support, even in the case of a Leave vote. "I will be one of the ones who will be saying we had the vote, we voted to leave, the prime minister must now lead the government on a mission to leave the European Union."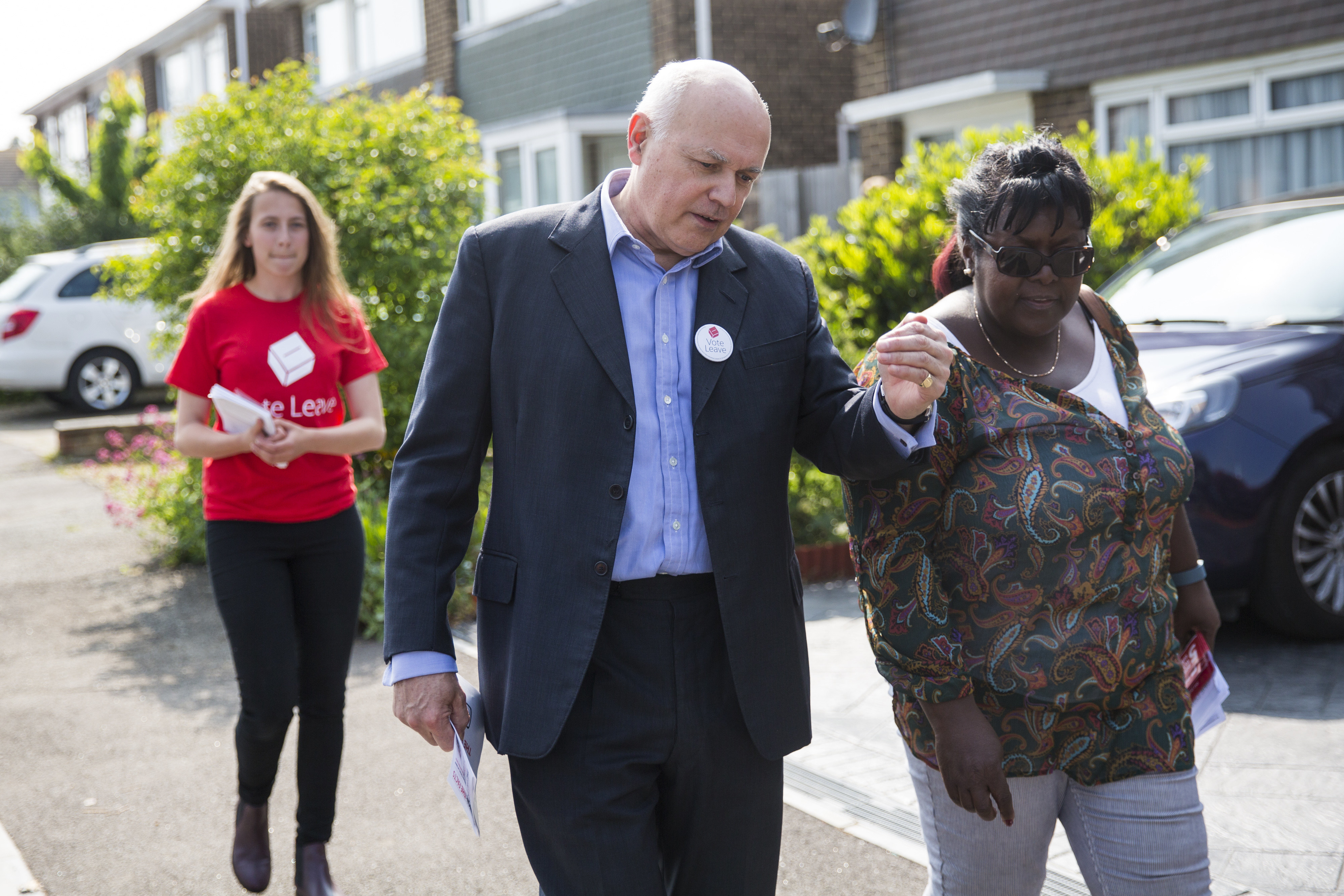 Duncan Smith also claims, with a straight face, that the Tory party remains united on non-EU issues and that relations are mostly cordial behind the scenes. "I don't detect any kind of standoff – there are one or two people who try and move away but not really," he says. "Most people recognise that you conduct this debate rather fiercely but at the end of it all the Conservative party has got to come back together again.
"In fact it's together anyway on most of the issues, but on this there will be rows and arguments. I resigned, so it's a slightly different picture for me because I don't have to meet members of the cabinet all the time."
His resignation as work and pensions secretary two months ago – over cuts to disability benefits that he labelled "indefensible" – sent shockwaves through Westminster and came at a highly awkward time for Cameron ahead of the referendum. "I resigned over a hugely important issue over where is the party going on social reform and I felt that we were getting narrower and narrower," Duncan Smith says.
"I said at the time we'd forgotten the narrative. The narrative isn't something you pin on like a badge on the lapel, the narrative is what you do every day and everything has to be measured against it. And if it's wanting, then you have to make a decision whether you can do it or you can't.
"You reach a moment when you think, Short of this just being about a job, then I can't see why I'm sitting here. But it's not personal – if the prime minister was to stand for election tomorrow I'd vote for him. It's not about him."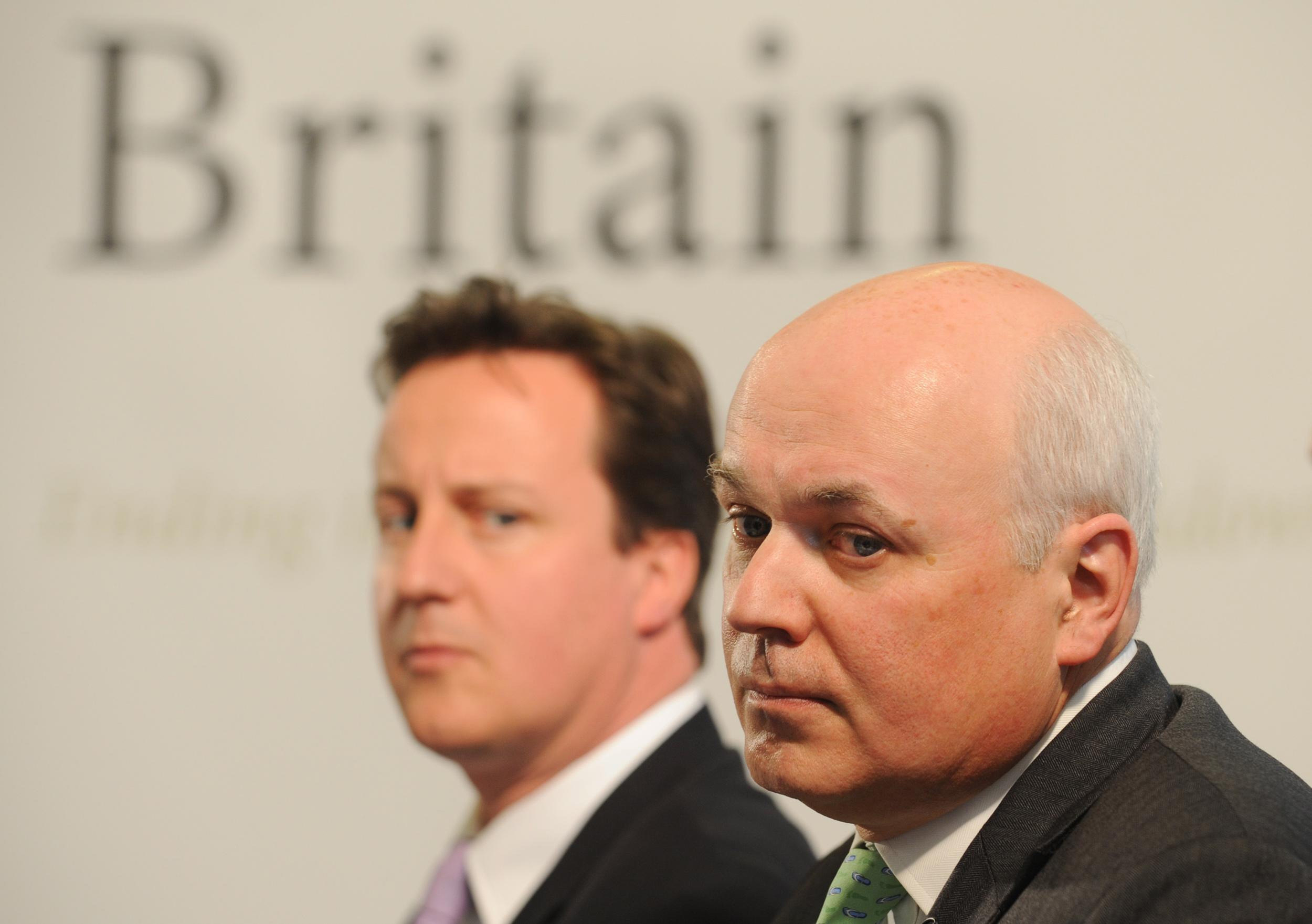 The 62-year-old now plans to do more work with the Centre for Social Justice, the think tank he set up in 2004, from the back benches. Does he ever expect to get a ministerial role again?
"If someone asked me is it likely to happen, on a 1 to 10 [scale], I would put a 2, or a 1, maybe a zero," he says. "So I'm supremely relaxed about being outside government."
While Duncan Smith is adamant that the EU had nothing to do with his resignation, it's clear cabinet tensions had soared in the weeks leading up to his decision. He was fed up with the way that the pro-Remain Cameron had treated the handful of pro-Leave ministers and was particularly furious with the PM's ban on any pro-Leave minister seeing official papers relating to the referendum. He believes Cameron has overstepped the mark when it comes to using the full force of the civil service to fight for a Remain vote.
"One of the reasons why I think the prime minister wanted to rush the vote was because he knew that left less time for the Leave campaigners to organise," he says. "And the second thing was he knew that then the government could throw everything at us, which is what they duly did – they involved the civil service more than I thought they would."
Duncan Smith hopes the pre-referendum "purdah" period, which kicked off last Friday, will mean at least the last four weeks see a fair fight. Purdah means civil servants are no longer allowed to release information on the issue. The Treasury rushed to publish its last report – warning that millions of pensioners could be worse off under Brexit – just two hours before the period began.
"The goal was to get to purdah and then things will even up a bit," Duncan Smith says. "And actually as we get to purdah, all the polls are telling us either it's neck or neck or we're actually just slightly ahead, which given the amount of stuff the government has thrown at us I think is a good place to be. I am feeling quietly confident about it all."
So it's no longer a case of David, the underdogs in parliament, fighting Goliath, the government machine? "It's more like David and David, as long as Goliath goes off and sits down somewhere and doesn't get involved again – but we all know what happened to Goliath at the end of the day."