Tony Blair Branded "Terrorist" By Sister Of British Soldier Killed In Iraq
The families of British service personnel killed in the Iraq war are now considering legal action against the former PM.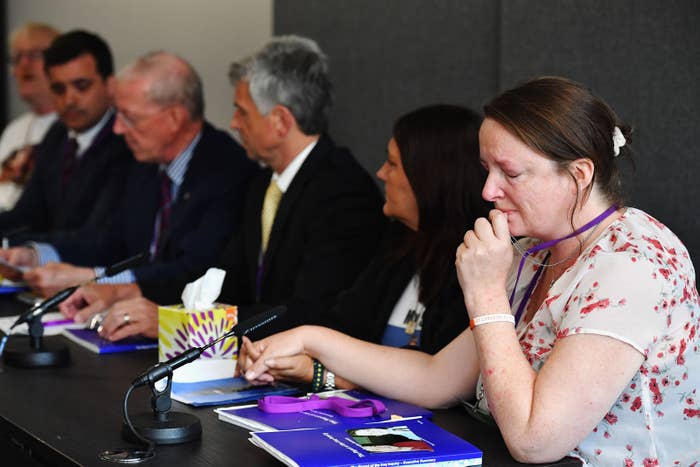 Tony Blair has been branded a "terrorist" by the devastated sister of a British serviceman killed in Iraq – as bereaved families began considering whether to pursue legal action against the former prime minister.
Sarah O'Connor, whose brother Sergeant Bob O'Connor was killed in 2005, broke down at a press conference on Wednesday following the long-awaited publication of Sir John Chilcot's report into the Iraq war.
Speaking of the deep "anger" she felt, she said: "That healing, that 11 and a half years I've worked for – I've gone back to that time when I learned that my brother had been killed.
"There's one terrorist in this world that the world needs to be aware of – and his name's Tony Blair."
Her comments sparked a burst of applause and cheers from other family members in a packed room in the Queen Elizabeth II conference centre in London.
Some 179 UK servicemen and women lost their lives in Iraq following the US-led invasion in 2003. A lawyer for the families, Matthew Jury, said they were now considering whether to take legal action against any "state officials".
Jury said relatives were "saddened that it appears to have been confirmed that their loved ones died unnecessarily and without just cause or purpose".
"In the coming days and weeks, the families will conduct a full and forensic review of the report's content and conclusions," he said.
"If state officials are determined to have acted unlawfully or in excess of their powers then the families will then decide whether to take any necessary and appropriate action at the proper time. All options will be considered."
Asked who exactly would face legal action, family spokesman Roger Bacon – whose son Major Matthew Bacon was killed in an explosion in 2005 – said: "I'm not going to be in a position from that to say who, with the exception of course of former prime minister Tony Blair who of course is mentioned by name in the report."
Bacon added: "We were proud when our husbands, sons, and daughters signed up to serve our country but we cannot be proud of the way our government has treated them."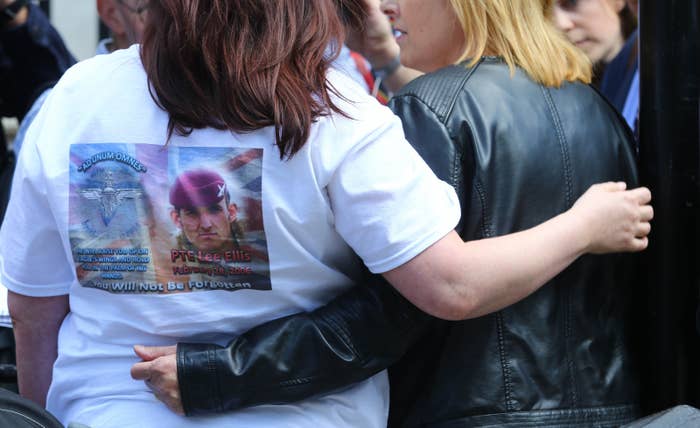 Reg Keys, whose son Lance Corporal Thomas Keys was killed in 2003, said: "I can only conclude that unfortunately and sadly, my son died in vain."
He accused Blair and his communications chief Alastair Campbell of overplaying the case for war. "Intelligence reports were coming back which were sporadic, patchy, untried, untested," Keys said.
"By the time Tony Blair and Alastair Campbell had finished with it, they were detailed and authoritative. I firmly believe Tony Blair knew that was a lie. He changed it from ifs, buts, and maybes to definites."
One reporter read out Blair's reaction to the Chilcot report, in which the former PM takes "full responsibility for any mistakes" and expresses "profound regret at the loss of life".
O'Connor was scathing. "He didn't speak from the heart, that's just PR patter," she said. "He hasn't got a heart."
She added: "You're all reading from your phones but why is he not here looking at us? If he's so sure of his decision, why is he not here looking us in the eye?"
Asked what they would say to Blair if he was in the room, Rose Gentle – whose 19-year-old son Fusilier Gordon Gentle was killed in 2004 – said: "Why did you send my son to die?"
Bacon added: "Look me in the eye and tell me you did not mislead the nation."