This Tory MP Wants An International Men's Day Debate In Parliament
Philip Davies told BuzzFeed News he was seeking the debate "in the spirit of gender equality".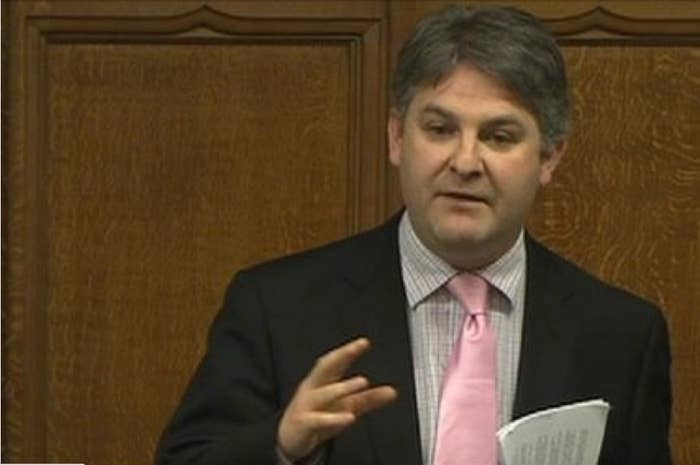 A Tory MP has demanded a House of Commons debate on International Men's Day – "in the spirit of gender equality".
Philip Davies said it wasn't right that MPs held a debate on International Women's Day every year and there was no equivalent for men. He said the situation was "acute" because women's issues were also debated every month during women and equalities question time.
International Men's Day will this year be held on 19 November. Davies told BuzzFeed News it was an opportunity to talk about issues such as men's shorter life expectancy, the high male suicide rate, and domestic violence against men.
But his plea for a Commons debate was rejected on Tuesday by the backbench business committee, a group of MPs that can allocate time for debates.
Labour MP Jess Phillips, the only female member of the committee, told Davies: "When I've got parity, when women in these buildings have parity, you can have your debate. And that will take an awfully long time."
Davies' call for a debate on International Men's Day was backed by around 15 MPs – all of whom were male and from either the Conservative or Democratic Unionist parties.
He was told by the committee to get some support from Labour MPs before his bid could be reconsidered.
Davies, MP for Shipley, West Yorkshire, told BuzzFeed News: "We have a debate every year in parliament to coincide with International Women's Day, and in the spirit of gender equality I couldn't see any reason why the same courtesy couldn't be afforded for International Men's Day.
"Actually, the situation's more acute, because of course for women's issues, every month they have women and equality questions in parliament. There's no such way to raise men's issues.
"The things that International Men's Day is focusing on are things like: the lower life expectancy of men; the health questions of men, much of which goes unreported by men because of embarrassment; the amount of domestic violence that men face, which is again often unreported; the underachievement of boys in schools; the relationships between fathers and their children.
"These are all massive issues that affect lots of people in every constituency. And I think most people would have to accept all of these issues are very, very rarely, if ever, debated in parliament."
Jess Phillips told Davies: "As the only woman on this committee, it seems like every day to me is International Men's Day."
She said she also cared about men's issues but that he could raise them in any of the existing question times, for example, on health.
"I welcome any debate about the men's issues he raises – on testicular cancer, on male suicide, domestic violence – but that's not about equality," she told BuzzFeed News.
"He demanded a debate on International Men's Day in front of a committee with six men and one woman, and he doesn't see the irony of that. He wants a debate in order to get equality with women in a building where equality for women is frankly a joke."