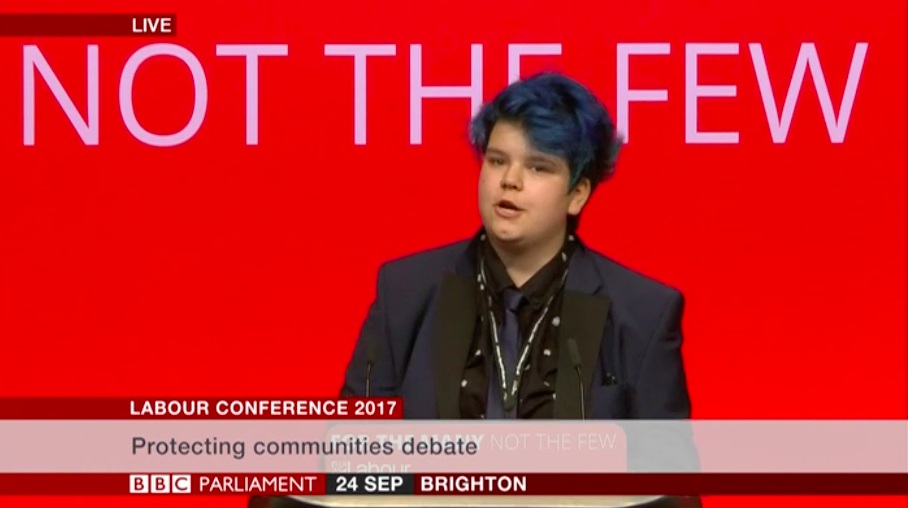 A 16-year-old was given a standing ovation at Labour's party conference as she warned that teenagers were suffering mental health problems as a result of the government's GCSE reforms.
Lauren Stocks, a representative for North West Young Labour, said she was among the first pupils to sit the reformed English and maths GCSEs this year that saw the grading system change from letters to numbers.
"There's a statistic that we were shown when I was about 13 or 14 that told me that 3 in 10 people in every classroom suffer with a mental illness," she said on Sunday.
"Now I'm going to be a bit frank here, conference – that is bollocks, right. It's a good half, if not more.
"I could have walked into any food tech, history, art, maths classroom and just watched seas of spaced-out, stressed-out, depressed kids in a battlefield where they can't afford pens and paper."
Her voice cracking with emotion, she continued: "It is a disgusting sight and we cannot sit on our hands any longer.
"Conference, I urge you, this is a call to arms – please, please, if you've got children or relatives of teenage age and about to go into these reformed GCSEs, I tell you to make sure that they know they are loved and they have all the respect and support they deserve.
"Because no government with a blue ribbon will ever ever give them that."
At the beginning of her speech, Stocks had warned she hadn't made notes and her thoughts were a "bit scattered" so asked the audience to "go easy on me". Her short yet powerful speech was greeted with a long standing ovation from the packed hall in Brighton.
Under a change to GCSEs brought in earlier this year, English literature, English language, and maths are now marked from grades 1 to 9, rather than from A* to G.
Schools minister Nick Gibbs said in August that the reforms would prepare students to compete in a global workplace.
"We are beginning to see the reforms translating into higher standards, improving opportunities and the life chances of millions of young people," he said.