These MPs Want The Government To Get On With The Ivory Ban Before More Elephants Die
"Let us not be the parliament who had to tell their grandchildren: 'We're sorry that those great wild animals no longer exist'."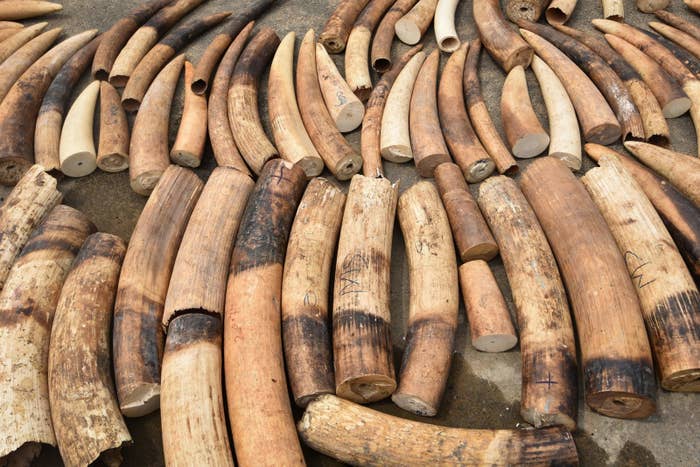 MPs from all parties have raised concerns that the government is not acting quickly enough to shut down the trade of ivory, despite a high-profile announcement by environment secretary Michael Gove last year.
The government has yet to respond to a consultation on banning the sale of almost all ivory items, which closed at the end of December with more than 70,000 responses and overwhelming support for a ban.
In a highly charged debate in Westminster Hall last week, MPs said ministers must move faster to help save more elephants from poachers – and ensure Gove's words were more than just empty rhetoric aimed at winning over younger voters.
Labour MP Rupa Huq, cochair of the all-party parliamentary group on anti-corruption, raised fears that the consultation results could be "held back for a wonderful photo opportunity" at a global conference on illegal wildlife trade being hosted in London in October.
She told BuzzFeed News the conference was "being used as a smokescreen so nothing is properly answered" by ministers in the meantime.
Gove announced the move in October, months after the Conservative party came under fire for removing from their 2017 general election manifesto a pledge to ban ivory sales, which had been in their 2015 manifesto.
The electoral damage of the policy was driven home when then–Tory MP Victoria Borwick, president of the British Antique Dealers' Association, narrowly lost the safe seat of Kensington to Labour after arguing against a total ban of ivory.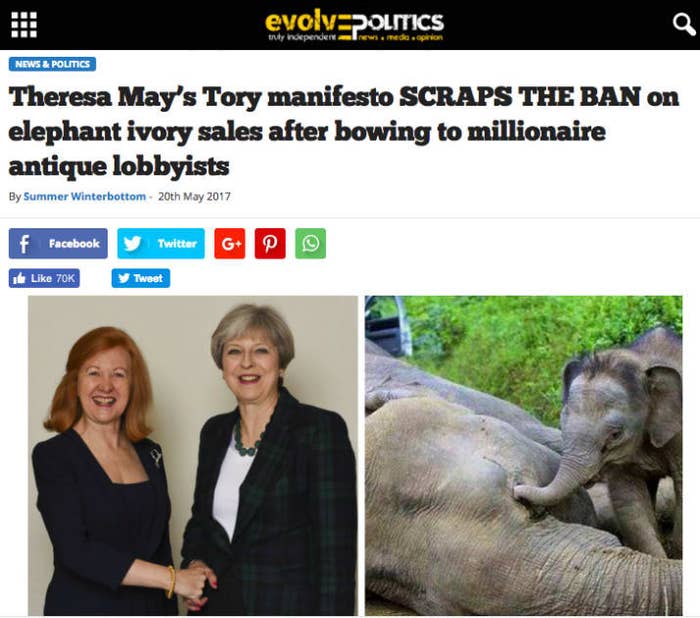 Data collated during the election campaign by BuzzFeed News revealed that in the final week of May 2017, more people shared stories on social media about the Tories' ivory policy than about the prime minister's U-turn on the dementia tax.
The story swamped people's Facebook timelines thanks to a report from left-wing blogger Tom Pride and an incredibly viral story on the Evolve Politics website that featured a picture of a smiling Theresa May standing next to Borwick, as a baby elephant mourned its dead mother.
Announcing the ban in October, Gove said the decline in the world's elephant population "shames our generation". Around 20,000 elephants a year are slaughtered due to the global demand for ivory, and elephant populations have declined by almost a third in the last decade.
At the moment the UK allows trade in ivory antiques carved before 1947, or items carved before 1990 that have government certificates – which has led to Britain becoming the world's biggest exporter of legal ivory.
Campaigners have warned this provides cover for the laundering of illegal ivory across the world, leading to more elephants being killed for their tusks.
Leading the debate, Huq told ministers: "The consultation on the ivory ban last autumn was very welcome, but it has all gone a bit quiet since it closed last year. We are already in March, so when will the results surface?
"The ban needs to be more than just virtue signalling. There need to be proper measures for combating the ivory trade at source."
She called on the government to follow China's lead in introducing a total ban, and warned that exemptions for items of "cultural value" could open up a legal loophole for luxury ivory items such as cigar boxes.
Labour's Vernon Coaker, a former minister, said frankly: "For goodness' sake, we have been talking about an ivory ban for years. Can we not just get on with it somehow?
"Let us not be the parliament, or the members, or the legislators who had to tell their grandchildren: 'We're sorry that those great wild animals no longer exist. We wanted to do more, but it was difficult to get people to work together, and the exemptions were difficult.'
"Whatever the challenges and difficulties, we owe it to our children and grandchildren, ourselves and the planet, to do better. That is the task before us."
Stephen Kerr, a Scottish Tory MP, echoed Huq in calling for action, not words. "It has to be more than virtue signalling – there has to be real action," he said.
"We already have a strong record in this area, and the strategy needs to develop. I believe we are ready to build on it, as all parties in the House of Commons have an appetite for it."
Tory MP Zac Goldsmith said a UK-led global summit on illegal wildlife trade in 2014 had led to "all kinds of ripple effects across the world", and he was sure the ivory ban consultation would result in a "pretty clear position" by the government.
But he warned it did not go far enough in terms of species, because if the elephant ivory market was closed down there would be a move to other ivory-bearing species including the walrus, narwhal, and hippo.
"There are only 100,000 hippos in the world, which is extraordinary," he said. "If there is any increase in demand for hippo ivory as a replacement for elephant ivory, they are finished."
Jim Shannon from the Democratic Unionist Party said around 8,300 elephants had been slaughtered since the consultation closed, "not for meat or to feed starving families, but to decorate people's houses with ivory".
"That is not acceptable," he said. "It is my belief that we need to introduce legislation quickly to play our part in reducing the number of animals killed by poachers, and ensuring that narwhal, walrus, and hippopotamus ivory will not be used as replacements so that those animals become next in the firing line. We must end the trade. We can up our game."
Environment minister Thérèse Coffey insisted that officials and lawyers were "already actively working" on the results of the ivory ban consultation.
"I know that honourable members often ask 'What is shortly? When will it happen?'" she told MPs. "We want to ensure that any ban we propose will be effective and will not be open to legal challenge.
"That is why we need to go through, very carefully, every representation that has been made to us. If we did not do that, we would be subject to legal challenge, which could derail the legislation that is already being drafted on some of the big items, where there is no dispute about what we want to take forward."
She said the conference in October would focus on tackling the corruption that facilitates illegal wildlife trade, and the government was providing funding to Interpol to expand its work on tracking and intercepting illegal shipments of ivory.
But after the debate, Huq said Coffey's response was "disappointing", adding: "None of the questions posed were concretely answered, not even when the results of the consultation will see the light of day, so I will be writing to her to follow up."