There are cheers and a stamping of feet as Alan "Howling Laud" Hope, leader of the Monster Raving Loony Party, takes to the stage. "We've got 21 candidates standing at the general election," he says. "And Boris Johnson is standing against me in Uxbridge!" The beer-swilling crowd whoops; there's a single cry of "Smash him!"
Resplendent in yellow waistcoat, black hat and Vote Loony badges, Hope looks a little out of place in the dingy setting of the Rhythm Factory nightclub in east London.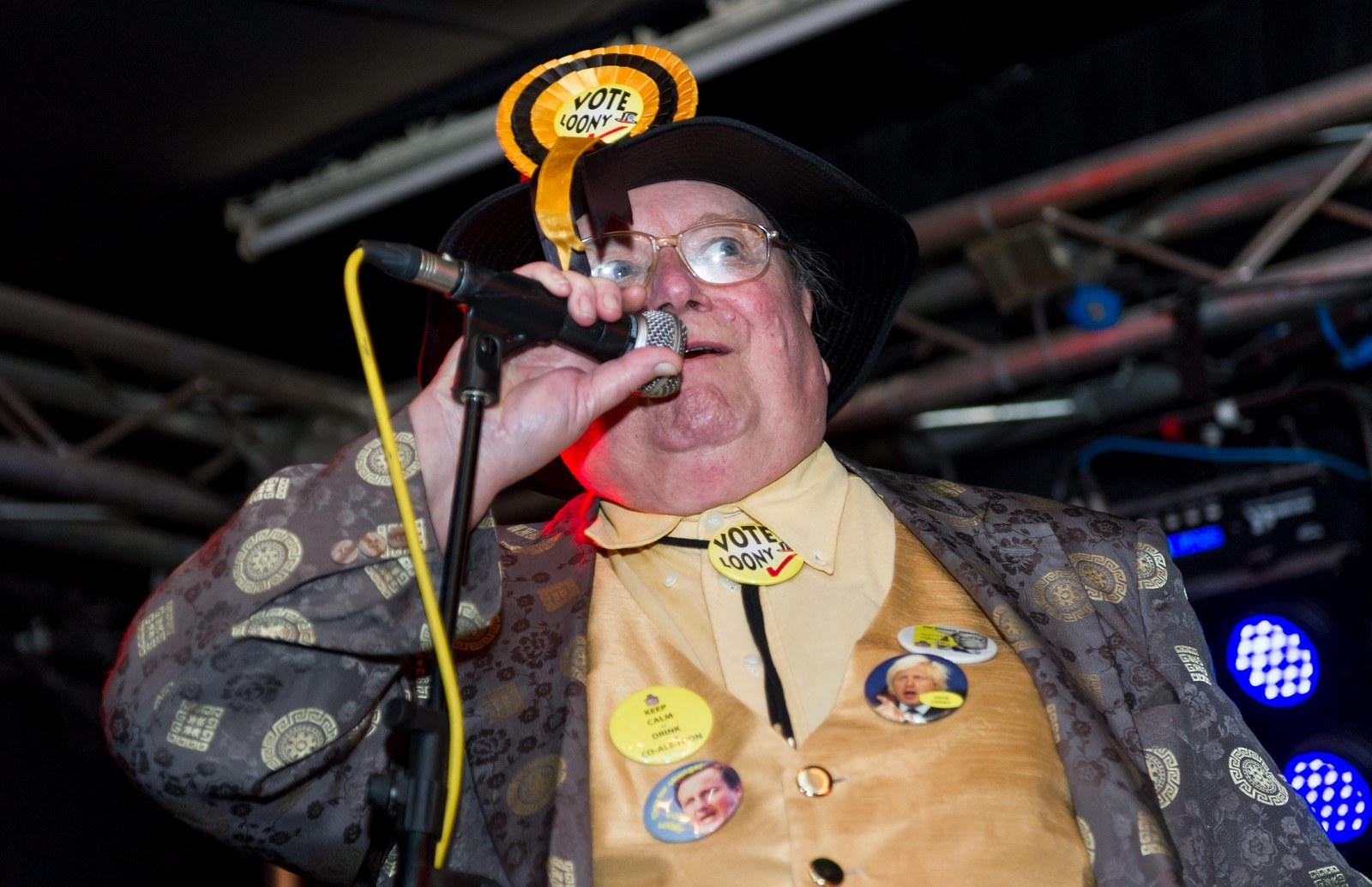 BuzzFeed News has been invited here to celebrate the launch of the party's new record – a cover of Bobby Pickett's novelty hit "Monster Mash". The party is determined to see it reach the Top 40 in the run-up to the general election. Knigel Knapp, a former parliamentary candidate for the Loonies, is a founding member of its band, called The Bigger Fibbers. He looks like a cross between Top Gear's James May and the late Rik Mayall – only with a more bizarre dress sense. He's decked out in a Dennis the Menace-style red and black striped jumper and red tartan trousers to watch the warm-up act, where we grab him for a chat.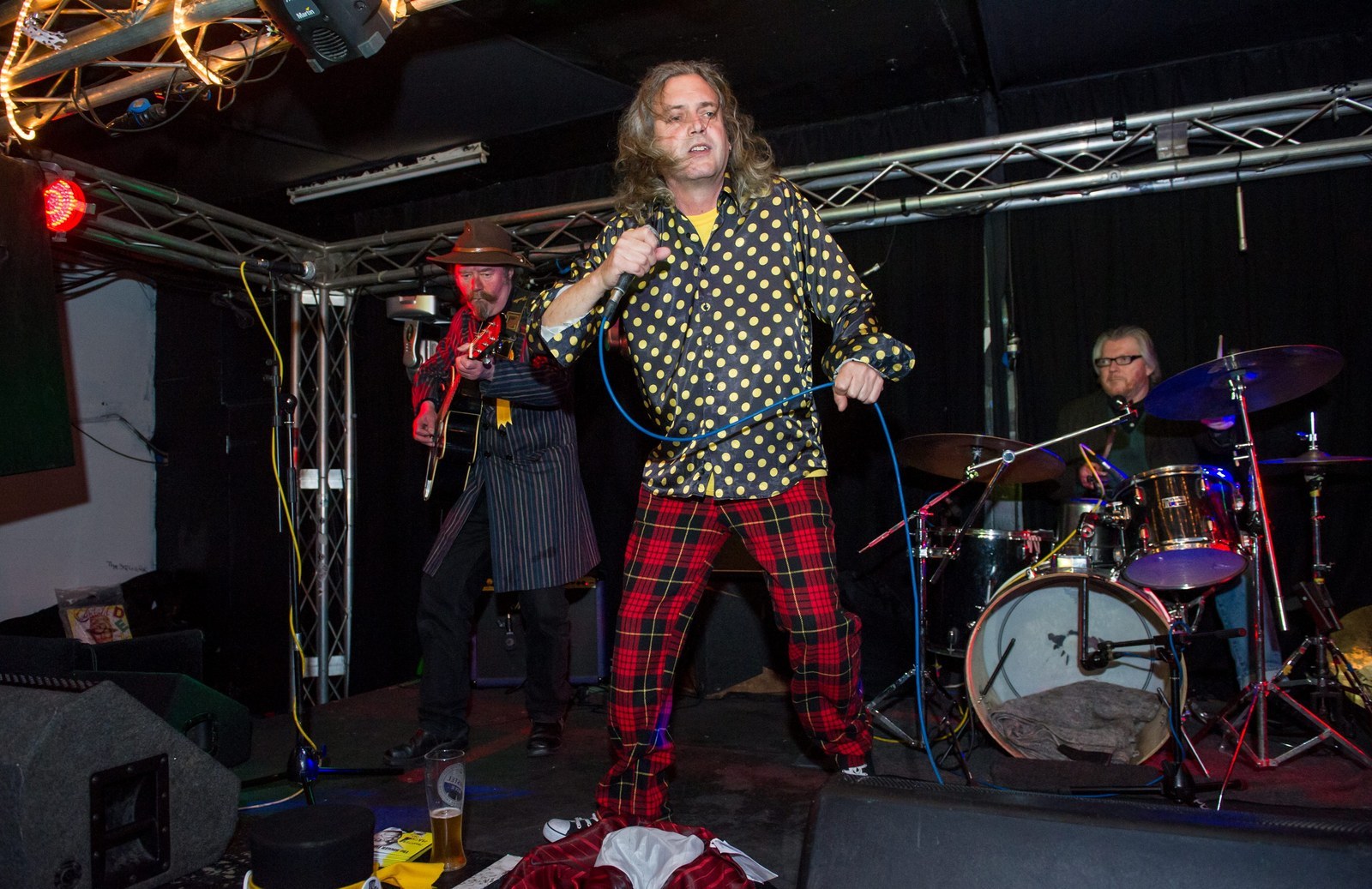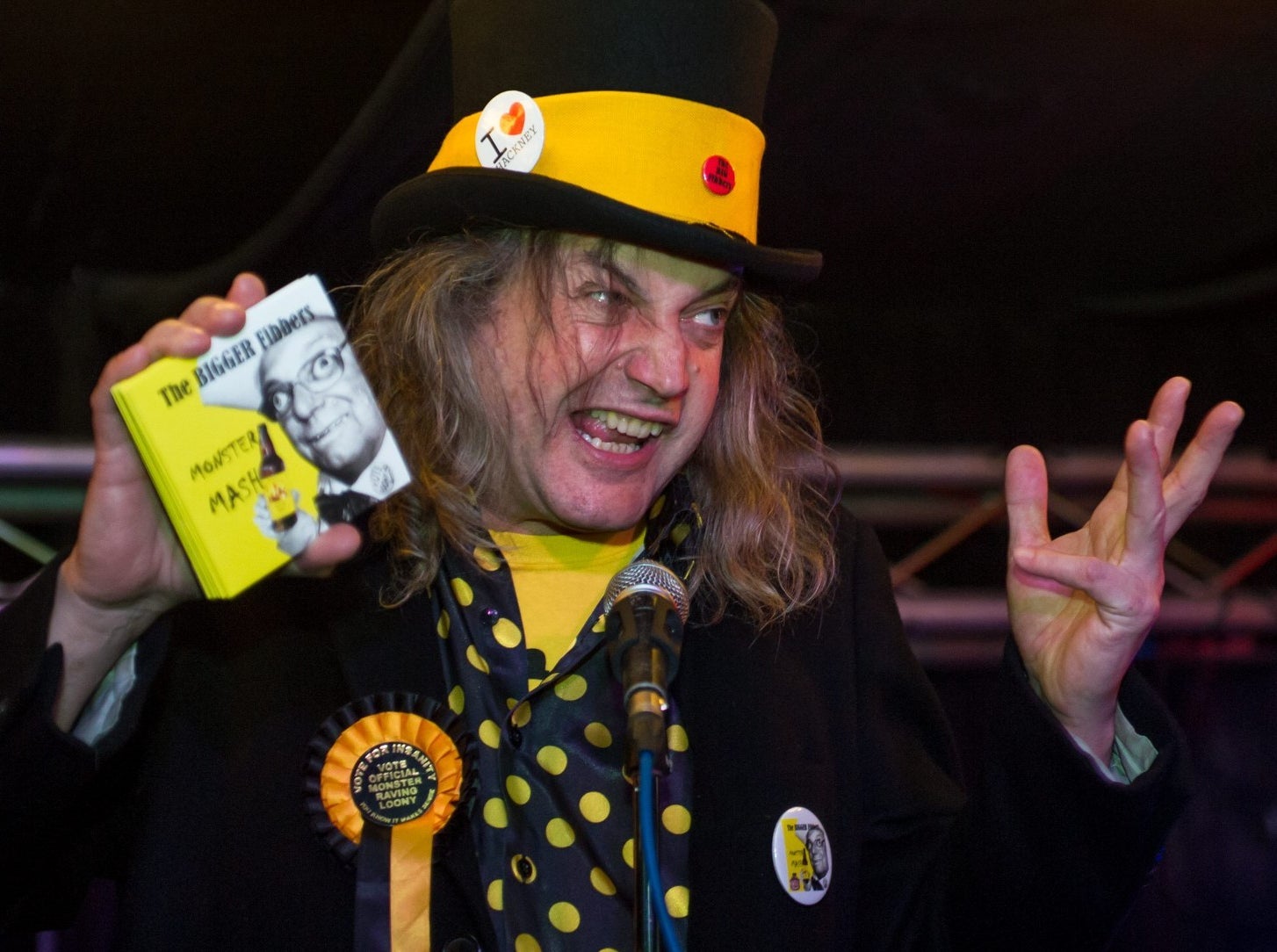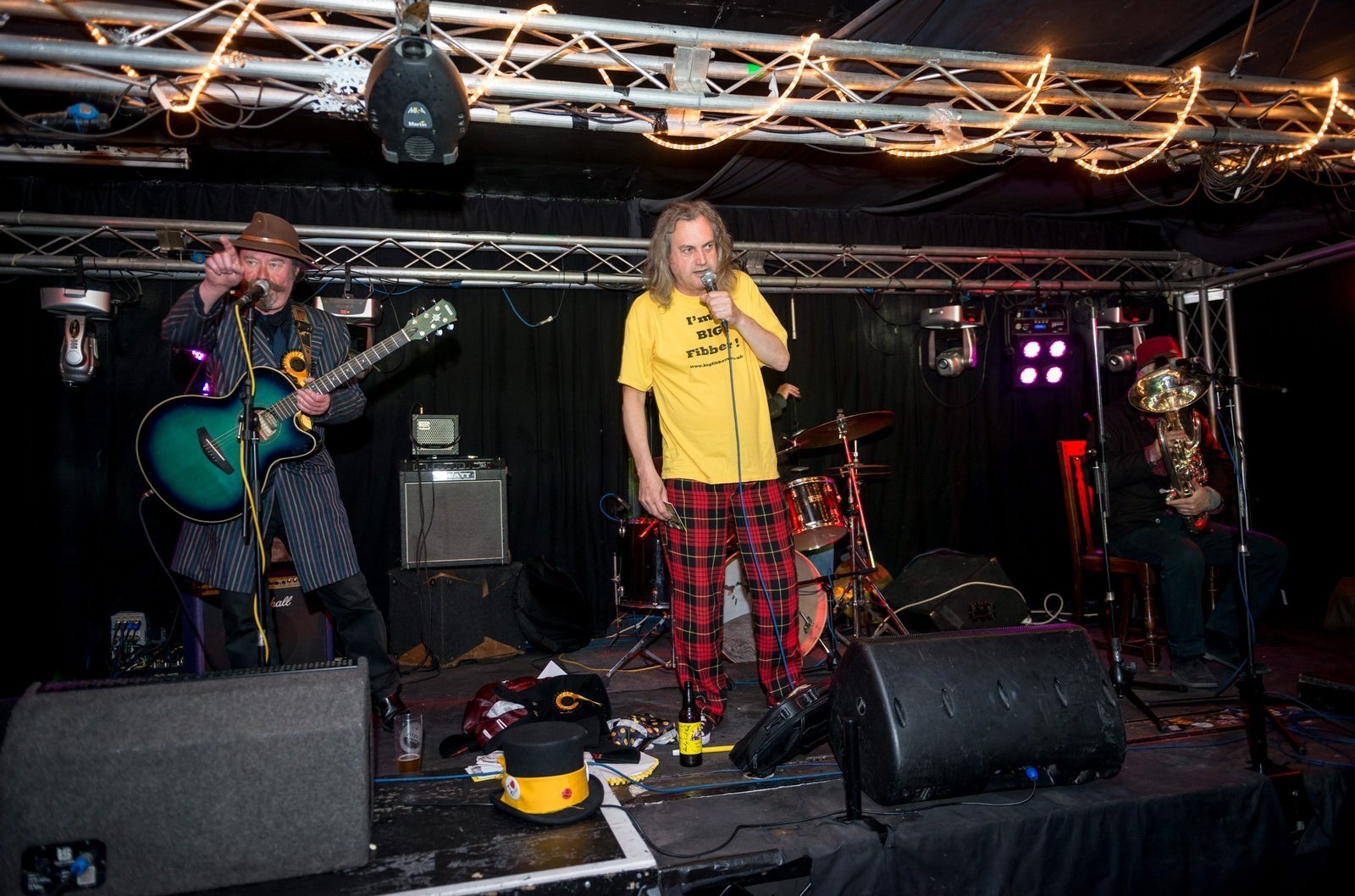 What does he play in the band? "The fool!" he says. Not really: he's on vocals and also plays the sliding whistle – or two of them from either side of his mouth, as we later find out.
Knapp has stood for parliament twice now, in 2005 and 2010, both times in east London against Labour MP Diane Abbott. He's the party's "shadow minister for big fibs and blatant lies". But he says he's not standing this time round. Why not? "Can't afford it."
This is the biggest problem the Loony party faces. Every general election candidate has to cough up £500 from their own pocket to fund a deposit they will inevitably lose.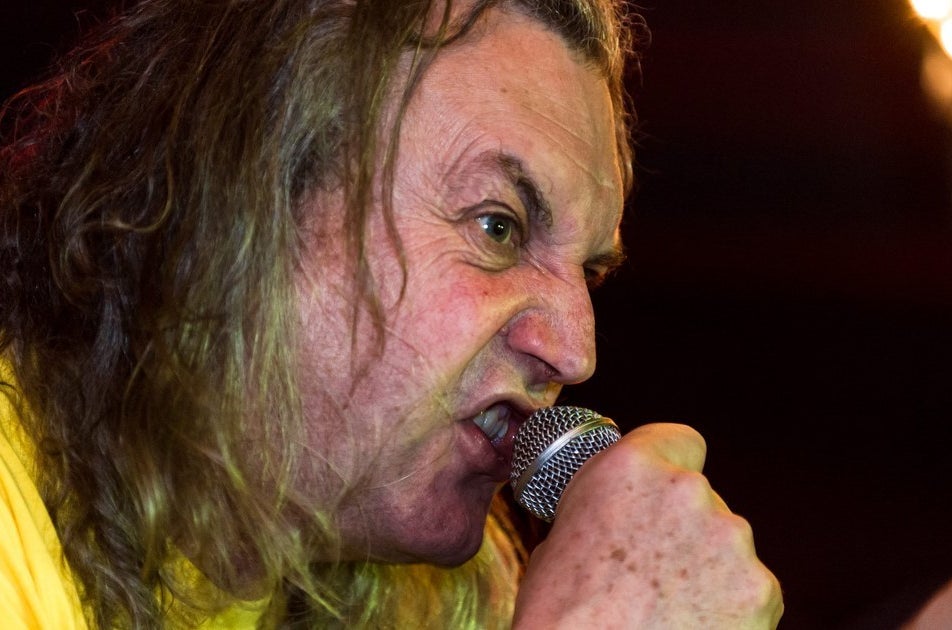 The party hopes to field around 30 candidates on 7 May, many in high-profile seats. Howling Laud Hope is standing in Uxbridge and South Ruislip against London mayor Boris Johnson, Flying Brick is up in Doncaster North to fight Labour leader Ed Miliband, and Monkey the Drummer is standing against energy secretary Ed Davey in Kingston and Surbiton.
Their wacky policies include cancelling stamp duty – because "stamps are expensive enough" – and banning greyhound racing to "stop the country going to the dogs".
Ann Kelly, a freelance historian, is the party's latest recruit. BuzzFeed News asks her what prompted her to stand as the "Mid Beds Minx" against Tory Nadine Dorries in Mid Bedfordshire.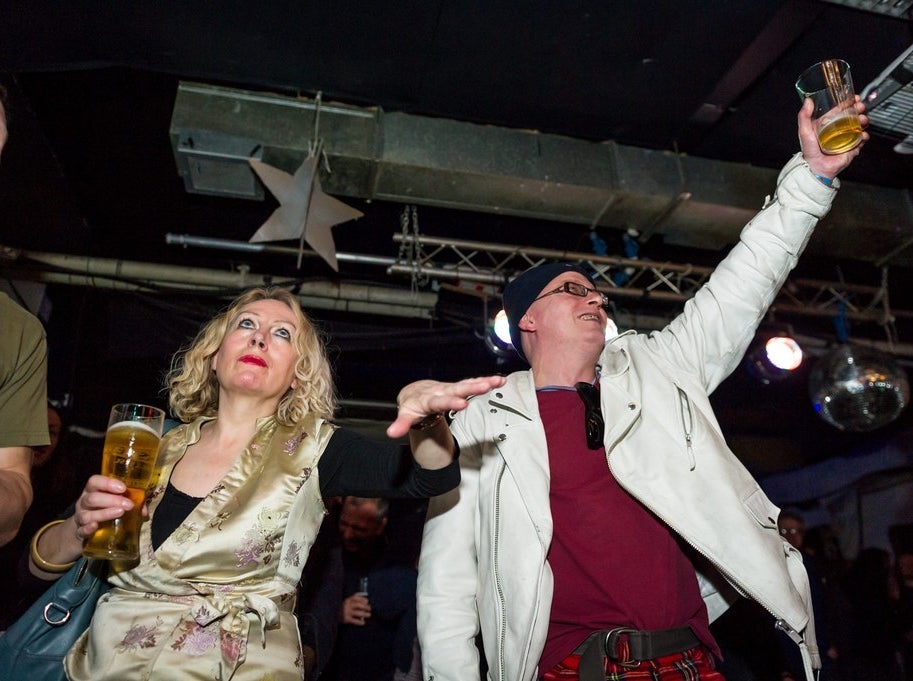 "I've got friends in the party and they asked me to stand," she says shyly. "I think it shows what a democracy we live in." What does she make of the coalition? "It's rubbish. People just don't know who to vote for." She says she won't wear anything "too mad" on election night but will have a few Loony rosettes on show.
Kelly is stood among a few dozen party supporters who have drifted into the dark room, plastic glasses of ale in hand, to watch The Bigger Fibbers perform their single.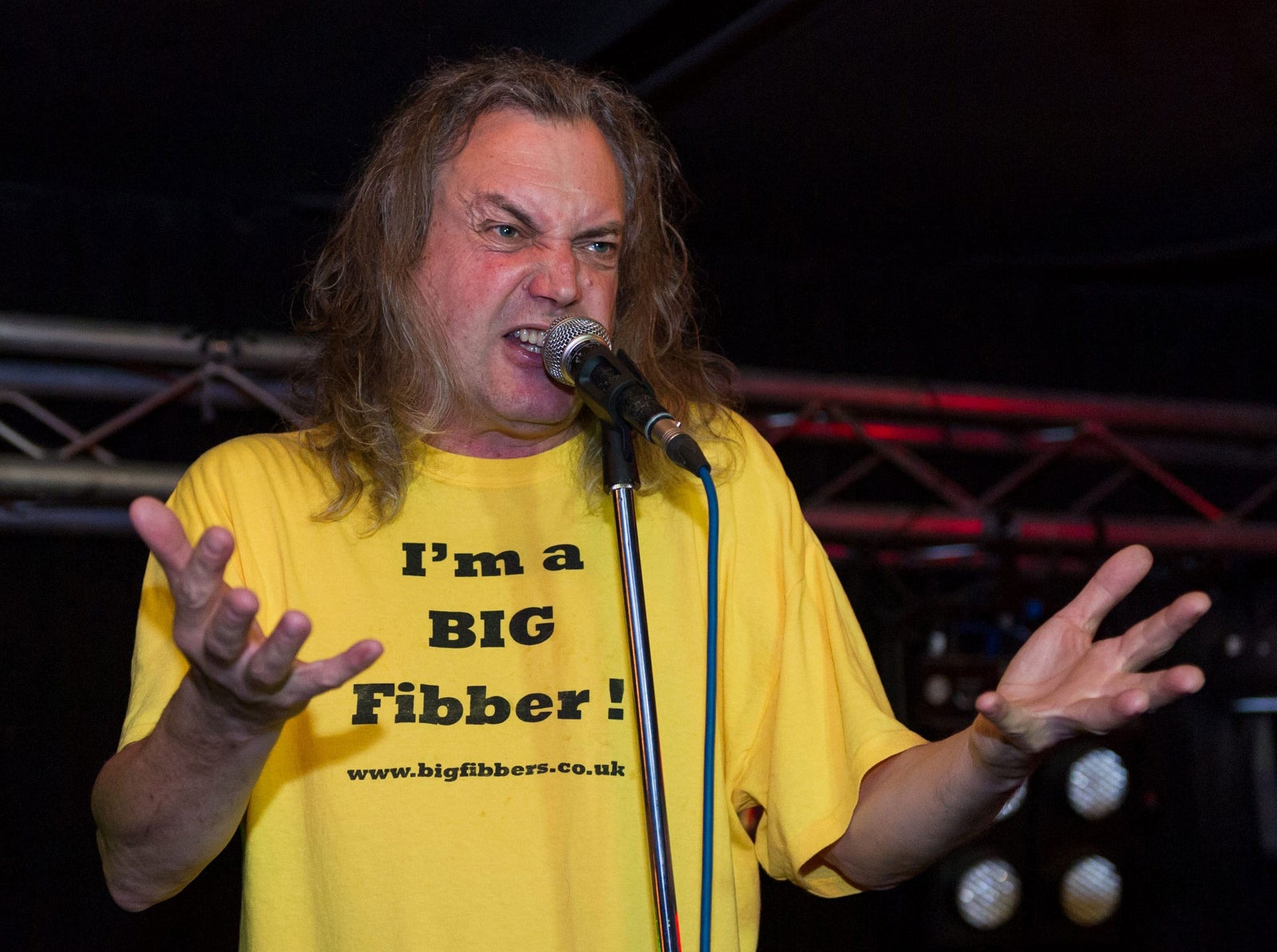 Beer is a big part of being a Loony. The party has been selling pints of "Co-ALE-ition" for more than two years in pubs around the country. Members were furious last month when David Cameron used the same brand for souvenir beers that he handed round to ministers in the final cabinet meeting of the coalition. Monster Mash, the name of the single, also happens to be the name of one of the Loony party's ales, brewed by the Mash Brewery in Hampshire. Everyone's enjoying a taste.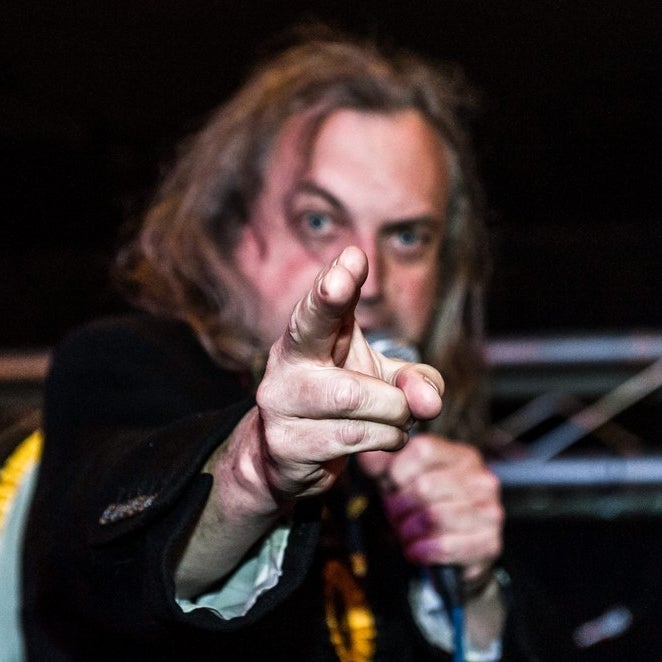 "I don't know if you noticed in the news recently that David Cameron last week roped in a brewery to produce bottles of Co-ALE-ition!" Hope tells the crowd. There are loud boos. "And we're taking him to court for it!" That prompts prolonged cheers. "If we win a penny that would be wonderful," he adds. Party officials later insist he is joking; the Loonies are not suing the prime minister.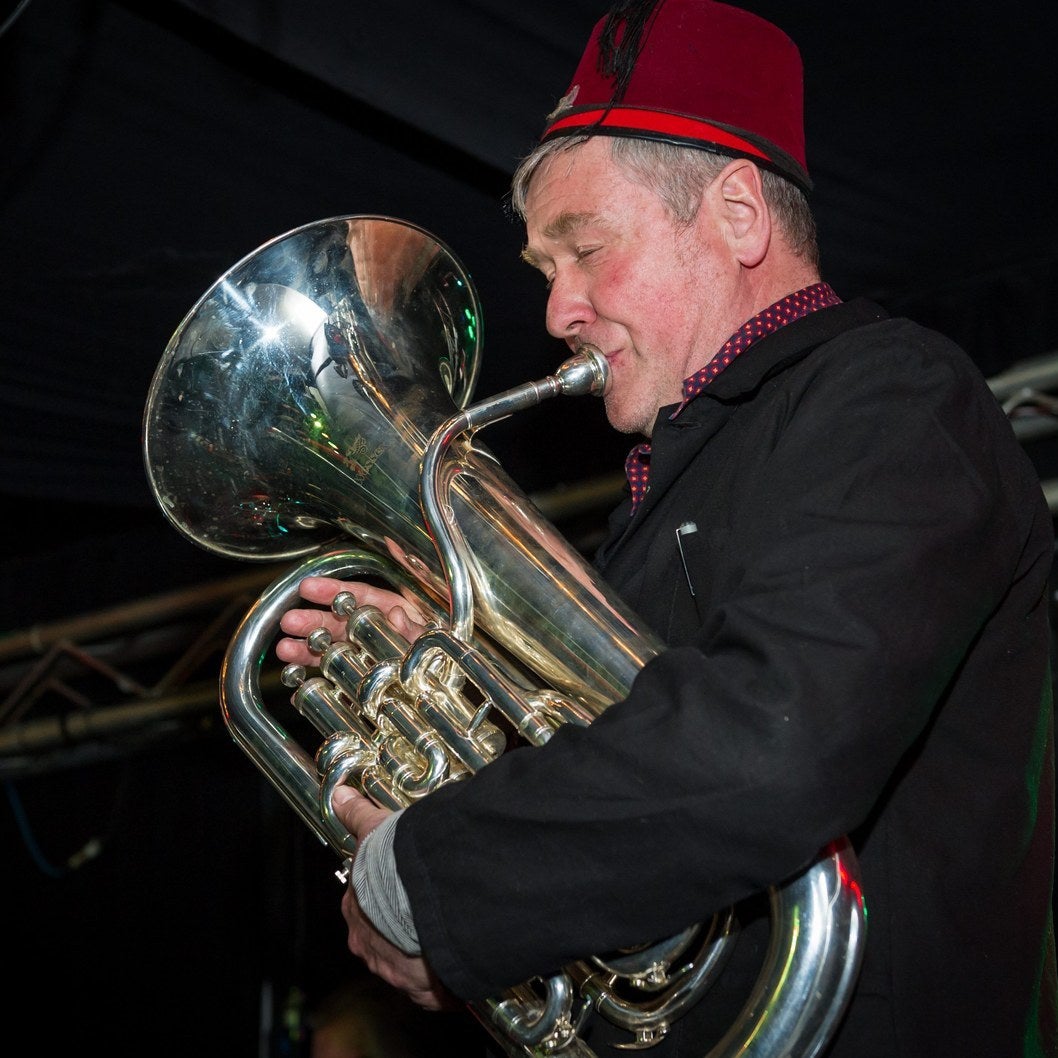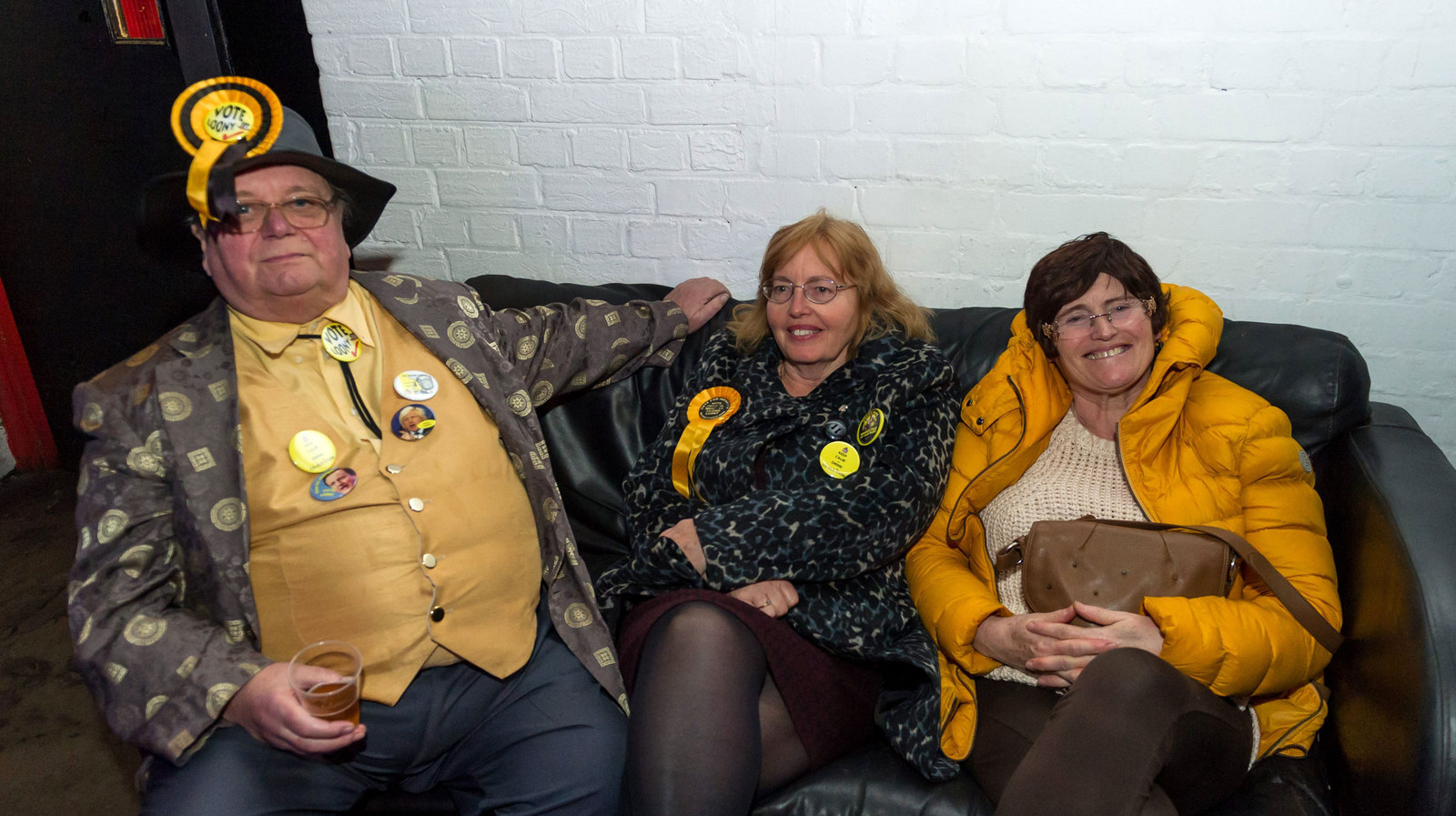 After a set from folk duo Murphy & Maclean, it's time for the main act: The Bigger Fibbers. Knapp has changed into a top hat and spotted shirt for the occasion. The set list is eclectic: "The Morning After the Night Before Blues", "Who Put Pepper in the Vaseline?", "I Woke Up This Morning and Killed a Fly" and "You're My Little Mermaid, You're a Bit Like a Fish" (which he ends by telling the clapping audience: "Thank cod for people like you.")
Finally, it's the big one – the Monster Mash! It really is a graveyard smash, given the reaction from the crowd.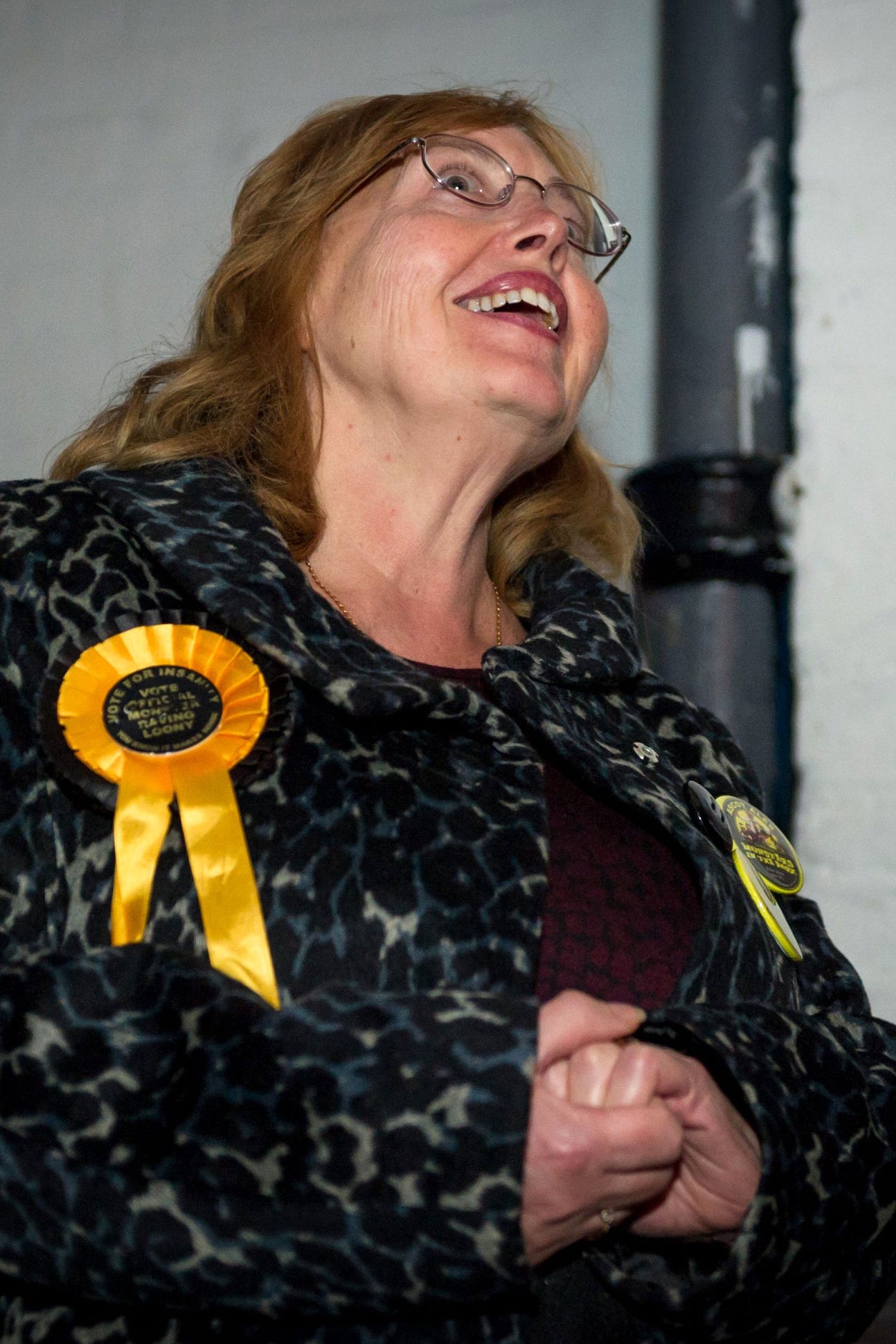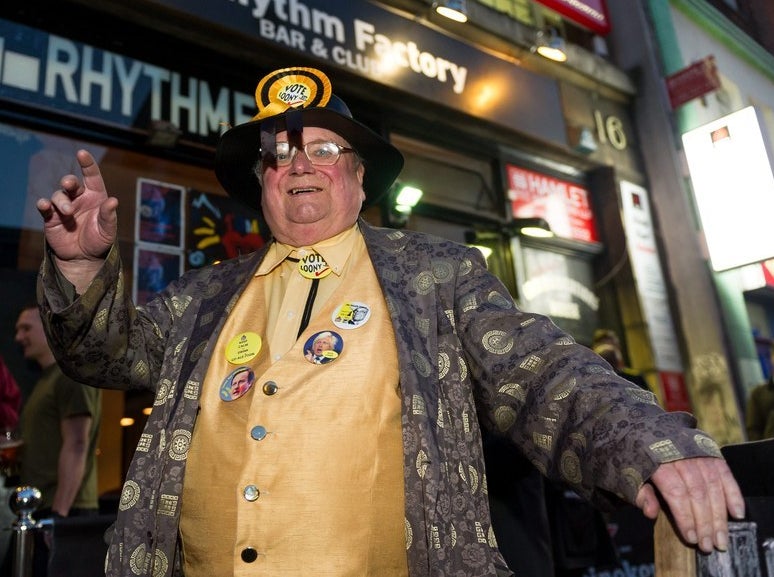 Jumping down from the stage, a sweating Knapp pleads with party members to buy the single. "Everyone in this room has to tell at least 20 people to download it the week of the general election to get in the charts," he says. "Let's tell all these normal politicians what we really think of them!"
Looks like there are no comments yet.
Be the first to comment!