The Government's Pro-EU Leaflet Hasn't Made A Blind Bit Of Difference, Poll Suggests
Just 21% of people felt well informed about the EU referendum two weeks after the leaflet was sent – down from 23% beforehand, the Electoral Reform Society found.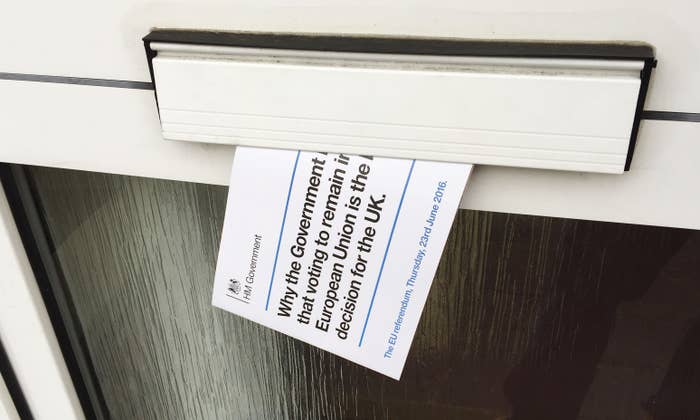 Just over 1 in 5 people feel "well informed" about the EU referendum despite the government sending out pro-EU leaflets to 27 million households at a cost of £9 million, a new survey suggests.
Just 21% of respondents said they were either well or very well informed at the end of April – two weeks after the leaflets were mailed out, a BMG Research poll for the Electoral Reform Society found.
That was down from 23% at the end of March – indicating that the controversial leaflet drop had virtually no effect. The government's decision to spend £9 million of taxpayers' money on pro-EU leaflets sparked a major political row, with over 220,000 people signing a petition in protest.
The poll of 1,000 adults released on Wednesday also found that 69% of people were either interested or very interested in the EU referendum. A third (33%) said the BBC had been the most important source in informing their decision, 20% said newspapers, 14% social media, and 10% the government.
Katie Ghose, chief executive of the Electoral Reform Society, said: "Leaflets are all well and good but clearly they are not enough to create the kind of genuinely informed and engaging EU debate the public deserves, as this poll demonstrates.
"We need a dynamic campaign rather than just one-sided mail-drops – voters want to be able to compare information from both sides so that they know the full story.
"These findings show that voters' need for an informed debate isn't being met by the campaigns at present, and the government's huge leaflet drop appears to have had little effect."
Back in April, David Cameron robustly defended the leaflets, saying he wanted every voter to have "all the information at their fingertips". He insisted: "I think that is money well spent. It is not just legal, it is necessary and right."