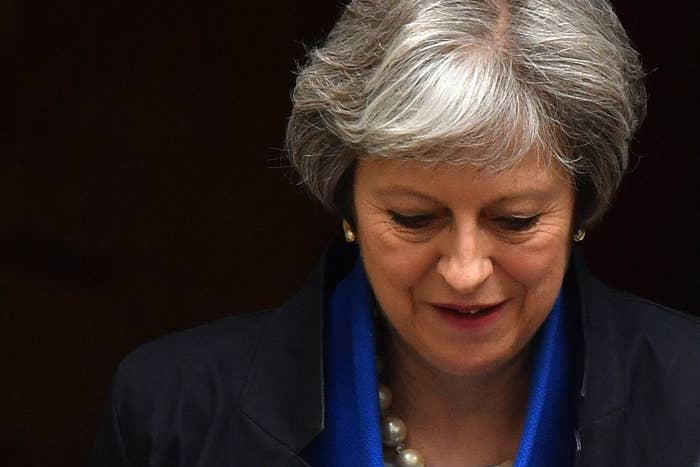 Theresa May has been accused of a cover-up of the Windrush scandal after the government defeated a Labour motion aimed at forcing ministers to hand over official documents to MPs.
Labour was seeking a "humble address" to the queen that required the release of all relevant internal correspondence between 2010 and 2018 to the home affairs committee.
But its motion in the House of Commons was defeated by 316 votes to 221, after Conservative whips ordered all their MPs to show up.
It came as the prime minister announced that the Home Office would hold an internal review into its handling of the Windrush scandal.
Amber Rudd resigned as home secretary on Sunday in the wake of mounting anger over the treatment of Windrush families, some of whom have been wrongly threatened with deportation after living in Britain for decades.
Speaking in the Commons on Wednesday, her successor Sajid Javid said it would be wrong to back the Labour motion because it would become a "massive, open-ended fishing expedition".

But Labour said the prime minister, who was formerly home secretary, was simply seeking to avoid accountability over her actions.
Shadow home secretary Diane Abbott said: "This was an opportunity for the Tories to start to right the wrongs they have done to the Windrush generation.
"After losing her human shield with the resignation of Amber Rudd, the architect of this scandal, Theresa May, ordered her MPs to vote to cover up the truth of her involvement.
"This is nothing short of a betrayal of the Windrush generation and others who have been affected by the government's heartless 'hostile environment', and flies in the face of the new home secretary's promise to make things right.
"Tory MPs will now have to explain to the people whose lives have been turned upside down why they think they don't deserve the facts to be known and don't deserve proper justice."
Javid said Labour's motion was "disproportionate and distracting", adding: "It would take help and capacity away from where it's needed by reassigning more than 100 officials. That would create significant cost for taxpayers."
He said a "'lessons learned' review" was already underway: "This review will seek to draw out how members of the Windrush generation came to be entangled in measures designed for illegal immigrants, why that was not spotted sooner, and whether the right corrective measures are now in place."