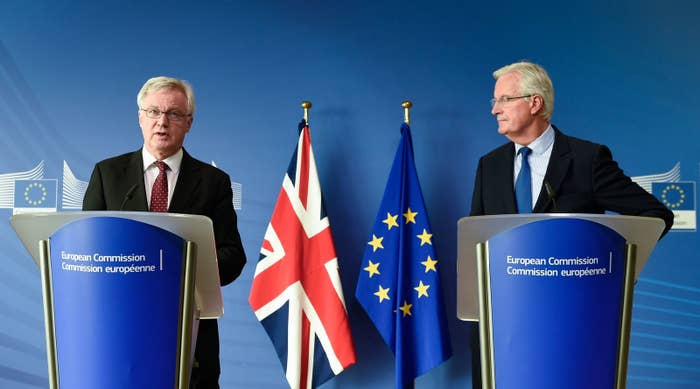 The European Union's chief negotiator has declared that "significant progress" has still not been made on key issues necessary for Brexit talks to progress – and warned it could take "months" to move on to negotiating a future trade relationship.
Michel Barnier said at a joint press conference in Brussels that while British prime minister Theresa May's speech in Florence last week had "created a new dynamic" in negotiations, major differences remained between the two sides.
With the Brexit date pencilled in for March 2019, teams from the EU and the UK are under mounting pressure to strike a deal on a range of complicated issues as soon as possible, not least the issue of citizens' rights.
In a joint statement following the conference, Carolyn Fairbairn, director-general of the CBI, and Frances O'Grady, general secretary of the TUC, said: "After 15 months of human poker, the uncertainty facing 4 million European and UK citizens has become intolerable.
"It is a blight on the values of our nations. Millions of workers and thousands of firms are today united in their call to leaders on both sides to find an urgent solution. A clear guarantee of the right to remain for citizens in both the UK and EU27 is needed within weeks.
"EU citizens account for 10% of registered doctors and 4% of registered nurses across the UK. Millions more work in the public and private sectors delivering public services and making a vital contribution to our economy.
"Once agreed, this guarantee must be implemented independently of the rest of the negotiations to avoid the risk that 'no deal' in March 2019 leads to uncertainty and heartache for millions of people."
At the press conference, which followed the latest round of talks, UK Brexit secretary David Davis insisted negotiators had "made important progress and capitalised on the momentum created by the prime minister's speech".
But he acknowledged that there "remain some points where further discussion and pragmatism will be required to reach an agreement".
Barnier went further, saying: "We have had a constructive week, yes, but we are not yet there in achieving significant progress." He said it could take "weeks or even months" for talks to move on to the next stage, which involves Britain's future trading relationship with the EU.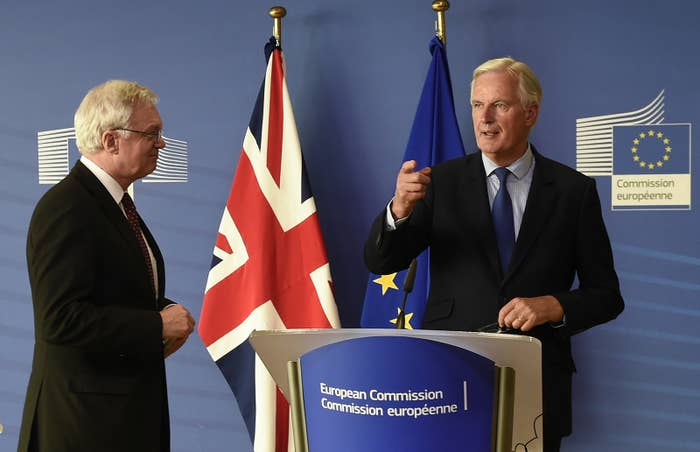 In May's Florence speech, her first major speech on Brexit for nine months, the PM extended an olive branch to Brussels and said Britain would continue to apply EU rules for at least two years after leaving the bloc. The speech appears to have softened relations between the two sides after weeks of deadlock.

But Barnier made clear there were still a number of sticking points. On guaranteeing the rights of EU nationals living the UK – as well as of Britons in the EU – Barnier said a major issue was the role of the European Court Justice (ECJ) in guaranteeing rights after Brexit.
The EU believes the ECJ "must" play a role in this, but the UK wants rights to be guaranteed through UK law, and has said that the end of direct ECJ jurisdiction post-Brexit must be a red line.
Barnier also said gaps remained on family reunification rights and exporting social security rights. He added that the EU was still waiting to hear details of the more streamlined administrative system, promised by May, for EU nationals to register for settled status.
Britain's financial commitments also remain a stumbling block. Davis reiterated that the UK would fulfil its obligations as per the PM's Florence address. However, the Brexit secretary added, the two sides are "not yet at the stage of specifying exactly what these are".
Barnier welcomed May's commitment but warned that for talks to progress, the UK would have to clarify its position on all commitments it took as an EU member, including for payments that may be due after 2020.
On the issue of avoiding a hard border between Ireland and Northern Ireland, both sides welcomed progress and agreement on the principles, but acknowledged that a technical solution to the challenge had yet to be found.
The two sides will have to reach agreement on all these issues before the talks can move forward. It will be for the EU27 to decide if "sufficient progress" has been made. European government officials have told BuzzFeed News they don't think this stage will be reached by October's European Council meeting, unless something dramatic happens.
Liberal Democrat Brexit spokesperson Tom Brake said: "Michel Barnier's statement that we are 'months' away from even starting substantive Brexit negotiations shows that Theresa May's Florence speech was a flop, that David Davis is dangerously delusional about the level of progress that is being made, and that the government is still scandalously lacking a Brexit plan."