Steve Baker apologised to the House of Commons on Friday for failing to challenge a claim from Tory MP Jacob Rees-Mogg the previous day that Charles Grant, from the Centre for European Reform think tank, had told him that Treasury officials were plotting against a hard Brexit.

Theresa May has said Baker, a Brexit minister, will not be sacked over the comments, which appeared to suggest there was a pro-Remain conspiracy by civil servants.

"The audio of that conversation is now available and I am glad the record stands corrected," Baker told MPs. "In the context of that audio, I accept that I should have corrected or dismissed the premise of my honourable friend's question.
"I have apologised to Charles Grant, who is an honest and trustworthy man. As I have put on record many times, I have the highest regard for our hard-working civil servants."
Earlier, on the last day of a three-day visit to China, the prime minister faced questions on whether she would discipline Baker over his remarks.

She told Channel 5 News: "The ministerial code says that the minister should take the earliest opportunity to amend the record that was given to parliament and apologise to parliament. He will do that."
Baker had been widely criticised by MPs and the trade union for senior civil servants over his comments, which came after BuzzFeed News revealed on Monday that the government's new analysis of the impact of Brexit says the UK would be worse off outside the European Union under every scenario modelled.
Rees-Mogg had asked Baker on Thursday to confirm that Grant had told him Treasury officials had "deliberately developed a model to show that all options other than staying in the customs union were bad and that officials intended to use this to influence policy".
Baker replied: "I am sorry to say that my honourable friend's account is essentially correct." At this, Brexit secretary David Davis, who was sitting alongside him, visibly winced.
The minister's comments sparked immediate condemnation. Grant insisted he had been misinterpreted at an event at the Conservative party conference and "did not say or imply" that there was any such plot at the Treasury. Others who were present – including Tory MP Antoinette Sandbach – backed Grant up.
Later Prospect magazine, which hosted the event in October, released audio that confirmed Grant's account of the exchange.
In a series of tweets, Baker said he had answered Rees-Mogg's question based on his own "honest recollection of a conversation" but was now "glad the record stands corrected".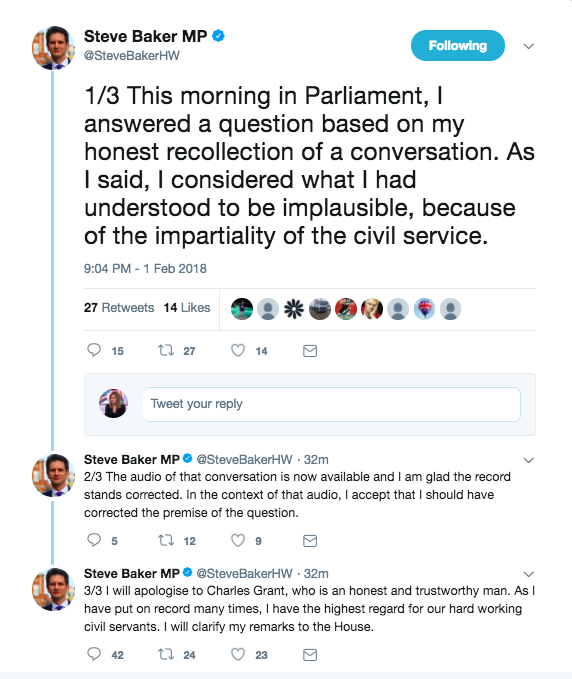 Downing Street had said it would stand by the under-fire minister. The prime minister's spokesperson said May had "full confidence" in Baker and thought he was doing a good job, while Number 10 aides were satisfied that there was "no reason to doubt his account" of the discussion.

Baker had already sparked fury among civil servants by declaring in the Commons on Tuesday that government economic forecasts were "always wrong".

He then changed tack on Wednesday with a tweet attempting to build bridges. "They know I still love them," he said.

Dave Penman, general secretary of the FDA union, which represents senior civil servants, told BuzzFeed News that Baker was "incapable of separating his ideological position from being a minister of state" and that May should reflect on whether he should remain in government.
Penman said: "There comes a point where it's not just about Steve Baker, it's about the prime minister. How is the prime minister going to respond when a minister stands at the despatch box repeatedly and undermines the government? If you're undermining the civil service, you're undermining the government.

"So not only does Steve Baker have to look at what he's said and what he's done and whether he's prepared to take on the responsibilities of being a minister, the prime minister has a choice to make about whether people are fit to be ministers and can they separate their ideologies as a minister of state.
"He has twice now undermined the credibility of the government's own analysis and the prime minister has to consider whether an MP is able to serve as a minister, rather than being dictated to by their ideology. How can she have confidence in a minister who twice does that?"
Penman added: "Civil servants are grappling with this enormous task of Brexit – whether they agreed with it or they didn't agree with it – and then they themselves are being undermined by the ministers that they serve.
"They expect to serve the government of the day; they expect to deliver that government's agenda. They do not expect to be undermined and undervalued by ministers at the despatch box.
"That happens occasionally in government ... but this we're in different territory now. This is almost a daily occurrence and it's all around Brexit. If there is no sanction, if Number 10 is effectively saying they are speaking for government at the despatch box and undermining the civil service, that has a long-term effect on the relationship and trust between civil servants and ministers."