Serious assaults in prison have more than doubled since 2012, with attacks on both prisoners and staff soaring, new figures show.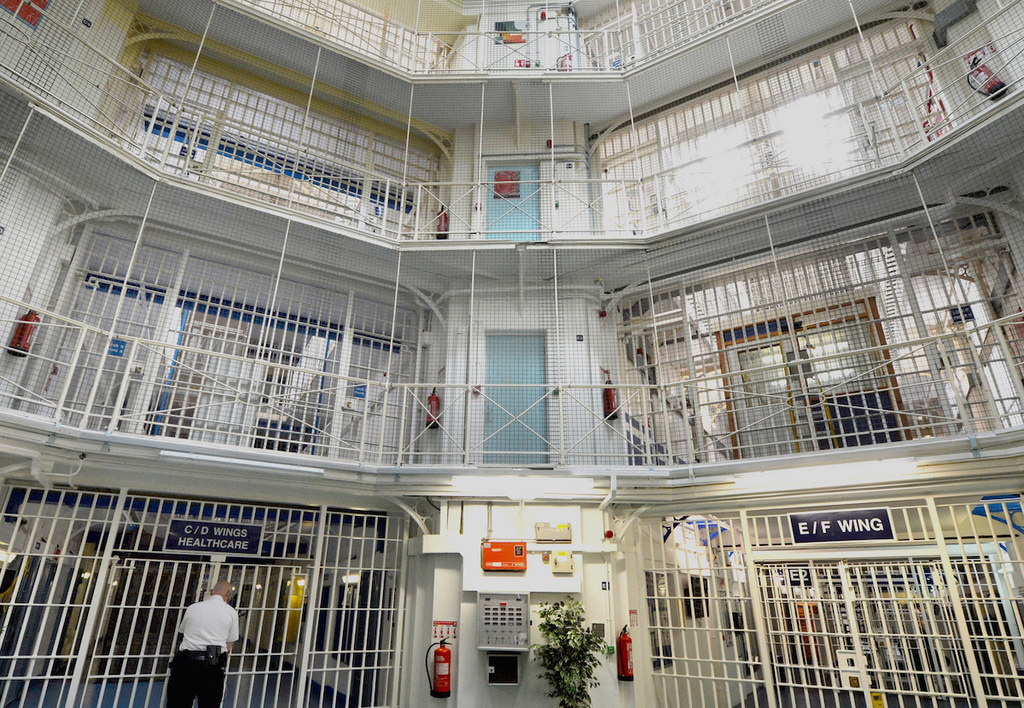 The Ministry of Justice stats for England and Wales also reveal a rise in the number of deaths and self-harm incidents in custody last year.
There were 18,874 assaults in prisons in the year to September 2015, up 19% from the same period in 2014.
Of these, 2,606 of these were classed as serious – up 30% – meaning they required medical treatment, were sexual attacks, or resulted in fractures, burns, or extensive bruising.
This chart shows how the number of serious assaults in prison has soared since 2012.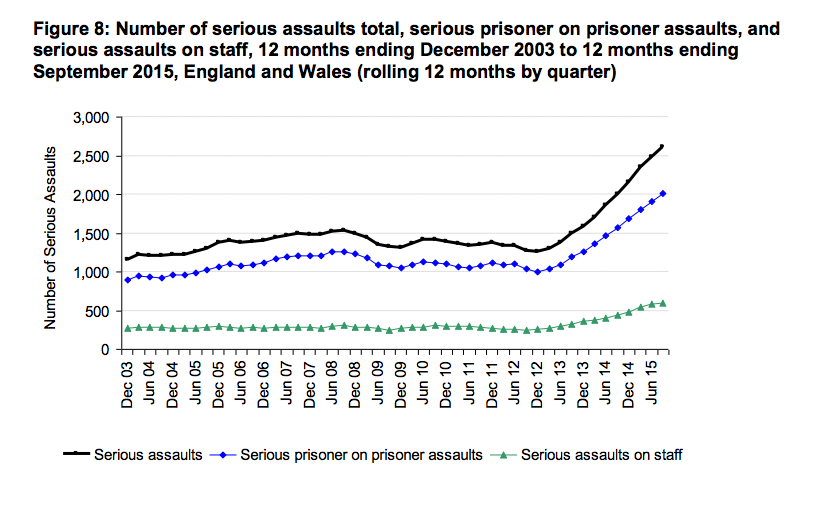 There were 1,278 serious assaults in the year ending September 2012, but that had more than doubled to 2,606 for the same period in 2015.
Some 2,008 of these assaults were prisoner-on-prisoner, up from 1,039. Another 595 were serious assaults on staff, up from 250.
The total number of assaults on prison staff was 4,568 in the year to September, the highest level for at least a decade, according to the new figures.
Labour's shadow justice minister, Andy Slaughter, told BuzzFeed News it was "staggering" that prison and probation staff were "expected to go to work facing this level of threat".
He added: "[Justice secretary] Michael Gove must take immediate action to tackle the prison crisis."
This chart shows how the number of deaths per 1,000 prisoners has generally increased since 2012.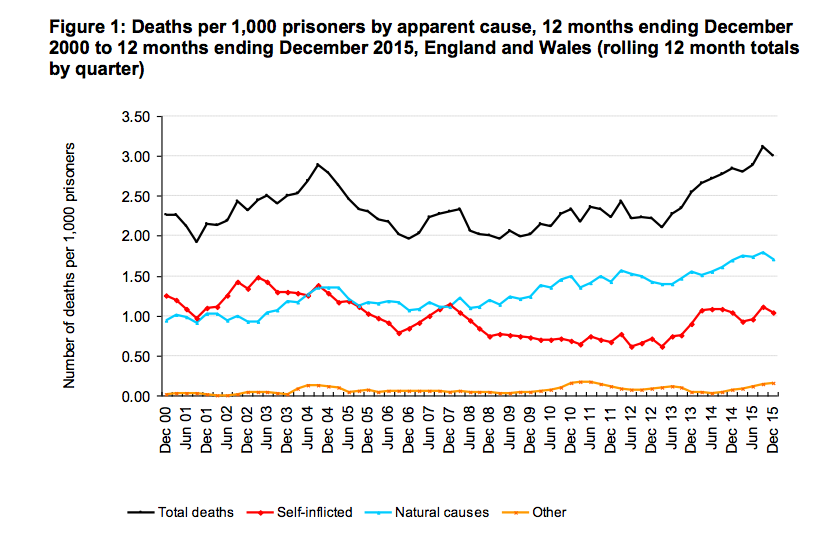 There were a total of 257 deaths in prison custody last year, up from 243 in 2014.
Eight of the deaths last year were apparent homicides – the highest number in a single year since 1978 – while 89 were suicides, up from 61 in 2012.
The total number of deaths has steadily risen over time, but so has the prison population – so the death rate in the graph above shows the trend better. Last year there was a rate of 3 deaths per 1,000 prisoners, up from 2.8 in 2014 and 2.0 in 2009.
The Howard League for Penal Reform charity warned that suicides were soaring at a time when prisons had "struggled to cope with growing numbers of prisoners, chronic overcrowding and deep staff cuts".
Chief executive Frances Crook said: "No one should be so desperate whilst they are in the care of the state that they take their own life.
"The numbers hide the true extent of misery for prisoners and families – and for staff, who have been given the impossible task of keeping people safe in overcrowded prisons starved of resources."
The number of incidents of self-harm have soared in recent years, particularly among men.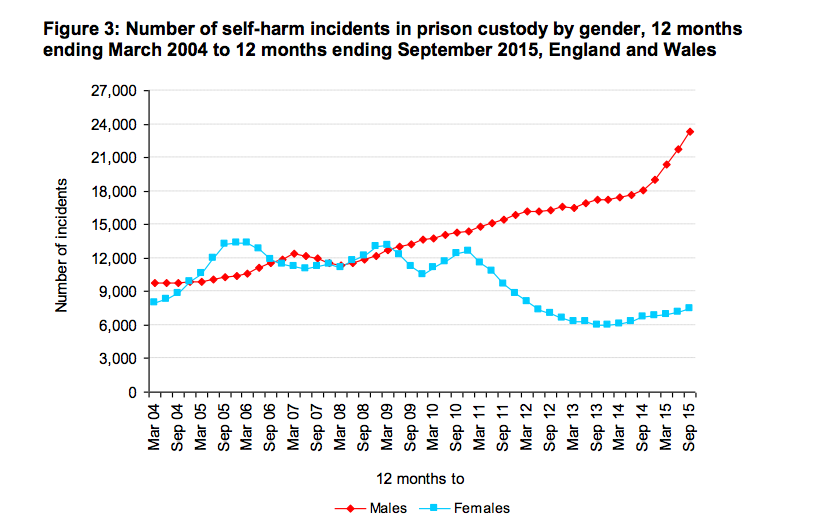 There were 23,291 reported incidents of self-harm by male prisoners in the year to September 2015, up 29% from the year before.
Among female prisoners, there were 7,415 self-harm incidents – up 11%.
The number of incidents of self-harm among men has been steadily increasing since 2004, with an acceleration in the past year. Self-harm among women is also now starting to rise after a fall in 2011.
Prisons minister Andrew Selous said the stats illustrated the problems facing the prison service. "Reform is badly needed," he said.
"Tackling violence and drugs must be our first priority. That is why we are introducing new measures like better detection so we can help ensure prisons become places of decency, hope and rehabilitation.
"We are also investing £1.3 billion over the next five years to transform the prison estate.
"Replacing old prisons with new will better support rehabilitation and design out the dark corners that facilitate bullying, drug-taking and violence."