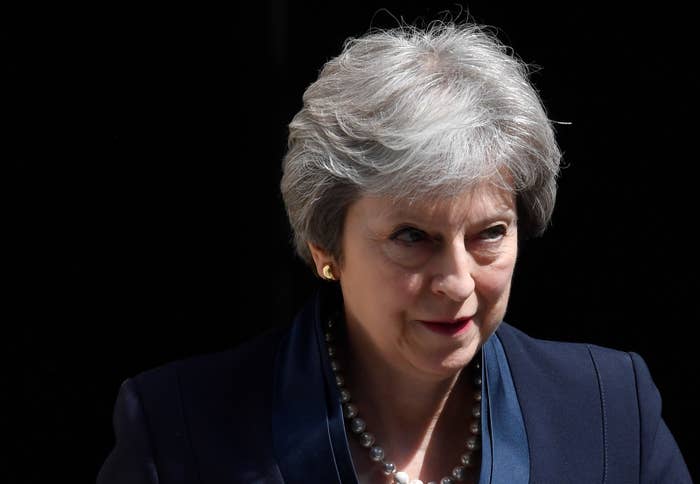 Senior Tory women are heaping pressure on Theresa May to back a referendum on relaxing strict abortion laws in Northern Ireland, following the Republic of Ireland's landslide vote to legalise abortion last week.
The prime minister's spokesperson on Tuesday said it was ultimately a decision for Northern Ireland's devolved assembly – even though it has not been functioning for over a year.
But some senior MPs believe that does not go far enough and said that in the absence of a devolved administration, the people of Northern Ireland deserve a referendum on the issue.
Unlike in the rest of the UK, a woman in Northern Ireland is allowed an abortion only if her life is at risk or if there is a permanent or serious risk to her health.
Former cabinet minister Maria Miller, Tory chair of the women and equalities committee, told BuzzFeed News on Tuesday: "Not having the Northern Irish assembly in place and given the growing strength of feeling on the ground in Belfast on the need for a rethink following the results in southern Ireland, I think the government is going to have to think pragmatically about how it should respond to that.
"Number 10 is absolutely right: This is a devolved matter. But there are also non-devolved implications around human rights as well, which is very much squarely with the Westminster government.
"Given this has been a clearly devolved issue since 2010 then I think it would be right for there to be a referendum. In the absence of a locally elected assembly, it would be a way of determining and giving real authority to a decision for change which obviously would be very controversial in that community."
Another senior female Conservative MP, who did not want to be named, said on Tuesday that the continued lack of government in Northern Ireland "cannot simply mean everything is on hold while the rest of the world moves on".
"If Northern Ireland's politicians aren't in a position to form a government to decide, I understand that – but then they should at least allow people to do it themselves," she said.
Sarah Wollaston, the Tory chair of the health select committee, called on the PM to welcome a cross-party amendment to the domestic violence bill that would see MPs in Westminster get a free vote on whether to relax abortion laws in Northern Ireland.
If this did not happen, she told BuzzFeed News, the people of Northern Ireland should at the very least get a referendum on the issue.
Women and equalities minister Penny Mordaunt, former cabinet minister Justine Greening, and education minister Anne Milton are also understood to be calling for action from Downing Street.
Critics say the PM is wary of wading into the debate because she feels beholden to Northern Ireland's socially conservative Democratic Unionist Party, whose 10 MPs provide support to her minority Tory party in key House of Commons votes.
But May's spokesperson said: "The people of Northern Ireland are entitled to their own process run by their own locally elected politicians.
"Our main focus in on restoring the Northern Irish Assembly and the Northern Ireland secretary is working with the parties to achieve this for the benefit of everyone in Northern Ireland."
Asked about a possible referendum, they added: "That issue would be for the people of Northern Ireland and would need to be decided by a functioning executive in Stormont."
The spokesperson denied that May was a "selective feminist".
"I could point you to the prime minister's record, to her speech on public life, to the action she's taken in relation to equal pay, domestic violence, modern slavery, of the help she's given to provide for greater female representation in the House of Commons and elsewhere," they added.
Northern Ireland has not had a government since January 2017 when a power-sharing deal between the DUP and Sinn Féin collapsed.