Tory MP Says Conservatives Should Seriously Consider Coalition With Labour
Sarah Wollaston, chair of the Commons health committee, said it worked for Germany.
A Conservative candidate has broken ranks to talk up the possibility of a coalition between the Tories and Labour.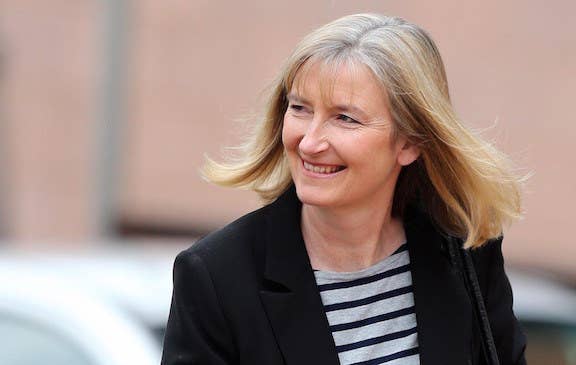 Sarah Wollaston, the chair of the Commons health committee, said a so-called grand coalition had worked for Germany.
It comes as Britain prepares for another hung parliament where no party wins an outright majority.
A "grand coalition" happens when the two biggest political parties unite together. In Germany, Angela Merkel's centre-right CDU holds power with the centre-left Social Democrats.
But the idea would be horrifying to many grassroots Labour and Tory activists and officially both parties are ruling it out.
Pressed on whether she was explicitly endorsing a Tory-Labour deal, Wollaston said: "Why not?"
Wollaston, who is standing for re-election in Totnes, is not the first politician to publicly ponder such a coalition.
In March, former Tory chairman Lord Baker said a grand coalition might be the only way to stop the SNP gaining power and threatening the unity of the UK.
"It would be possible to find areas of agreement – defence, counter-terrorism, infrastructure investment in schools, road, rail and in the reform of skills training and energy," he said.
Lib Dem business secretary Vince Cable has also suggested that the Tories and Labour could work together.
He said in January that "'it's one of the possibilities we should be preparing for".
Labour MP Gisela Stuart also said her party should consider a deal, telling the Financial Times in March: "If on 8 May you had a position where Labour had more seats than the Tories but not enough to form a government – but the Tories had more votes than Labour – I think you should not dismiss the possibility of a grand coalition in terms of regrouping of the main [parties]."
Wollaston's stance was backed by a number of people on Twitter.
But others weren't very keen at all – such as Tory candidate Nadine Dorries.
And this apparent Labour supporter.