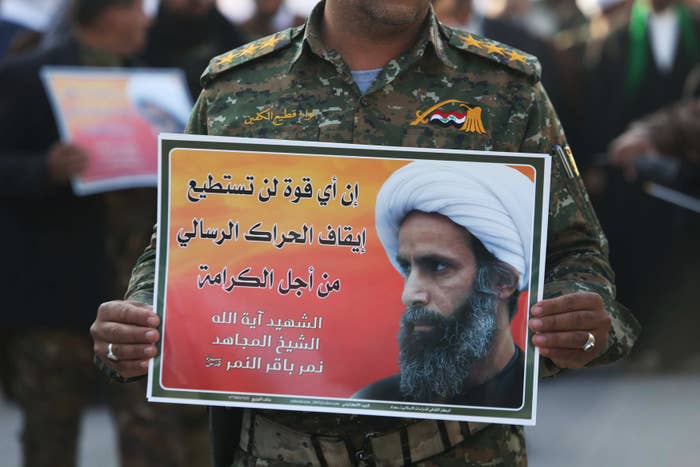 Saudi Arabia's embassy in London has written to all MPs in an attempt to justify the 47 executions the kingdom carried out last Saturday.
On Monday David Cameron condemned the executions, saying Britain was against the death penalty in all circumstances.
The embassy sent a memo to all MPs on Thursday, insisting that all 47 people killed were terrorists. The document reveals how officials are attempting to counter growing international outrage over the executions.
Among those executed were Shiite cleric Nimr al-Nimr – whose death has sparked major protests across the world. He was a vocal supporter of mass anti-government protests in the country's east in 2011 as part of the Arab Spring.
The Saudi embassy insisted that the "47 convicted terrorists were directly responsible for terrorist attacks and activities ranging back to 2003".
They said these included several bombings, the poisoning of public water facilities, armed robbery, and the kidnapping and murder of expatriates in Saudi.
"The sentences carried out on the 47 terrorists on January 2, 2016 did not take into account sect or faith but were focused solely on the terrorist acts undertaken by those convicted that led to the death of countless victims," the memo said.
The embassy also claimed that each death sentence had been "scrutinised by 13 judges over the course of the judicial process".
International human rights group Reprieve told BuzzFeed News the memo did not mention that defence lawyers were often denied access to the courtroom and their clients – and that the trials took place in highly secretive "specialised criminal courts".
Reprieve also said that many of those charged were tortured into producing false "confessions" which were then used against them.
Spokesperson Maya Foa said: "If the Saudi government wants to endear itself to the international community, it could start by halting its plans to execute juveniles and others who dare to express dissent."