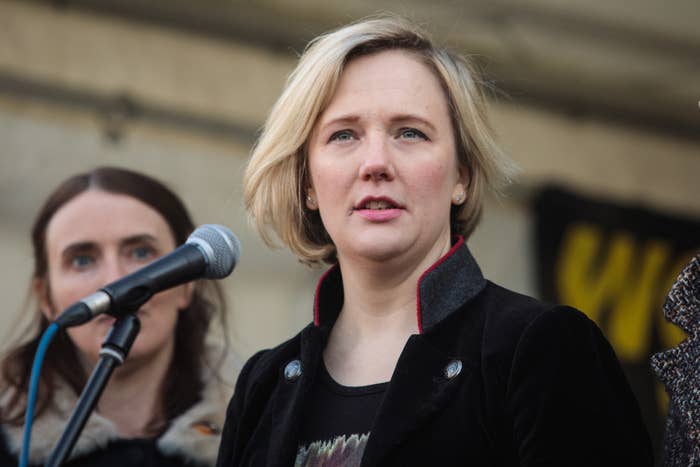 People should get the chance to throw out their local MP if they are found guilty of sexual harassment, a senior Labour MP has said.
Stella Creasy said the government should consider new "recall" legislation that would trigger a by-election if a certain percentage of constituents signed a petition.
She warned that in any other job, a person found guilty of sexual assault or harassment would be sacked.
Yet even if MPs are kicked out of political parties for such behaviour, they are allowed to continue with their duties – holding local surgeries and attending the House of Commons – until the next election.
Creasy spoke out after Commons leader Andrea Leadsom announced on Thursday that a new system would be set up to deal with complaints about bullying and harassment in parliament.
Leadsom said a cross-party working group had been created to determine exactly what this new system would look like. But she came under pressure from several MPs to spell out what the sanctions would be for those found guilty.
Creasy told the Commons this was the "elephant in the room" and called on her to consider giving constituents the right to recall their MP.
She later told BuzzFeed News: "They say they're looking at sanctions but didn't clarify recall was one of them. And it is a problem because the parties take away the whip but parliament has a duty to make the space safe.
"It is very difficult to see a scenario where if you know your MP has been found to be sexually inappropriate that you would want to go and see him or her for advice, let alone the impact of having that person in parliament.
"In any other job, you'd lose your job. How do you make that happen? Unless this working group is looking at that, then it's a process without teeth."
Creasy suggested that the recall process could be started after an MP is found guilty of sexual misconduct after an investigation by the parliamentary standards commissioner.
That MP would then face a by-election if a certain percentage of their constituents signed a petition. This would require new legislation to amend the Recall of MPs Act 2015, which only allows for a petition to be triggered if an MP is jailed or suspended from the Commons for at least 21 sitting days.

Back in 2014 Tory MP Zac Goldsmith attempted to widen this by proposing that MPs should face recall if 5% of voters in a constituency sign a "notice of intent to recall" and then 20% sign a "recall petition".
But his amendment was overwhelmingly defeated in the Commons amid fears that the process could be misused.
Tory MP Anna Soubry also called on Leadsom to underline the sanctions faced by MPs if they misbehave. "There must be sanctions somewhere along the line and everyone must sign up to it," she said.
Tory former leader Iain Duncan Smith said there was a "real issue" with parties suspending the whip from an MP facing allegations. He said investigations must be carried out swiftly "because members of parliament stand accused, and the longer this goes on the more difficult it becomes".
Leadsom said: "Sanctions is absolutely integral to this. It is absolutely in scope to the work of the working party. But it is early days and we will be taking advice from a number of different expert groups."
A number of Conservative and Labour MPs are currently being investigated over allegations of sexual misconduct, including Tory Charlie Elphicke and Labour's Kelvin Hopkins, who have been suspended from their respective parties.