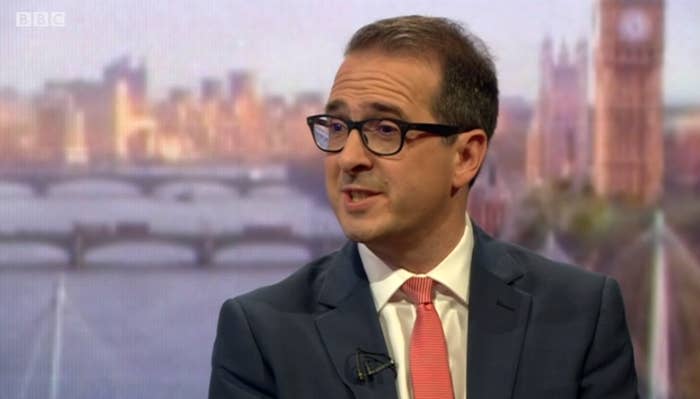 Owen Smith has said Britain could reapply to join the European Union if he becomes prime minister after Brexit.
The Labour leadership candidate conceded this could mean Britain potentially joining the euro currency and the passport-free Schengen area – but insisted the country was "better off" in the EU.
His comments are likely to anger many voters who opted for Britain to leave the EU in June's referendum. Smith has already pledged to hold a second referendum on the terms of a Brexit deal with other EU countries.
But on Sunday he appeared to go further. He was asked on BBC1's Andrew Marr Show whether Britain should apply to rejoin the EU if he became prime minister at the next general election in 2020.
"I think it's very hard to answer because it's a hypothetical question," the Pontypridd MP said.
"But at that point if we'd gone into a further recession, if we had the prospect of another 10 years of Tory austerity … I think the sensible and responsible thing for a Labour government to do is to say we're better off in the European Union."
Pressed on whether this meant Britain rejoining the EU, Smith said: "Depending on what it looks like, yes. I'm an internationalist and a collaborator and a cooperator – I want Britain to be part of the European Union."
Marr pointed out that this could mean Britain joining the euro and Schengen. Smith replied: "Potentially, but again we are getting into hypotheticals built on hypotheticals."
He waved away concerns that a pledge to rejoin the EU would infuriate many pro-Leave Labour supporters, particularly in northern England. "It depends when this happens," he said.
"If we've gone into a further recession, if the NHS is on its knees as it is right now, if we've got the prospect of more Tory austerity, I think we'll be telling a very different story to the British people.
"And I think people in those northern cities don't want more reductions in their livelihoods, they want to see investment in their communities. Labour at that point, some point in the future, could make a really strong case for us to stay in the EU."
Smith is challenging Jeremy Corbyn for the Labour leadership, with the winner due to be announced on 24 September. Smith has positioned himself as the solidly pro-EU candidate, accusing Corbyn of not fighting hard enough during the referendum campaign.