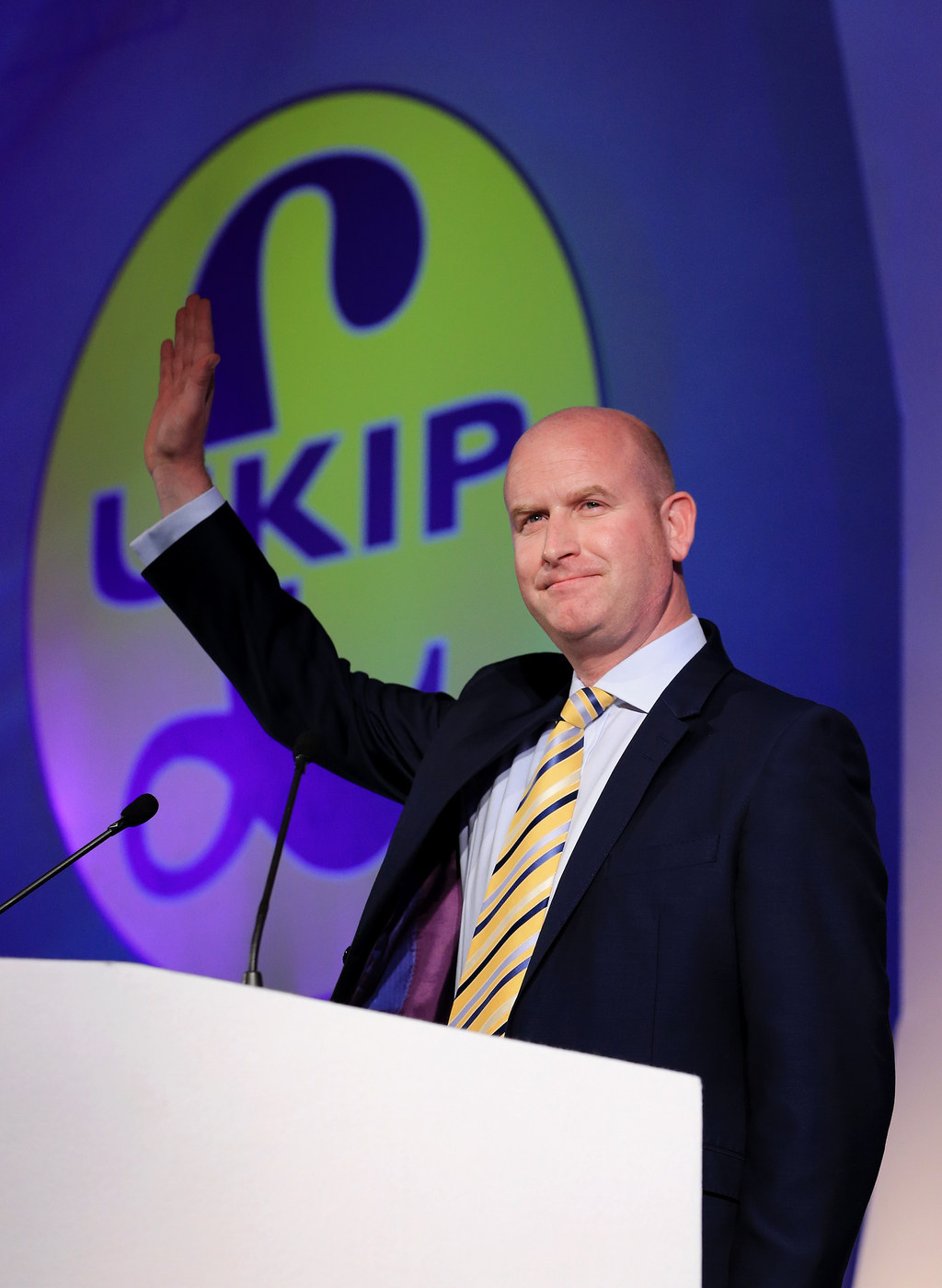 UKIP's deputy leader has admitted that Nigel Farage has a tough fight on his hands at the general election.
Paul Nuttall said the UKIP chief would have to "work hard" to secure victory in the Kent seaside seat of South Thanet. But he predicted that voters would ultimately plump for Farage over "another backbench boring Conservative".
A poll by Lord Ashcroft in November put UKIP five points behind the Tories in South Thanet, despite Farage's high-profile status. In an interview with BuzzFeed News, Nuttall was pressed on whether Farage was spending enough time in the constituency.
He said: "Well he's going to have to, isn't he? I mean, it's as simple as that. He's going to have to work hard in that seat. It's going to be more difficult for him than Miliband and Cameron because they've got safe seats. I think Clegg is going to have to spend a fair bit of time in Sheffield Hallam, I'm not convinced he's going to hold that.
"But I am confident that Nigel will win Thanet South. I think his profile is going to be so large during this election. I mean, they've got a choice – another backbench boring Conservative or they can elect someone who is going to be a national figure and really put South Thanet on the map. Trust me, he will pull it off."
Nuttall also dismissed the threat from comedian Al Murray, who is standing as his Pub Landlord alter ego in an obvious parody of Farage. He said: "It's a joke. Who's going to stand for the guy that's not even standing as himself? He won't even get 2%."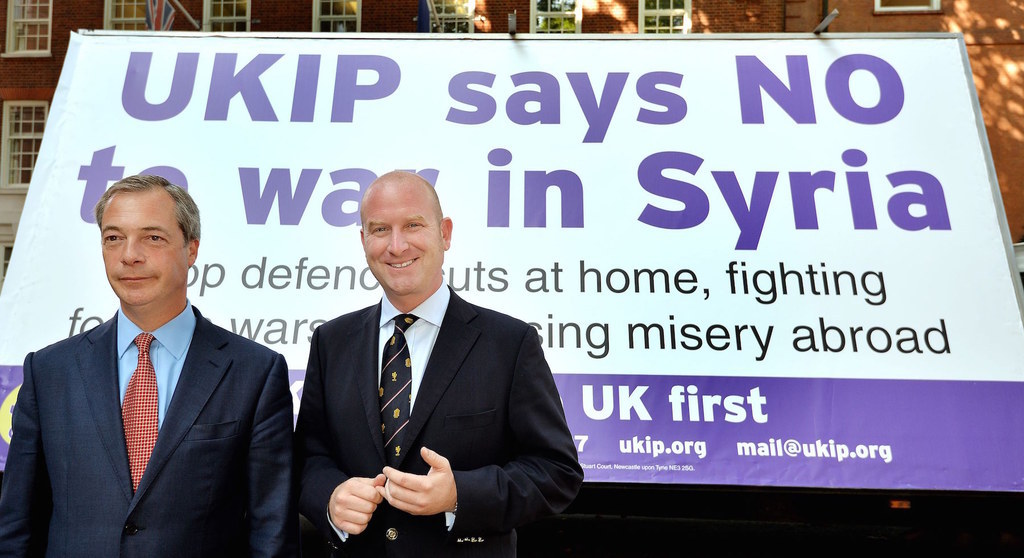 Nuttall declared that he would "walk over hot coals" for a defection from Labour.
He said there was a limit to the number of former Conservative MPs that UKIP would take. His comments came after Tory MP Douglas Carswell jumped ship last summer, closely followed by his colleague Mark Reckless.
Nuttall – who grew up in Bootle, Merseyside – said a defection from Labour would be a big boost to UKIP in the north of England. He said: "I would walk over hot coals for a Labour defection. Of course we're over the moon to have two Tory MPs, and they did a very honourable thing in resigning their seats and having two by-elections.
"But of course there has to be a limit to the number of ex-Conservative MPs that you will take. Because the one thing you don't want to be seen as is some form of Conservative party in exile. We're new, we're exciting, and we're going to change politics."
He insisted that he hadn't tried to personally persuade any Labour MPs to switch sides and has never spoken to Simon Danczuk, who was spotted ostentatiously having a beer with Nigel Farage in December.
Nuttall, who hasn't yet revealed where he will stand as an MP, refused to predict the number of Westminster seats the party will win in May. But he "guaranteed" it would be more than five. In the north of England, he pointed to Heywood and Middleton, Grimsby, Rotherham, and Southport as seats to watch. But he said UKIP was also preparing for the 2016 election to the Welsh Assembly, where "if we get this right, we could be the opposition to Labour". He also claimed that UKIP could return five or six Northern Ireland Assembly members in 2016.
UKIP's deputy leader also revealed how he went on holiday with Farage last August – on a European battlefield tour – the week before Carswell dramatically announced his defection. "We were following the retreat of the British Army in August 1914 from the outskirts of Mons back down to the outskirts of Paris and such," Nuttall said. "It was the last night and we were in Ypres and Nigel said: 'I need you in London on Thursday.' I said: 'Why?' He said: 'Trust me, it's something big.'"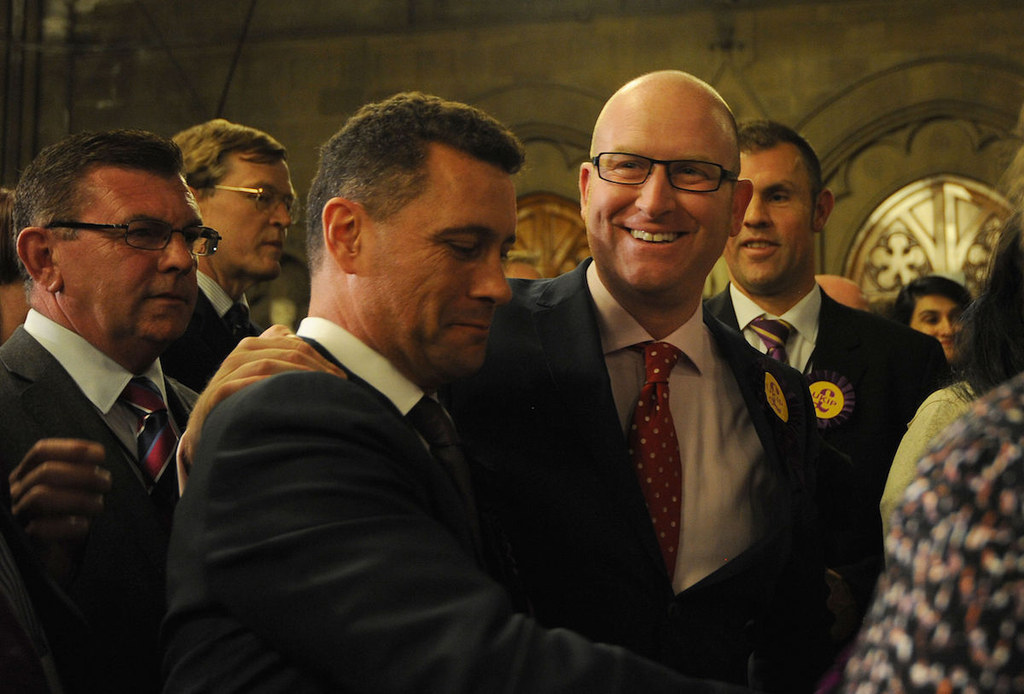 Gaffes just don't affect UKIP's poll ratings, Nuttall claimed.
Despite a series of foot-in-mouth media scandals from UKIP members, he insisted the party "doesn't attract any more weirdos than any other political party". Instead he blamed "a Conservative and Labour party machine with departments solely focused on outing UKIP eccentrics.
People want "politicians who look like them, sound like them, act like them, who they can empathise with," he said. "And I think what's going on at the moment is a revolt against the Tony Blair-era style of politics which Cameron is a product of – which is the shiny suit, the disingenuous politician. OK, we might gaffe now and then but when we do gaffe, we don't actually go down in the polls. Because I think people look at us and go: 'You know what, they're just like me.'"
Nuttall said he believed that while UKIP would "crack the dam" this year, "that dam will burst in 2020 in a big, big way". He said the party was a "long-term project" – and he didn't shy away from his own leadership ambitions.
"I've been the deputy leader for quite a long time," he said. "In terms of frontline politics there's only Nigel who's got more frontline experience in the party than me. And of course I would never challenge Nigel – pointless, would never do it, simple as that. But I've also said quite openly I would never be someone else's deputy leader, that's where I've left it.
"I've been asked 'Could you lead UKIP?' and I said, 'Yeah, and I think I'd do a bloody good job.' I know the party inside out. When you've been a chairman of the party, you know all its strengths and all its weaknesses."