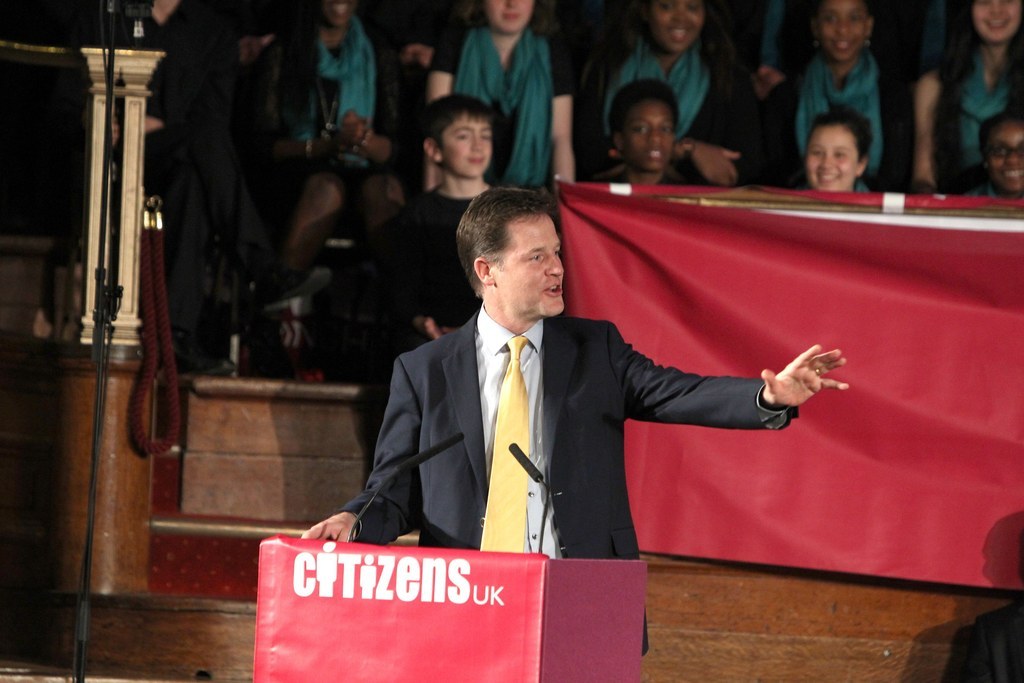 Liberal Democrat leader Nick Clegg is getting used to defending himself over broken pledges. So he was thrilled to get a very warm welcome at a massive rally on Monday afternoon.
As soon as he came out on stage at Westminster's Central Hall, the deputy prime minister was greeted by huge cheers and applause by a 2,200-strong crowd. Dozens of people stood up to take photos as a young boy promptly came on stage to present him with flowers. Clegg, used to receiving a kicking from the public, couldn't keep the smile off his face.
His reception at the event, staged by community-organising charity Citizens UK, was a far cry from the taunting and teasing he has long suffered in the House of Commons and the mainstream media. He has long been cast as the villain: the man who broke the Lib Dems' key promise not to raise tuition fees. Here he was treated almost a hero.
This was a hall packed to the rafters with people from churches, mosques, schools, colleges, and social justice groups. Clegg was visibly astonished as an activist started reeling off all the commitments the Lib Dem leader made to a previous meeting Citizens UK and had delivered on. Capping the cost of credit from payday lenders and ending the immigration detention of children topped the list.
"We know how hard you fought to make this happen," said the activist. "Mr Clegg, I'm proud of what we've achieved together. We thank you and the Liberal Democrat party."
A thrilled Clegg watched the audience erupt into applause.
Like the two other politicians who attended the event – culture secretary Sajid Javid and Labour leader Ed Miliband – Clegg was then given just four minutes to make his pitch for why people should vote for the Lib Dems.
But unlike the others, he asked if he could say something first: "Before the four minutes, can I just... Because I'm so used to being told what I haven't been able to deliver, so I'm slightly overwhelmed."
A 13-year-old boy came on stage to thank Clegg personally for making sure his father – a cleaner in Whitehall – was paid the living wage. "Thank you, Nick Clegg, for what you did for my dad," he said. "You should help everyone to get the living wage because it helps society to grow and helps people to live their lives."
This is not the normal reception the Lib Dem leader receives.
Clegg was asked if he would commit to meeting Citizens UK once a year if he stayed in office. "If every time I meet you, you bring flowers, I'd like to meet you more than once a year!" he replied, beaming.
Not everyone greets Clegg with a bunch of flowers. His party is set to lose around half its MPs in Thursday's election. But he will no doubt treasure this as a very special moment in a long and gruelling election campaign.