MPs Reckon This Calvin Klein Upskirt Advert Is Irresponsible
The ad campaign has sparked quite a backlash.
MPs have condemned this upskirt ad from Calvin Klein that features model and actor Klara Kristin.
Equalities minister Caroline Dinenage said on Thursday that the advert, which was posted on the brand's Instagram, was "irresponsible".
The photo is one of a series 22-year-old Kristin recently did for the brand. It's sparked quite a backlash.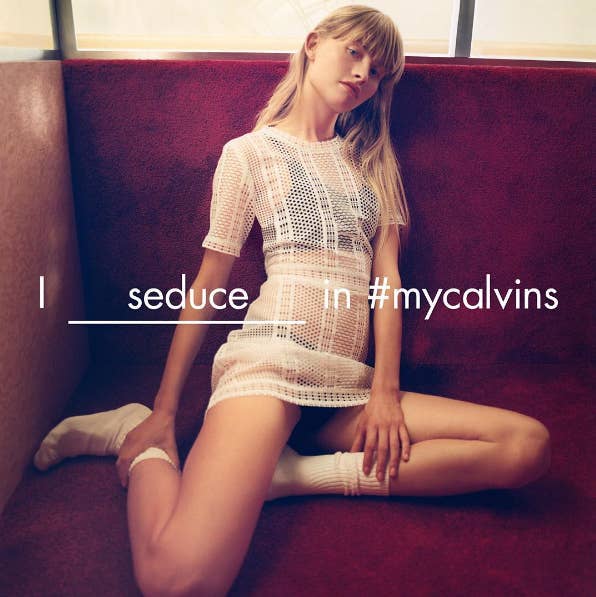 In the House of Commons, Labour MP Paula Sherriff asked: "Does the minister agree that if there were more women at senior levels in business, we might have fewer advertising campaigns such as that by Calvin Klein, featuring overtly sexualised images of young women, including what are known as upskirt shots?
"Will she join me in urging Calvin Klein and similar organisations not only to be more responsible in their advertising, but to donate some of the profits they have made to charities that are solving rather worsening the problems women face in society?"
Dinenage replied: "She is absolutely right to point out this sort of irresponsible advertising, and I recently met the advertising industry to discuss the issue. She is also right to say that we need more women on boards.
"Currently, 26% of the people sitting on FTSE 100 boards are women, more than ever before. This is an issue on which we will continue to work – on boards, but in the executive pipeline as well."

Kristin, who starred in 2015 French erotic drama Love, has previously defended the upskirt photo. She wrote on Instagram: "I LOVE this photo @harleyweir took of me ...all this discussion about it makes me think about how alienated and scared some people are to the female human body... Be and love yourself and your sexuality #girlpower".
BuzzFeed News has contacted Calvin Klein for comment.