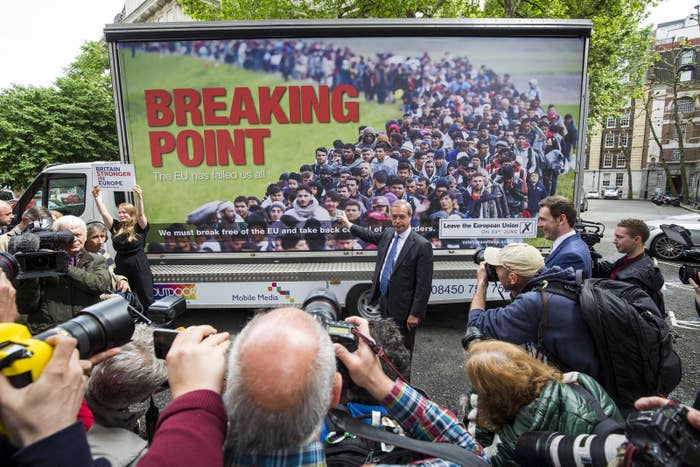 Tory cabinet minister and prominent Leave campaigner Michael Gove has hit out at Nigel Farage's latest anti-EU poster, which features a line of refugees under the words "Breaking Point".
Gove told BBC1's Andrew Marr Show: "When I saw that poster, I shuddered. I thought it was the wrong thing to do."
Meanwhile chancellor George Osborne, who's campaigning for Britain to stay in the EU, told ITV's Peston on Sunday the poster was "disgusting, vile", with "echoes of literature used in the 1930s".
And Labour leader Jeremy Corbyn told Marr the poster was "appalling", and depicted "a lot of desperate people fleeing from war".
But UKIP leader Farage hit back at Gove later, turning the tables on the official anti-EU campaign, Vote Leave. "Have you seen their posters?" he said. "They've been doing very strong posters."

UKIP's hugely controversial poster, unveiled on Thursday, aimed to highlight Britain's apparent inability to "control our borders" while it remained in the EU.
But critics quickly pointed out that the photo used in the poster actually shows hundreds of people being escorted to the Brezice refugee camp last year after crossing from Croatia into Slovenia, nowhere near the British border.
It was also reported to the Metropolitan police by the general secretary of the Unison union, Dave Prentis, who said it incited racial hatred.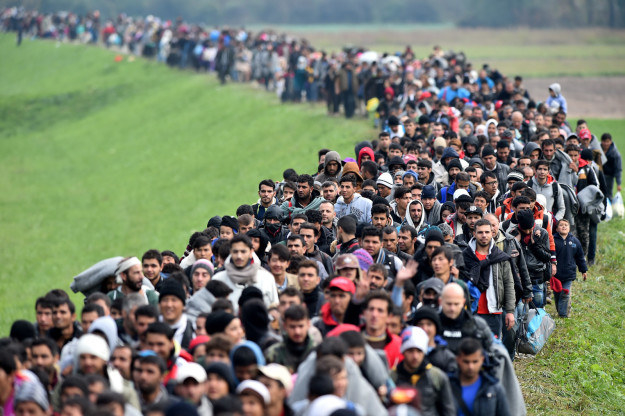 Gove's strong criticism highlights the deep divisions in the Leave camp ahead of the referendum on Britain's EU membership this Thursday 23 June.
He said: "I must stress I believe in free speech, I don't want to deny anyone a platform. When I've had an opportunity to talk about migration during the course of this debate, I hope I've been very clear I am pro-migration.
"But I believe the way in which we secure public support for the continued benefits migration brings and the way in which we secure public support for helping refugees in need is if people feel we can control the numbers overall coming here.
"In Canada and Australia, two countries I very much admire, they have control and therefore they're able both to welcome economic migrants and refugees."

Gove was pressed on whether he was happy with the Leave camp's "tone" as it warned that Turkey would join the EU in the near future – a claim that the Remain side has repeatedly denied.
He said: "Yes, because I think it's important to stress that when we're thinking about the enlargement of the European Union, it's the official European Union policy to accelerate Turkey's accession to the EU."