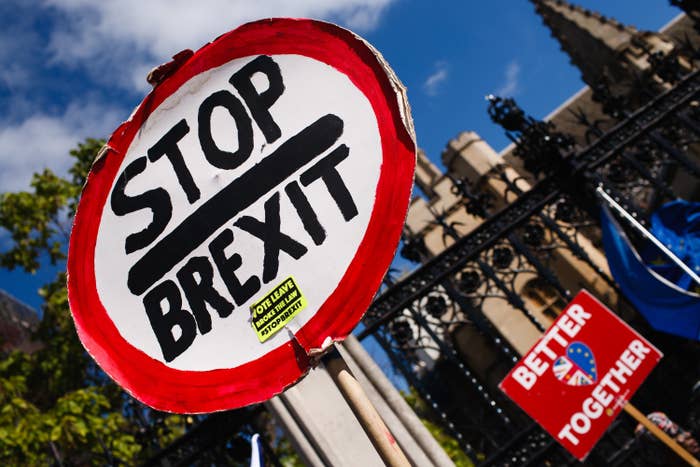 The Liberal Democrats could campaign for Britain to rejoin the European Union within a few years of Brexit, a senior MP has told BuzzFeed News.
Tom Brake, the Lib Dems' Brexit spokesperson, said the party would seriously consider whether to reapply for membership of the EU even if there is a Leave vote in a second referendum.
He said the only way to get back in was to launch negotiations with the EU "in the same way that Albania is having discussions" about joining as a new member.
Party leader Jo Swinson officially backed revoking Article 50 earlier this week, which would effectively cancel Brexit, in an attempt to brand the Lib Dems the most pro-EU party ahead of an imminent general election.
But it has not been clear what position the party would take if Britain does leave the EU, either with a deal, no deal, or after a Leave vote in a second referendum.
Swinson told the BBC in July that she would not vote for Brexit in Parliament even if the public voted Leave again, saying it would not "change my fundamental beliefs".
Now Brake has opened the door to Britain rejoining the EU within five years of the second referendum, which is likely to spark controversy among Brexiteers who believe a "people's vote" should be respected.
In an interview with BuzzFeed News ahead of the Lib Dem conference, Brake dismissed claims that Britain could overturn the referendum result within months.
He said: "If we've left, we have left. And the only way we get back in is by launching negotiations with the EU in the same way that Albania is having discussions with the EU about joining as a new member.
"What there could be of course — and this is something that as a party we would have to discuss — if we get to third-party status, then I'm sure within the Liberal Democrats there will be discussions about should we try to rejoin, should we not try to rejoin, should we investigate with the EU what the terms of joining the EU might be.
"I'm sure we'd want to have a discussion if we have left about what would the future relationship look like and could it at some point include reapplying, or applying like Albania is to join the EU, because who knows what happens in 10 years' time?
"In 10 years' time, the Russians might be breathing down our necks. Not just flying sorties over the UK once a month — we may feel like we needed that security of being part of a wider partnership. Or the UK's ambitions of being a global trading power may have fallen down because the trade deals we've had with the US, China, and India — they've walked all over us and our trade has been badly damaged.
"So at some point in the future, who knows, we might want to consider joining, but that's not going to be by having another referendum — that will be five, 10 years time, having looked at what conditions might be imposed on it, and as a party we might decide that's something we definitely don't want to do."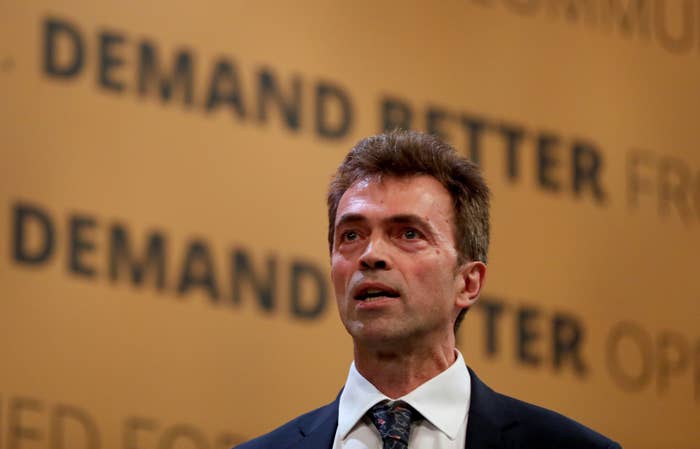 The party's new "revoke" Brexit policy will be put to members at its conference in Bournemouth on Sunday. If they support it in a vote, the policy will be written into the Lib Dem election manifesto.
The proposal is harder than the party's previous Brexit position, which was campaigning for a second referendum and backing Remain. It means that if the Lib Dems win a majority at the next election, Brexit would be cancelled outright.
If the party does not win the election — a scenario which is more likely — it would go back to attempting to secure a Remain vote in a second referendum because it would not have support in Parliament for revoking Article 50.
Party sources said it was about creating a very clear message for voters and distancing itself from Labour, which wants to renegotiate a deal with the EU before putting it to a vote.
Brake said: "Our position on any deal is that no deal they could come up with is going to be as good as the one that we've got."
But he said the Lib Dems were prepared to "hold our noses" and not vote against a deal in Parliament as long it was linked to a second referendum.
"I think that we can now confidently say that people — not every single person — but a very significant majority of people know what our policy on Brexit is," he added.
The Conservatives have seized on Swinson's new policy, creating a video for social media showing Swinson telling MPs: "We should revoke Article 50." The caption reads: "Boris Johnson wants to take the country forward. Here's what Jo Swinson and the Lib Dems want to do instead."
But the attack ad also plays into the Lib Dems' hands, with Swinson herself racking up thousands of retweets with the retort: "Oh no! They're telling everyone! Whatever will I do…"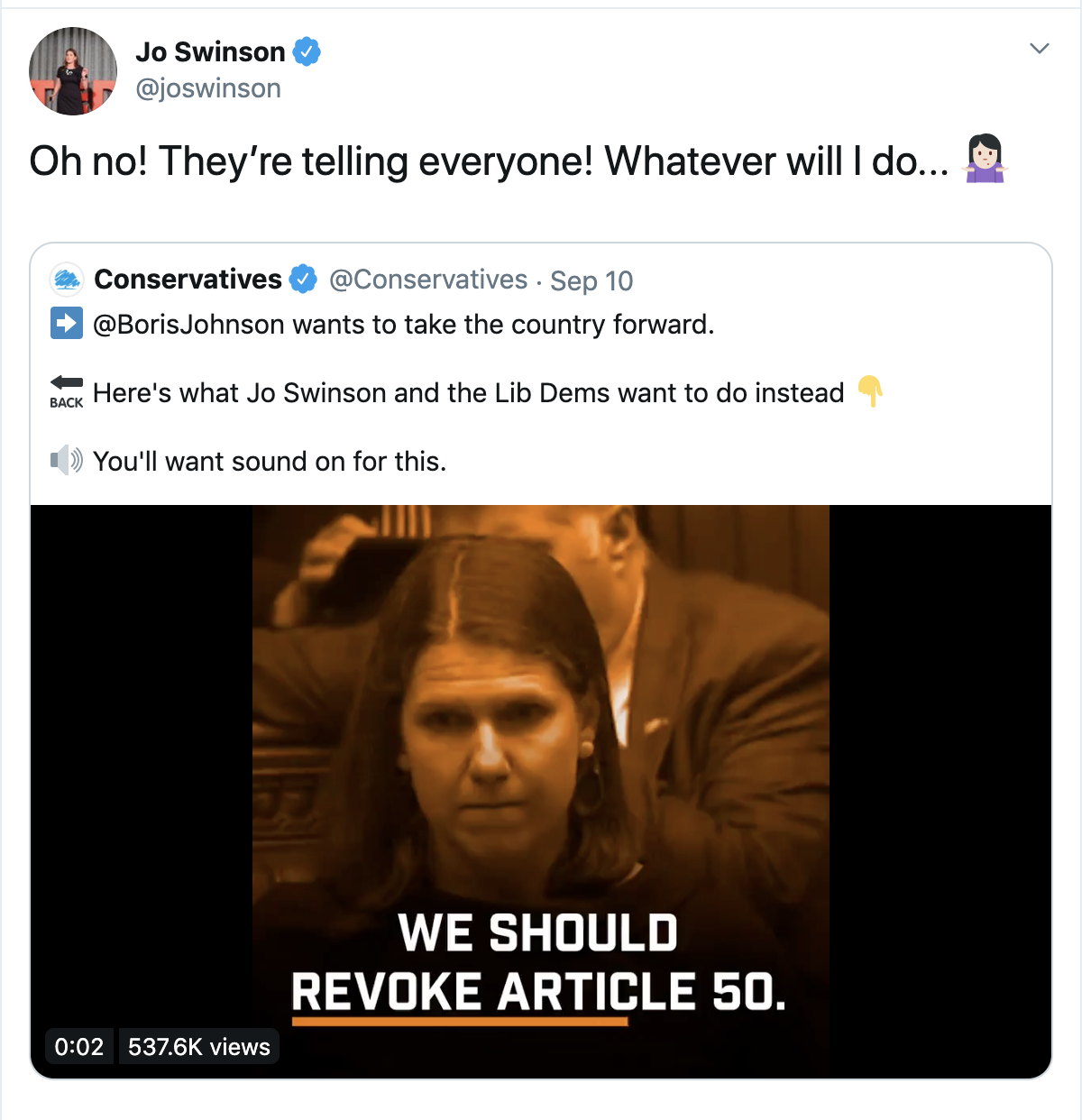 James Johnson, a former pollster at Number 10, said the Conservative messaging was aimed at splitting the Remain vote in key Tory–Labour marginals. Tories want Remain voters to turn to the Lib Dems rather than Labour, so the Labour vote is squeezed and the Tories can come through the middle.

"The Conservatives' best chance of winning certain seats in the south of England and in London where people voted Remain depends on a split Remain vote," he told BuzzFeed News.
"When I was at Number 10, you'd see this kind of thing quite a lot — the Conservative party trying to present two very clear options, one which is Leave, which is them, and one which is Remain, which is the Lib Dems. In many areas that won't make much of a difference, but it could do in some areas where you get quite avid Remain voters."
Johnson pointed to Croydon Central as an example. "The Conservatives on paper shouldn't stand a chance there, but actually if the Lib Dem brand is good and the Labour brand isn't very good, then you end up in a situation where Labour and the Lib Dems are splitting the Remain vote and the Tories can win on the mid-30s [percentage of the vote]."
He said that while the Lib Dems were happy to depress the Labour vote and perhaps win in other areas, like the southwest of England, the bigger question was what it meant for the country if that Remain vote was split.
"There is a trade-off between what might be in the Lib Dems' self-interest and what that actually means in terms of a [national] election result — you're more likely to end up with a Conservative majority than not."