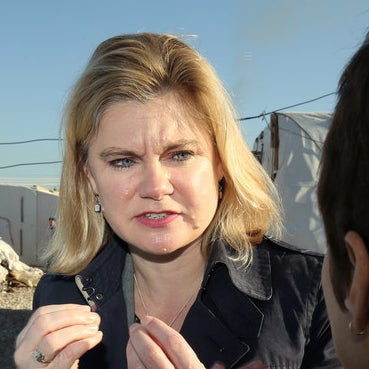 A Lebanese minister has flatly rejected a request from Britain to open up the country's job market and schools to Syrian refugees.
In a major blow to the UK government, social affairs minister Rashid Derbas said his country was "not a warehouse for people" and that it would not be possible to change its labour laws.
His comments, made in the Lebanon-based Daily Star, follow a BuzzFeed News interview with international development secretary Justine Greening, who was visiting the region ahead of a major conference on Syria in London next week.
The UK government wants to slow down the flow of refugees into Europe by piling pressure on Lebanon and Jordan to open up jobs and schools to Syrians. Greening said she was confident of doing deals with the two countries next week.
Derbas said: "Lebanon has been unstinting in its efforts to meet its neighbourly and humanitarian obligations. But Lebanon is not a warehouse for people. Lebanon is weak and poor."
He added: "It is incumbent on the international community to impose a peaceful solution on Syria, so that Syrians can return to their homes. This is the solution, instead of burdening [Lebanon, Jordan, and Turkey] with the consequences of its inaction and, perhaps, conspiracy.
"As for changing the labour laws: This is not possible and it may not even be appropriate considering the high rate of Lebanese unemployment. It is hazardous to the stability of the host society."
He also warned that Lebanon's education system "doesn't have the capacity to accommodate more than half" of Syrian refugee children.
Lebanon, a tiny nation on the eastern coast of the Mediterranean Sea, hosts more than a million Syrian refugees. It means that around 1 in 5 people in Lebanon are now Syrians.
On a trip to the country, Greening told BuzzFeed News: "This does require political will on the side of Jordan and Lebanon and that's a big ask of them. I absolutely understand how difficult some of these decisions are.
"But I think increasingly they've reached the same conclusion I've reached – which is if they can make that leap of faith to say 'We can change our labour laws, maybe allow people to work legally', fundamentally that could pull in investment [so there] aren't just jobs for refugees but jobs for their people, which they need to create growth."