Labour MP Simon Danczuk has warned that the next party leader should ignore Unite boss Len McCluskey.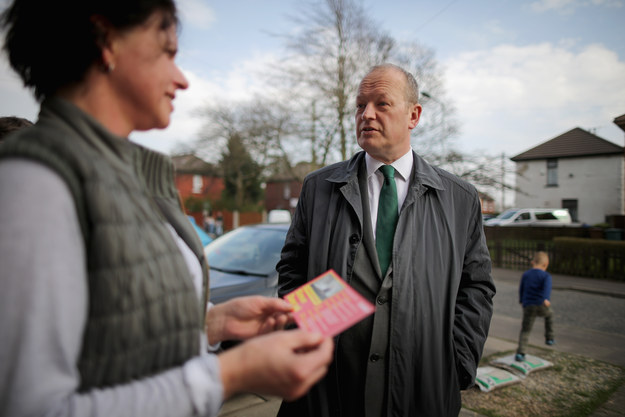 The MP for Rochdale said Ed Miliband's successor should not be tempted to "tack to the left" just to keep union leaders on side. In particular, he or she should ignore any threats from unions to pull their funding – on the grounds that better policies would lead to more individual donations.
So far Andy Burnham, Yvette Cooper, Liz Kendall and Mary Creagh have thrown their hat into the ring for the leadership. Danczuk is yet to endorse any candidate but his comments suggest he's unlikely to back Burnham, the unions' favourite.
Danczuk, who raised concerns about Miliband's leadership long before Labour's crushing electoral defeat, has ruled out running for deputy leader.
He had earlier claimed to have been approached by "several colleagues", but announced on Wednesday morning that he had ruled it out.
He told BuzzFeed News: "I think it's a bit too early for me, in that I've only been an MP for five years, even though I've been in the party nigh on 30 years. Perhaps I need a bit more parliamentary experience before doing that job.
"But I'll put a lot of effort into helping those who shape the party and inform thinking within the party. It's quite clear that the leadership under Ed Miliband had got it wholly wrong and failed to connect and speak to working people in the broadest sense – people who go out to work, the leadership just didn't relate to them. And I think we have to have a leadership that can do that."
Danczuk told BuzzFeed News: "We certainly need someone who can reach out to a much wider audience than Ed Miliband did, no doubt about that."
He added: "Tacking to the left is not the solution to this; lurching further to the left is not what the public voted for in this election.
"So any idea that we should take some of the trade union barons' agenda on board would just be crazy. Labour MPs, Labour members and Labour supporters need to think hard, really hard, about who can lead the party and who can lead the country.
"Whoever it is has to appeal over the heads of some of the trade union general secretaries and get the support of their trade union members – they pay the political levy but they don't take the view of Len McCluskey necessarily."
The unions donated around £11 million to Labour last year, accounting for over half its total funding. But Danczuk said: "I don't think we should worry about where the money will come from for fighting general elections, to be honest. If you devise policies that have an appeal, I think you can win a general election and people will donate to you because they know you're a better solution."
Danczuk said he had privately predicted a small Conservative majority in the weeks before the election.
"Had we had stronger policies on welfare and immigration two years ago, and communicated them well to the public, then I'm in no doubt we would have been in government by now," he said.
"We did actually strengthen our policies a little bit, but far too late. I don't think, having spoken to thousands of people on the doorstep, that there is a great appetite for a Cameron-led Conservative government. But it was a 'better the devil you know' and people were turned off by Ed Miliband, there's no doubt about it."