Gig Economy Workers Don't Qualify For Shared Parental Leave. This MP Wants To Change That
The current system doesn't reflect the modern working world, MP Tracy Brabin told BuzzFeed News. She will table a parliamentary motion on the subject this month.
Labour is putting pressure on the government to allow self-employed mothers to access shared parental leave so they can get back to work quicker.
Tracy Brabin, a shadow education minister, says rising numbers of people are now working from contract to contract, and the government needs to recognise the changing world of work.
She will be tabling a parliamentary motion later this month calling on ministers to take action and allow freelance women to share leave so they can maintain their business.
Introduced in 2015, shared parental leave gives parents the right to split up to 52 weeks of leave and 39 weeks of statutory pay after their baby is born. But self-employed people don't qualify.
Brabin, a former actor and screenwriter, said it was time to change the rules.
"Obviously it's something close to my heart because having been a freelancer and my partner a freelancer for 30 years, I just know if you want a family it's a massive financial risk," she told BuzzFeed News.
"And the idea that you could go back to work and your partner take that maternity benefit so they can share the load while you go back to your business is a fantastic gift."
Some 4.8 million people are self-employed in the UK, around 15% of the workforce, and most work full-time. Brabin said the numbers were on the rise "as people take jobs in the gig economy and work contract to contract".
Brabin said fast-moving changes in the world of work had "crept up" on the government and they needed to bring the law up to date.
She spoke of a friend who was forced to step down from a lucrative job as a music producer because she could not share the leave with her partner. "That will impact on their earnings," she said.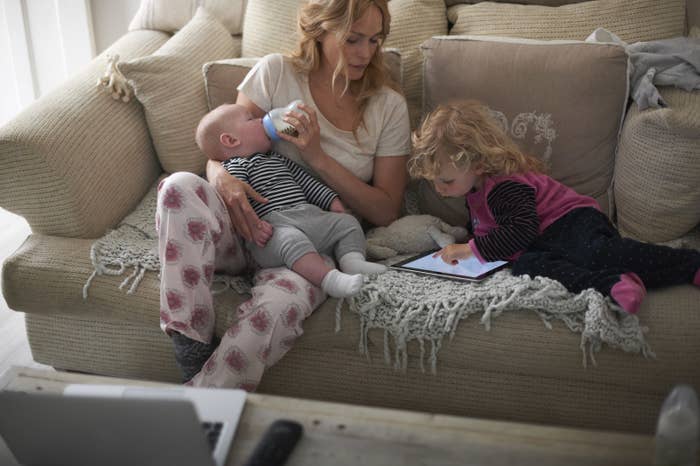 The creative industries are hit particularly hard because so many workers are freelance. But a wide range of other industries are affected including engineering, physiotherapy, education and web design.
"It seems to me that the only way we're going to close the gender pay gap is to get men more involved in childcare," Brabin said.

She will raise the issue in a ten-minute rule bill in the House of Commons on February 21, with support from MPs from all parties.
Labour has said it will change the rules to extend shared parental leave if it wins power.
Prime minister Theresa May promised to look into the issue when Brabin first raised the matter in parliament in November.