Labour MPs Warned They Have "Blood On Their Hands" And Face Deselection
Shadow foreign minister Diana Johnson was told she could lose her seat if she votes for airstrikes in Syria.
Shadow foreign minister Diana Johnson has been warned she faces deselection from her Hull North seat if she backs airstrikes in Syria.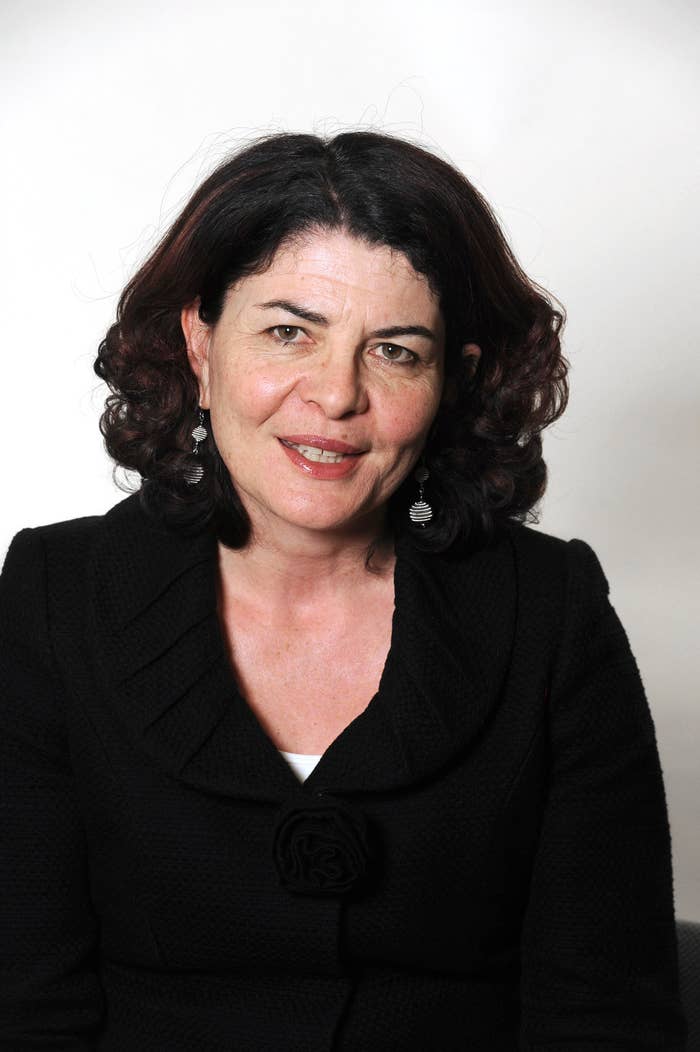 Labour leader Jeremy Corbyn, a lifelong anti-war campaigner, opposes bombing but has allowed his MPs a free vote in the debate on Wednesday. However, many Labour MPs are under pressure from local left-wing activists to back Corbyn and vote against airstrikes.
Johnson wrote a message on Facebook on Tuesday night outlining a threatening email she had received from a "Labour party member".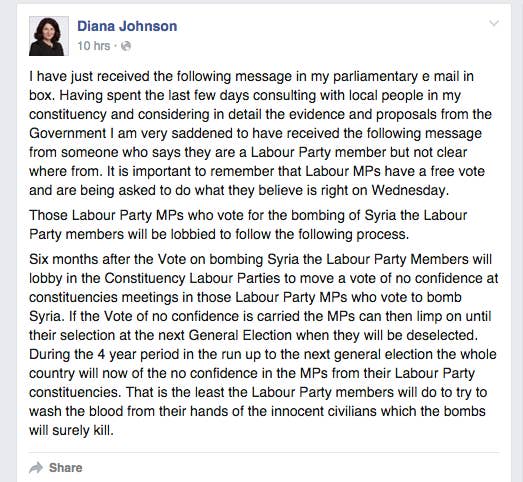 The Labour MP, who was elected to parliament 10 years ago, said she was "very saddened" by the message.
I have just received the following message in my parliamentary email inbox. Having spent the last few days consulting with local people in my constituency and considering in detail the evidence and proposals from the Government I am very saddened to have received the following message from someone who says they are a Labour Party member but not clear where from. It is important to remember that Labour MPs have a free vote and are being asked to do what they believe is right on Wednesday.
This is the email she said she received. It warns that if she votes to bomb Syria, she will be deselected at the next general election.
Those Labour Party MPs who vote for the bombing of Syria the Labour Party members will be lobbied to follow the following process.
Six months after the Vote on bombing Syria the Labour Party Members will lobby in the Constituency Labour Parties to move a vote of no confidence at constituencies meetings in those Labour Party MPs who vote to bomb Syria. If the Vote of no confidence is carried the MPs can then limp on until their selection at the next General Election when they will be deselected. During the 4 year period in the run up to the next general election the whole country will now of the no confidence in the MPs from their Labour Party constituencies. That is the least the Labour Party members will do to try to wash the blood from their hands of the innocent civilians which the bombs will surely kill.
And she wasn't the only one to receive the threat. Labour MP Jamie Reed said he got it too.

Reed claimed that the abuse from Labour members was "sanctioned" and "rampant".
Labour MPs rallied round Johnson and said they would not be bullied into voting a certain way.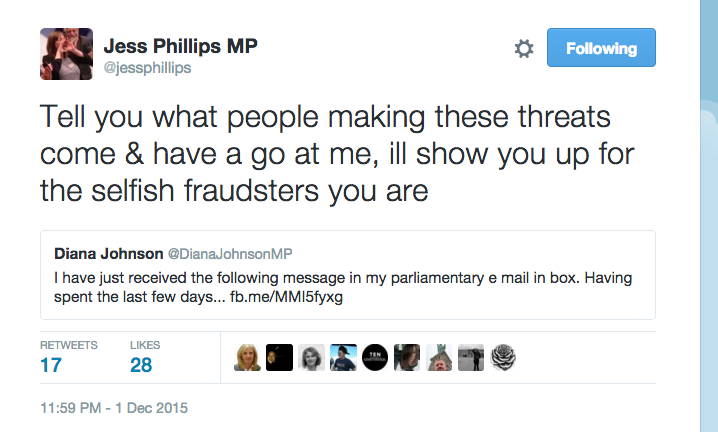 Shadow Commons leader Chris Bryant, who is likely to vote for airstrikes, hit back at criticism on Twitter.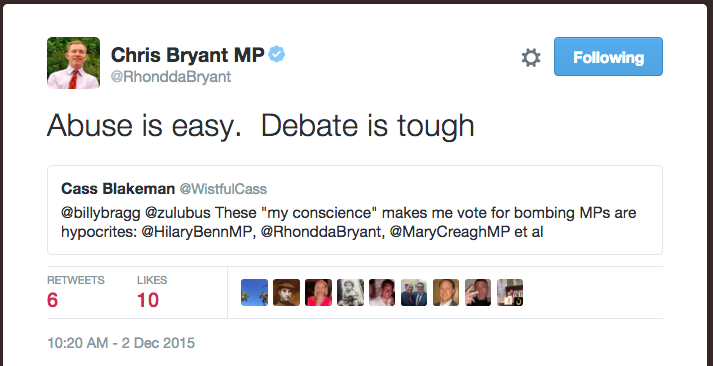 As did Labour MP John Mann, who plans to vote against airstrikes.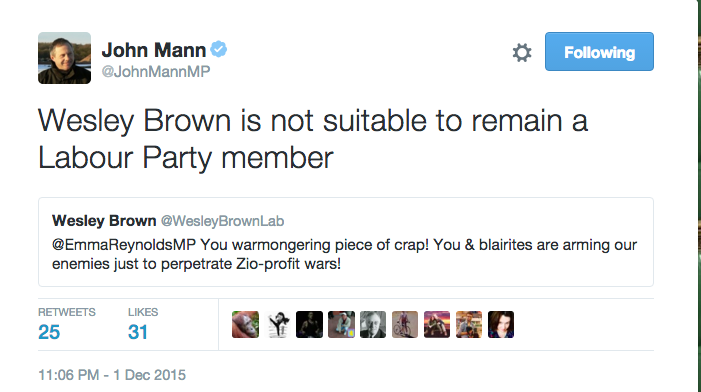 Former leadership contender Liz Kendall was also defiant.
Back in September, Jeremy Corbyn called on his supporters to "cut out the personal attacks, the cyberbullying, and especially the misogynistic abuse online".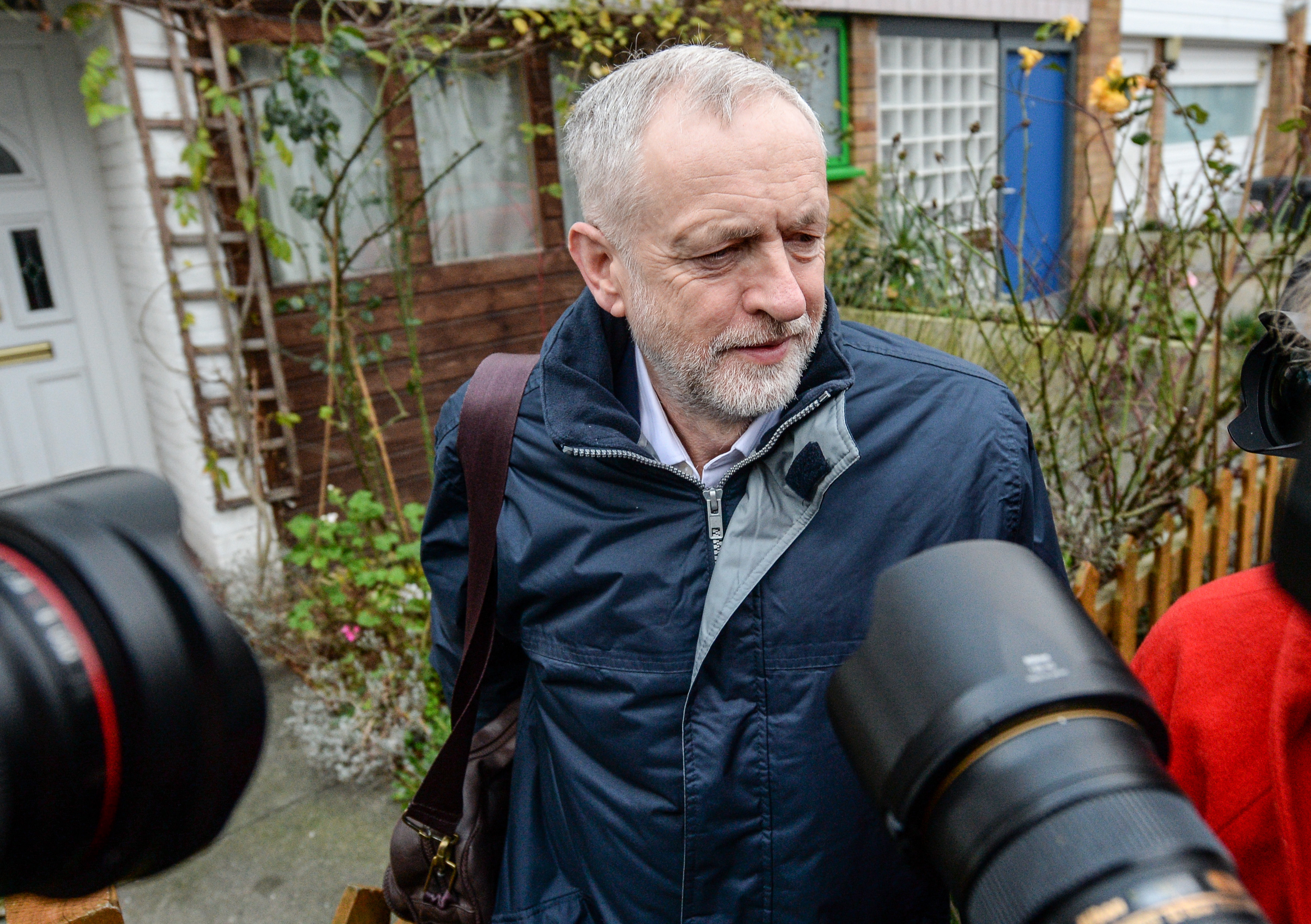 But he raised fears among Labour MPs on Tuesday night when he told Channel 4 News: "Any selection, reselection, or deselection is at least three years away."
UPDATE
A spokesman for Corbyn said: "Trolling and abuse on the internet and abuse on social media has been absolutely roundly denounced repeatedly by Jeremy Corbyn and the Labour leadership, he's made a particular point of saying he completely rejects it.
"I think the reality is, as anyone who deals with social media knows, abuse of that kind is common across the piece. And it's happening on both sides of almost every argument there is and it's certainly happening on both sides of this one and in the Labour party and in other political parties as well."