Labour MPs Are Furious At Jeremy Corbyn And His Spokesperson For Refusing To Blame Russia For The Nerve Agent Attack
"There is a history in relation to weapons of mass destruction and intelligence which is problematic, to put it mildly," Corbyn's spokesperson said.
by
,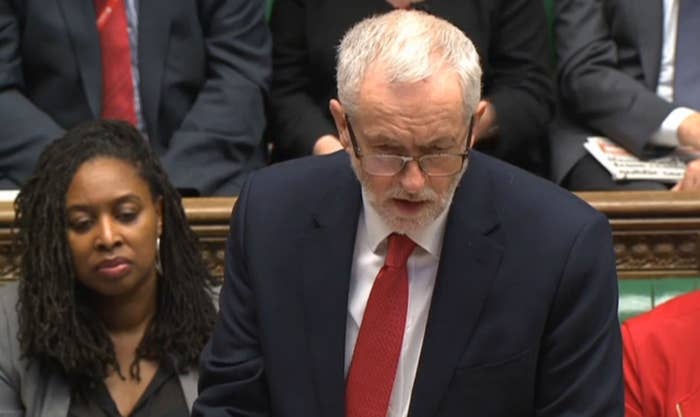 Jeremy Corbyn is facing a growing backlash from Labour MPs for failing to explicitly blame Russia for the nerve agent attack on a former Russian spy and his daughter on British soil.
Corbyn was loudly barracked by Tory MPs for his response to Theresa May after she told the Commons that the UK would expel 23 Russian diplomats it has identified as "undeclared intelligence officers" and suspend all high-level contact with Moscow.
To the fury of many Labour MPs, Corbyn did not explicitly say Russia was behind the attack, instead suggesting more evidence was required and asking whether samples of the nerve agent had been sent to Moscow for analysis. He also called for a "robust dialogue" with Russia and criticised the government for cutting the Foreign Office budget.
Corbyn is also facing a call to sack his official spokesperson Seumas Milne after he told reporters there was not yet proof that Russia was responsible for the poisoning, and warned that the intelligence agencies could be wrong as they had been in the past about weapons of mass destruction.
Labour's shadow defence secretary, Nia Griffith, told the Today programme on Thursday morning that the Labour front bench in fact now does accept that Russia was behind the Skripal poisoning – a position noticeably avoided by Corbyn himself in the Commons.
Asked why she her position was different, Griffith said: "Perhaps I speak in a more plain-speaking way
"I can assure you that is very strongly our front bench position now."
Asked why this was also different to the position briefed to political reporters on Wednesday by Corbyn's spokesperson, Seumas Milne, Griffith replied: "I cannot speak for Seumas Milne. He has to speak for himself. I was not present at that interview by that spokesperson but I think the situation is very different.
In a break with convention, on Wednesday the Press Association took the unusual step of naming Milne as Corbyn's spokesperson, highlighting the significance of the remarks.
Speaking to journalists after Prime Minister's Questions, Milne said: "The prime minister said that there were two possibilities – either the Russian state was directly responsible for the attack or it had negligently allowed weapons-grade nerve agent to fall into the hands of others.
"Clearly we accept those alternatives are the ones most overwhelmingly likely.
"Jeremy has condemned the attack in completely unequivocal terms. Clearly whoever carried out the attack – and the prime minister said Russia is culpable – is responsible for what was a completely heinous and reckless attack in a civilian area with banned weapons."
Asked directly whether Corbyn believes Russia is responsible for the attack, he said: "I think clearly, as I said, it's important to follow the evidence and to be guided by the evidence."
The Labour briefing closely echoed the Russian government's response to the UK's condemnation.

Corbyn's spokesperson suggested that the attack could have been carried out by another former Soviet state: "The breakup of the Soviet state led to all sorts of material ending up in random hands."
He also drew parallels with the Iraqi WMD debacle. "The government has access to information and intelligence on this matter which others don't. However, also there is a history in relation to weapons of mass destruction and intelligence which is problematic, to put it mildly.
"So, I think the right approach is to seek the evidence to follow international treaties, particularly in relation to prohibitive chemical weapons."
Asked whether Corbyn was concerned that his backbenchers felt differently about Russia's culpability, he replied: "In these kinds of cases, there are often initial reactions which aren't later backed up by reality or facts."
He added: "I think Jeremy's record in relation to judgment in relation to international crises is probably better than anybody else in the House of Commons. He's been proved to make the right call time and again."
Labour's Mike Gapes, former chair of the foreign affairs committee, said Milne's remarks were "deplorable" and "exactly what I would expect from a man with his political history and friendship with Putin".
"Jeremy Corbyn was ill-advised to appoint him," Gapes told BuzzFeed News. "He must now sack him."
Labour MP Wes Streeting told BuzzFeed News: "I'm not sure if this spokesperson is speaking for Jeremy Corbyn or Vladimir Putin, but he's certainly not speaking for me, the majority of Labour MPs, or the strong internationalist traditions of Attlee and Bevin. It is truly shameful."

Labour MP Gavin Shuker also weighed in.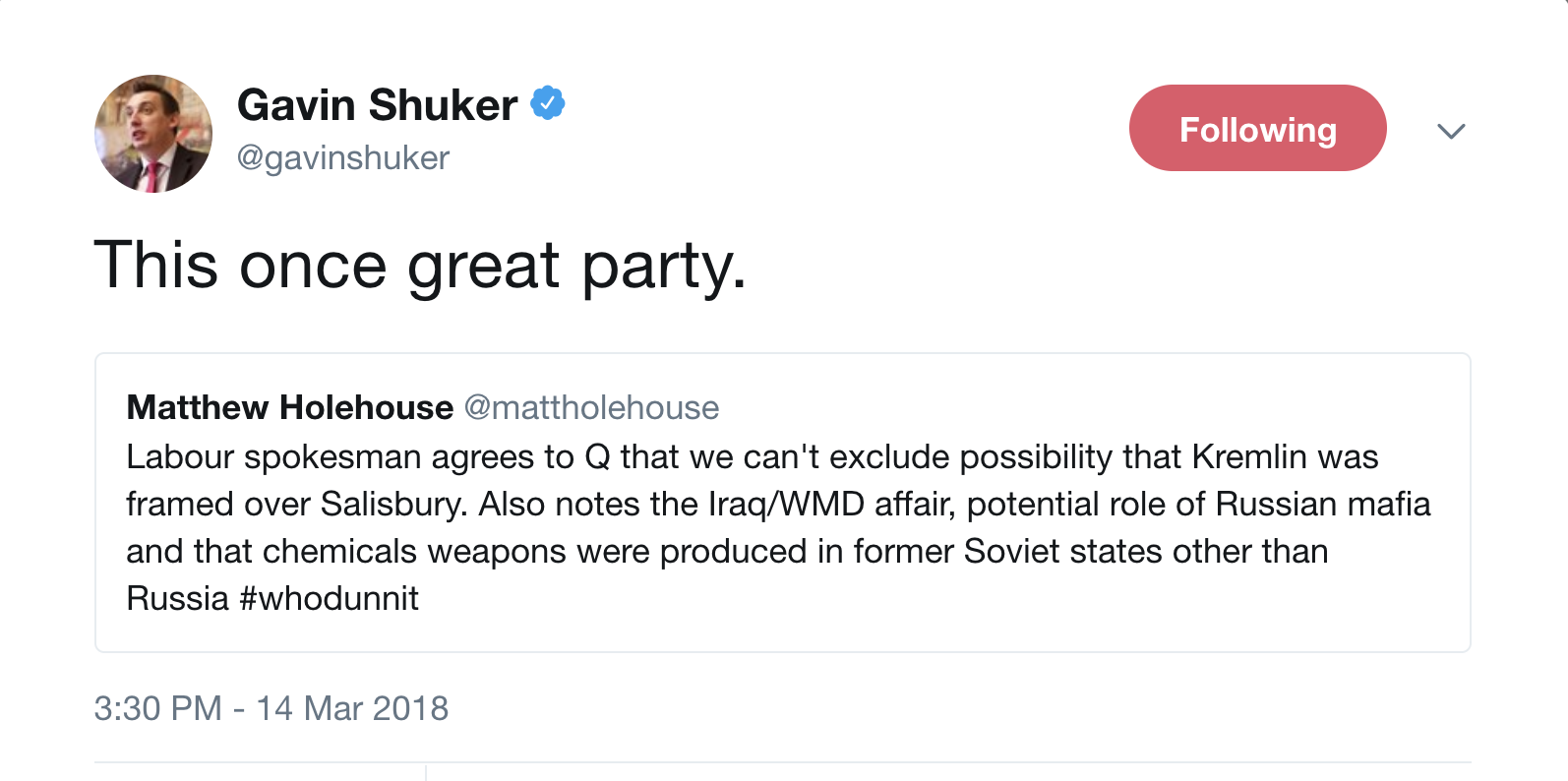 As journalists tweeted the spokesperson's remarks, they were brought to the attention of the PM, who was still speaking in the Commons chamber.

Tory MP Alec Shelbrooke asked May to "reiterate to the House the faith she has in the intelligence services to be absolutely certain in the evidence she receives".
She replied: "I am surprised and shocked at the statement that has been put out by the spokesman for the leader of the opposition, and, as I was going to say, it is very clear I think from the remarks that have been made by backbenchers from the Labour party that they will be equally concerned about that remark.
"They stand full square behind the government in the analysis that we have shown and the action that we have taken."
Yvette Cooper was among Labour MPs who clearly stated their support for May's sanctions against Russia, saying that Moscow's actions must be met with "unequivocal condemnation".
UPDATE: The Press Association later retracted their naming of Seumas Milne as the Labour leader's official spokesman.