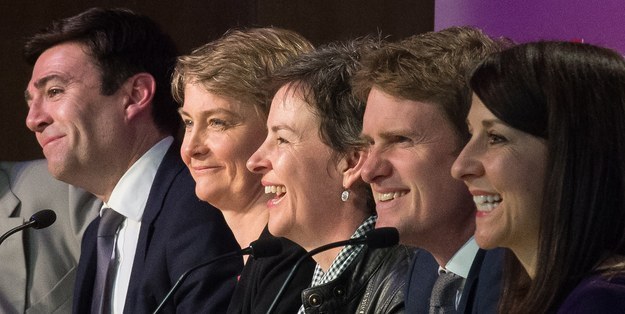 Labour's leadership hopefuls made their pitch to fellow MPs on Monday.
Andy Burnham, Yvette Cooper, and Liz Kendall are the three main contenders for the top job, with Mary Creagh and left-winger Jeremy Corbyn also battling to get on the ballot paper. All five answered questions from Labour MPs for the first time at a special hustings in parliament.
It was their chance to win precious endorsements from colleagues ahead of the formal opening of nominations on Wednesday. Each candidate needs to get 35 MPs supporting them by next Monday to stay in the race. Burnham, Cooper, and Kendall have already reached this milestone.
Journalists were banned from the event but MPs inside the room told BuzzFeed News how the three main candidates all tried to carve out a distinct identity for themselves, while also making sly digs about the danger of backing their fellow contenders.
Burnham told MPs that they must avoid the danger of "copying the Tories" – interpreted by MPs in the room as a swipe at Kendall.
The shadow health secretary said pointedly that Labour would not win if it aped the Conservatives but only "when we are better than them". Cooper appeared to turn her fire on Kendall, too, saying "tough decisions" need to be taken but "only through our Labour values, not by turning into Tories".
Kendall was forced to deny on Sunday that she had "swallowed the Tory manifesto". One Burnham supporter in the room told BuzzFeed News that it was noticeable that Kendall did not speak to MPs about her "devotion" to free schools or the role of the private sector in the NHS, despite talking to the media about these issues.
But a source in Kendall's team said: "I think anyone playing the politics of accusing their opponents of copying the Tories isn't helpful." They pointed out that Burnham had chosen not to speak about his support for a free school linked to Everton football club.
Meanwhile, there were coded warnings from Cooper against Burnham, who is currently the bookies' favourite to win.
The shadow home secretary suggested he was sticking to Labour's "comfort zone" rather than actively exploring what needed to change. She said Labour needed a leader willing to make "uncomfortable" decisions.
Cooper asked MPs: "Who do you want to be sat behind every Wednesday for the next four years?" Her camp will continue to push the narrative that she is the only candidate who can hold her own in House of Commons debates against prime minister David Cameron and his potential successors Theresa May, George Osborne, and Boris Johnson.
But one MP told BuzzFeed News that although Cooper was a "seasoned performer", there was "something lacking there, as though she's going through the motions".
There were also fears that Burnham was getting a bit too confident when he talked about his conviction he would win the competition.
In answer to a question from Blackpool South MP Gordon Marsden, Burnham used the phrase "When I'm leader of the Labour party". A source in the room said: "There were gasps in the room because of the presumption of it. I think that was a big mistake."
Burnham also used his two-minute speech at the end to underline the need to "get out of the Westminster bubble" and speak to real people. One MP said afterwards that this was difficult to take from a man who had spent most of his adult life in politics.
A source in Burnham's camp pointed out that Cooper had also enjoyed a long career on the frontbench and that Kendall had been a special adviser to Patricia Hewitt.
The candidates who get on the ballot paper face a series of hustings events across the UK over the next two months. One thing is clear – the battle to be crowned Labour leader is only going to get uglier.
Looks like there are no comments yet.
Be the first to comment!