Labour Councillors Are Having An Almighty Row About An Anti-Corbyn Letter
A statement calling on Jeremy Corbyn to resign has been signed by over 600 councillors – but some have complained their names shouldn't be on there.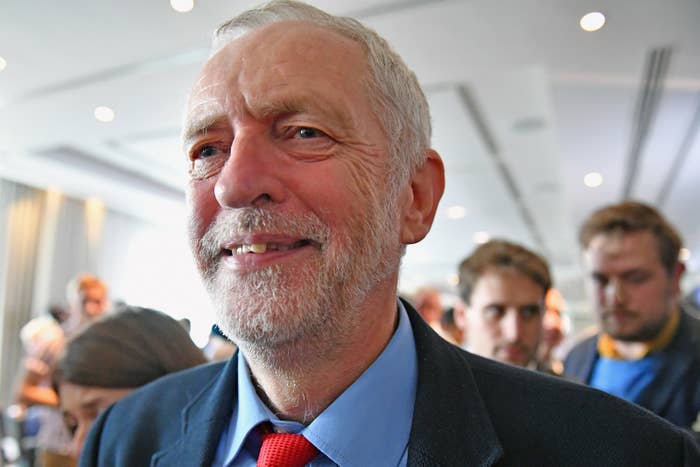 Labour councillors are engulfed in a major row over an open letter calling on Jeremy Corbyn to resign.
Organisers claim that over 600 Labour councillors – around 1 in 10 of Britain's total – have now signed the statement demanding fresh leadership.
But a number of apparent signatories have complained that their names should not be on the list and that they do actually back Corbyn.
The Labour leader is under mounting pressure to resign after MPs resigned en masse from his shadow cabinet and he lost a motion of no confidence.
Scores of backbenchers have warned that Corbyn will lead them to defeat at the next general election if he does not step down – but the leader is refusing to quit, paving the way for a fresh leadership contest.
The row between Labour councillors kicked off on Wednesday when over 240 of them signed an open letter backing Corbyn and hit out at the "indulgent" MPs trying to oust him.
The pro-Corbyn letter, published on LabourList, said: "It would be utterly self-defeating for the people we represent if now, less than a year after Jeremy was elected on the single biggest mandate of any previous leader, he was to be forced from office."
That led to the release of an anti-Corbyn letter on Thursday – signed at that point by over 500 councillors – calling on him to resign and "make way for new leadership".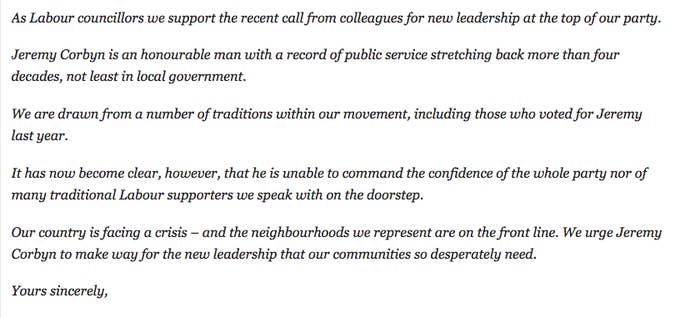 This anti-Corbyn letter was also published on LabourList, followed by the names of 531 councillors. But the article was later deleted after a number of councillors claimed that they never signed the letter.
Preston's Drew Gale, Birmingham's Sharon Thompson, and Southampton's Lee Whitbread were among the councillors who tweeted their dismay at being included on the list.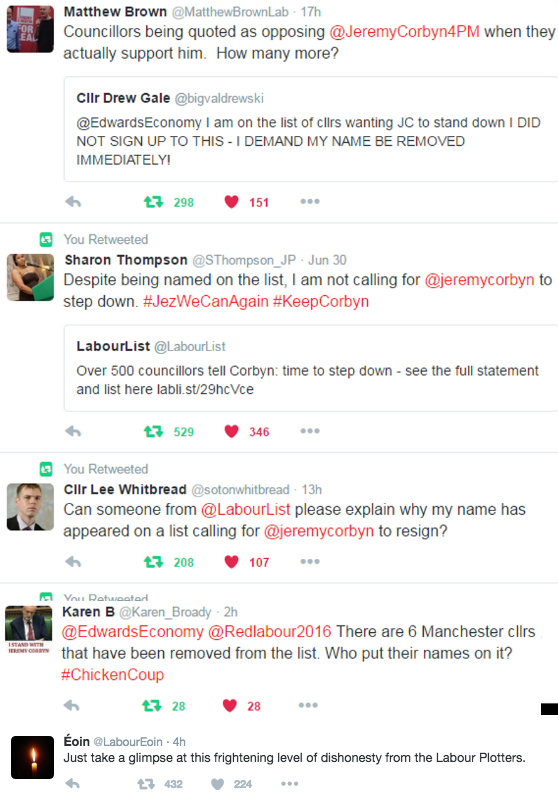 The letter calling on Corbyn to resign was organised by Lambeth councillor Ed Davie.
He told BuzzFeed News he had sent out a blanket email to all Labour councillors outlining the public statement calling for Corbyn's resignation, with a button below for them to click if they wanted to sign it.
Davie said anyone who had mistakenly hit the button could contact him immediately to have their name removed from the list. More than 620 councillors across Britain have now signed the letter and only around 10 had asked to be removed, he said.
Davie blamed an "organised campaign" by Momentum, the grassroots group of Corbyn supporters, to try and "discredit the letter because it doesn't fit in with their agenda".
He told us: "They can try and rubbish it. But they're just trying to bully and intimidate people to shut them up.
"Jeremy Corbyn goes on about kinder, gentler politics but the conduct of the people he's unleashed in the Labour party shows that he's unfit for office.
"I think he should resign immediately because he's unfit to lead the Labour party."