Labour Could Introduce A Universal Basic Income For Every Citizen
Shadow chancellor John McDonnell said the party was considering the idea.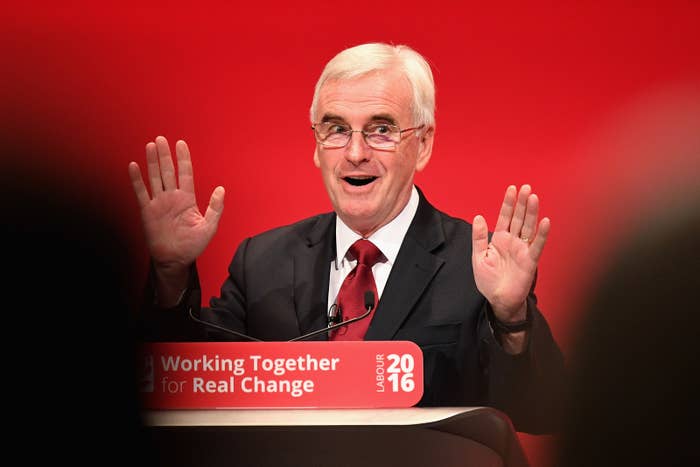 A Labour government could introduce a universal basic income as part of a massive overhaul of the benefits system, shadow chancellor John McDonnell has said.
The senior Labour figure confirmed on Monday that the party was looking at the radical move and how it was working in other European countries.
A universal basic income would see all citizens, whether they are in or out of work, paid a flat-rate, unconditional income rather than means-tested benefits.
Supporters say it would sweep away the bureaucracy of the current welfare system and help protect working people from the insecurity of the labour market. But critics have raised concerns about the overall cost and whether it would deter people from seeking work.
In his keynote speech to Labour's conference in Liverpool, McDonnell said: "We know the economy is changing, with more people self-employed than ever before. We need to think creatively about how to respond and so we'll be taking a serious look at how to make the welfare system better support the self-employed.
"I am also interested in the potential of a universal basic income – to learn from its potential from the experiments currently taking place across Europe."
McDonnell has long been intrigued by the idea. Back in February he said he was exploring the issue, pointing out that child benefit was a form of basic income.
Swiss voters overwhelmingly rejected plans to introduce a basic income in June. None of the country's parliamentary parties supported the move but it was put to a referendum because it had gathered more than 100,000 signatures.

But the idea is being considered elsewhere. Finland is introducing a pilot project next year in a bid to simplify its welfare system. And an experiment is also due to take place in the Dutch city of Utrecht.
Just 35 MPs backed an early day motion, tabled by the Green party's Caroline Lucas, calling on the government to look into a universal basic income in January. The motion said basic income "has the potential to offer genuine social security to all while boosting entrepreneurialism and the creation of small businesses".
In his speech, McDonnell also vowed to introduce a "real living wage" of £10 an hour if his party wins power. "Under the next Labour government, everyone will earn enough to live on," he said.
The current national living wage, which became law in April, requires employers to pay over-25s at least £7.20 an hour, rising to £9 by 2020.