A Lib Dem Member Who Heckled Jo Swinson Said The Party Leader Was "Lying" About Tory Defectors
"If they won't listen through the appropriate channels you have to make them listen any way you can," Catherine Finnecy, a Lib Dem councillor, told BuzzFeed News.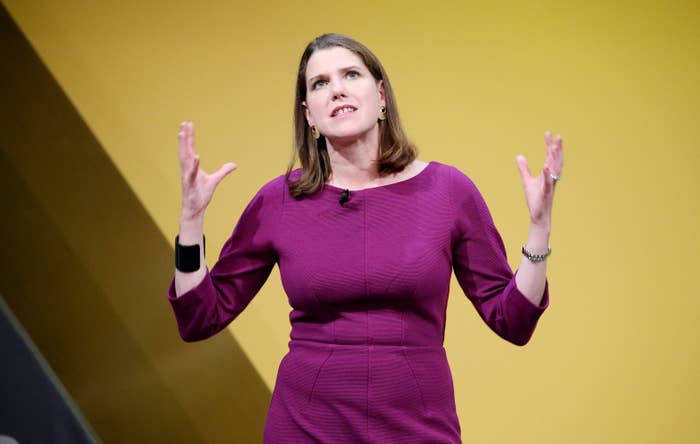 The Liberal Democrat member who heckled Jo Swinson at party conference has told BuzzFeed News of her anger at the party's apparent failure to address concerns over the defection of former Tory MP Phillip Lee.
Catherine Finnecy, a councillor in Chelmsford, Essex, shouted that Swinson was a liar as the party leader answered a question in the main conference hall on Sunday about the values of new Lib Dem MPs and whether they had been vetted to the same extent as other candidates.
Referring to Lee — whose defection from the Tories sparked a string of resignations among LGBT+ activists — Finnecy heckled that his proposal regarding migrants with HIV had been a "UKIP policy", adding: "Lying is what she's doing!"
BuzzFeed News understands that Lee is meeting a number of party members on Monday in an attempt to prevent more people from leaving in protest of his voting record and political views.
But Finnecy's intervention on the second day of the annual conference in Bournemouth showed that the party leadership's assurances have so far failed to shut down a row that has been raging since Lee dramatically defected by walking across the floor of the Commons while prime minister Boris Johnson was at the despatch box on Sept. 3.
Several senior LGBT+ figures have already quit the party over his defection, including Jennie Rigg, Zoe O'Connell and Sarah Brown. Their chief concern is Lee's proposal in parliament in 2014 that people coming to settle in Britain should have to first prove they do not have HIV or hepatitis B.
Party chiefs have said they are satisfied Lee's proposal was motivated by a desire to protect public health but members have warned his views "strongly conflict" with the Lib Dems' pro-LGBT, pro-immigration stance.
Finnecy told BuzzFeed News she felt she had no choice but to interrupt Swinson.
"I don't think political action is against the rules," she said. "They say 'don't heckle the leader' but why should I sit there silently while she gets to say all this highly offensive stuff?
"If they won't listen through the appropriate channels you have to make them listen any way you can.
"I tried to raise a serious concern in writing with the leader, the deputy leader, the chief whip — no response. Then I tried to raise an official complaint — that was referred back to the chief whip. Then I tried to come here and they still haven't organised the meeting they promised."
Finnecy dismissed Swinson's defence that the Lib Dem leadership had done all it could to make sure new MPs shared the party's values.
"They're lying about doing due diligence, they didn't consult properly with the LGBT+ community and they failed to address this head-on, so now they're just trying to sideline the issue," she said.
And she said it was not satisfactory for the party to conduct a 90-minute interview with Lee and declare themselves satisfied on his record.
"It's not enough for a middle-aged straight white man [chief whip Alistair Carmichael] who knows not much about this subject to say 'Oh no I've had a conversation and he [Lee] said it's ok because he's not a homophobe so I believe him and I've ignored the opinion of the actual experts.
"It's just so offensive to hear that kind of policy defended in the name of liberalism, it really is extremely hurtful."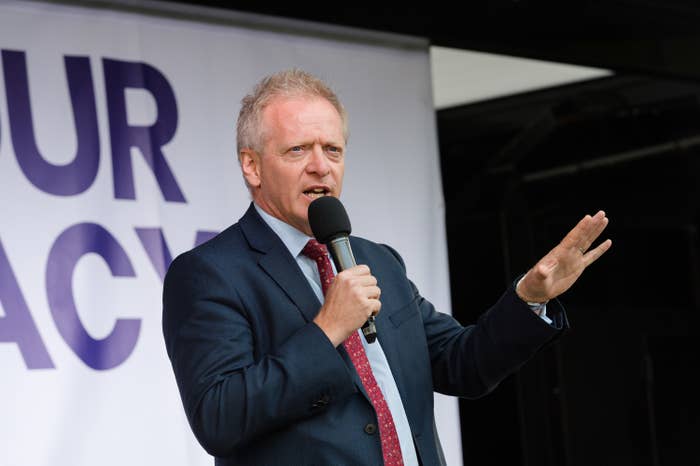 The heckle took place as Swinson answered a question from another member who also raised concerns about the six MPs who have defected to the Lib Dems in recent weeks.
The member said she had been a Liberal Democrat for 27 years and her liberal values were "incredibly important" to her. "I'm concerned that some of the people that have joined recently don't share those values and their voting records show their true colours," she said, to some applause.
Swinson replied: "There is an in-depth interview with the chief whip to test exactly that [Lib Dem values]. And I am confident that all of those people who have joined our party in parliament do share our liberal values.
"They might not share our views on every single issue but do you know what, around this hall we don't all share views on every single issue, as the lively debate we have on this stage attests to. And we all know it's possible to reach a different conclusion on a policy issue from a liberal perspective."