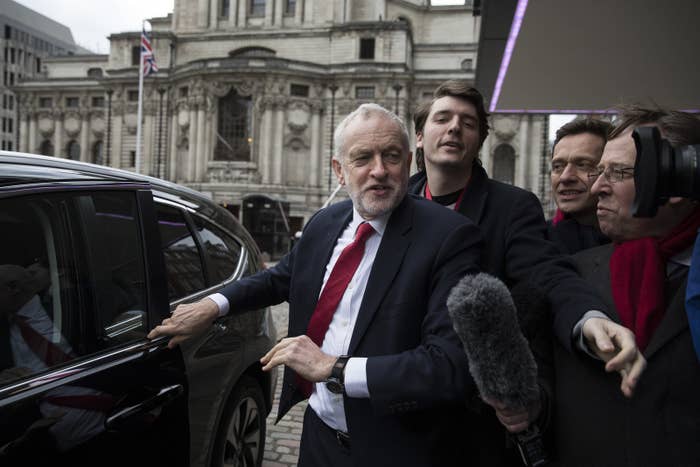 Jeremy Corbyn's spokesman has warned journalists and politicians against inciting "hatred or violence" by painting the Labour leader as a "terrorist sympathiser", in the wake of newspaper reports over his alleged contacts with a Czech spy in the 1980s.
The spokesman pointed to the trial of Darren Osborne, convicted earlier this month of a van attack on Muslim worshippers, who had expressed a desire to kill Corbyn because it would be "one less terrorist" on the streets.
Corbyn has warned media bosses that "change is coming" after a raft of outlets – led by the Sun, Daily Mail, Express, and Daily Telegraph – printed claims from agent Jan Sarkocy that Corbyn had been recruited as an intelligence asset in the 1980s.
Speaking to reporters after Prime Minister's Questions on Wednesday, Corbyn's spokesman was asked whether he agreed with an opinion piece in left-wing outlet the Canary titled "Is the right-wing press trying to get Jeremy Corbyn killed? Because it looks like it."
He replied: "I don't think we're saying that at all – we're saying that the coverage of this story has shown little regard for the facts or the demonstrable absurdity of the allegations being made by an agent who was retired 30 years ago from his job and has now found his five minutes of fame."
He then pointed to the trial of Osborne "in which he stated he wanted to kill Jeremy Corbyn and that was his first aim and referring to Jeremy as a terrorist sympathiser and if he'd managed to kill him that would be one less terrorist".
He said: "I think [that] highlights the serious dangers of the use of language and some of the reporting and the language used by politicians around Jeremy's leadership and the Labour party leadership and the importance of framing completely legitimate political debate in ways which don't incite hatred or violence."
In a video tweeted on Tuesday evening, Corbyn hit back at the newspapers, saying: "In the last few days, the Sun, the Mail, the Telegraph, and the Express have all gone a little bit James Bond.
"Publishing these ridiculous smears that have been refuted by Czech officials shows just how worried the media bosses are by the prospect of a Labour government."
He ended with the line: "Well, we've got news for them: Change is coming." The Telegraph said this was "deeply disturbing".
Corbyn's spokesman said Labour was planning a review that would look at "opening up media plurality", adding: "We want to open up the press, not close it down. It's about making it more diverse and more plural."
But he refused to rule out banning the foreign ownership of newspapers, after shadow minister Andrew Gwynne told the BBC that the option could be on the table.
"A review is something that's obviously looking at ways of increasing plurality in the media," the spokesman said. "I think anyone who wants to see a flourishing free press in this country, which Jeremy certainly does, would support and welcome that."
A Number 10 source pointed to a speech Theresa May gave earlier this month in which she said: "A free press is one of the foundations on which our democracy is built and it must be preserved."
They added: "The press has a legitimate and extremely worthwhile role to ask awkward and sometimes uncomfortable questions to those in public life."