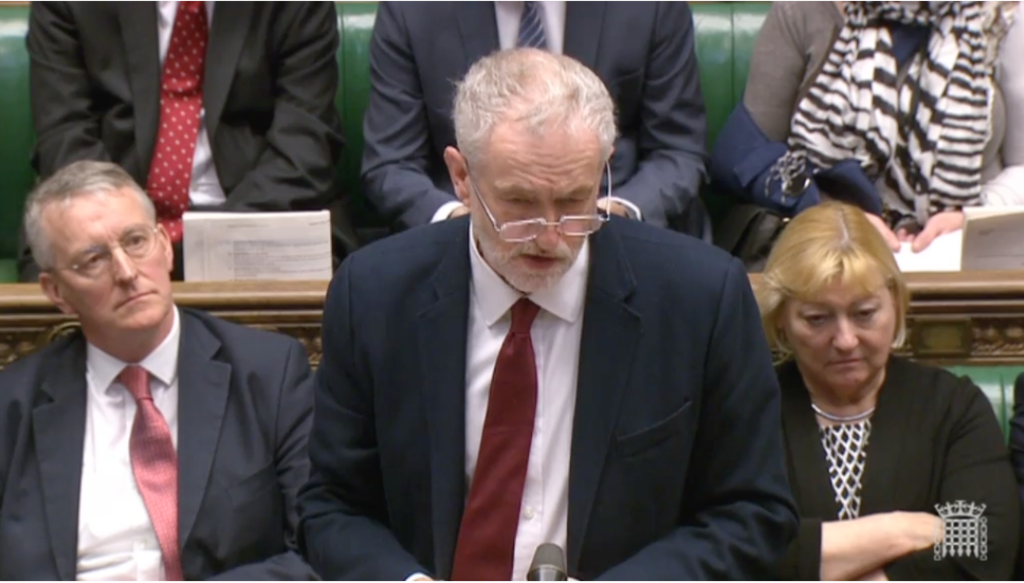 Jeremy Corbyn has accused David Cameron of a "lack of respect for the democratic process" after the PM failed to answer questions from MPs about his EU reforms.
The Labour leader was granted an urgent question in the House of Commons following the long-awaited publication of a draft deal on Cameron's EU demands.
Meanwhile Cameron was making a speech in Corbyn's home town of Chippenham, Wiltshire. He will make a statement in the Commons after Prime Minister's Questions on Wednesday.
A visibly angry Corbyn said: "It's rather strange that the prime minister is not here. Only two of his cabinet colleagues appear to be in attendance today and the prime minister – I should be pleased about this, I suppose – seems to think he should be in Chippenham, paying homage to the town where I was born, making a speech about negotiations with the European Union, rather than his duty, to report to this House first, to whom he is accountable as prime minister.
"He's trumpeting the sovereignty of national parliaments as part of the negotiations but doesn't seem to respect the sovereignty of this parliament."
Corbyn said Chippenham was a "wonderful town" but pointed out that Cameron could "come back to London in about an hour" and give a statement to MPs.
"The truth is this whole process is not about engaging with parliament, it's about managing the problems within the Conservative party," he added. "I believe this indicates a lack of respect for the democratic process and this house."
Europe minister David Lidington, who was forced to answer Corbyn's urgent question, said Cameron would make a statement on Wednesday after "having first had the chance to digest the detail of the proposals".
He added: "It has always been the prime minister's intention to make a statement subject to permission after Prime Minister's Questions tomorrow. The timing of the release of the documents was in the hands of the president of the European Council."
And he hit out at Corbyn for focusing "entirely on the choreography of this morning" and asking "not one question on the substance".
The document allows for an "emergency brake" on EU migrants' benefits – but falls short of Cameron's proposal of an outright four-year ban, stating instead it would be "graduated" so migrants get some tax credits within that timeframe.
The draft deal also includes a "red card" system that allows member states to group together to block unnecessary EU laws – but there are fears from Eurosceptics that this doesn't go far enough.
Cameron has said the draft proposals show "real progress" but that there is "more work to be done" before a crunch EU summit on 18–19 February.
If a deal can be done between all 28 member states there, a referendum on Britain's membership of the EU is likely on 23 June.