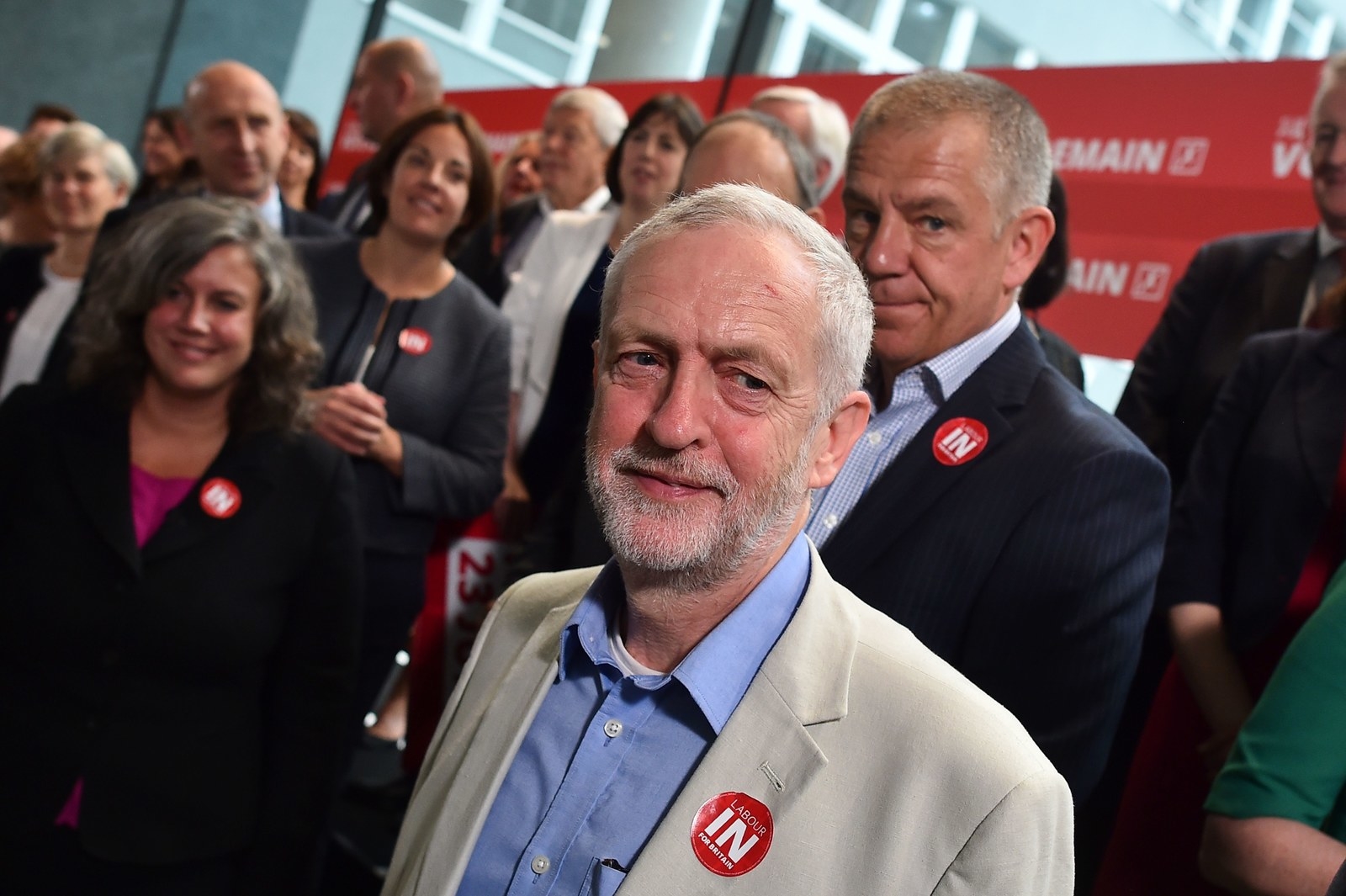 "There is nobody that is more determined to win this vote to remain in the European Union than my friend, and our leader, Jeremy Corbyn!" Shadow health secretary Heidi Alexander delivered her introduction with a straight face as her colleagues clapped and cheered in front of the assembled press pack.
Journalists had been corralled in the lobby of the Trades Union Congress building in London on Tuesday to witness a big show of unity from Labour over the EU. With just nine days until the referendum – and polls suggesting momentum has swung to the Leave camp – this was an unashamed last-ditch attempt to win over Labour voters.
The party leadership hopes the photo call will finally put to rest the question of whether Corbyn's heart is truly in the fight for Britain to remain in the EU. Labour politicians have been warning that their core voters are confused about the party's position, which hasn't been helped by Corbyn's Eurosceptic past or him recently grading his own pro-EU enthusiasm as 7 out of 10.
This week Labour is taking over the reins of the Remain campaign amid fears Tory prime minister David Cameron is turning off the wavering voters so desperately needed next Thursday. "Most of this campaign has been about the Conservative party tearing lumps out of each other and lining up a successor to David Cameron," Alexander said. "Well, it's pathetic and I for one am fed up with it."
Labour MPs have been touring the nation in a red In for Britain battlebus, but even the party's campaign chief, Alan Johnson, admitted last month they needed to "inject a little bit of passion". So if there was ever a moment for Corbyn to get passionate about the EU, this was it.
The shadow cabinet looked to their leader for words of inspiration ahead of the biggest vote in a generation. "This is a coming together of the Labour shadow cabinet, the general secretaries and members of the general council of the TUC, and many members of our party's national executive," Corbyn said.
"This is the Labour movement saying that we are voting Remain in the European Union next week. We're saying that because we want to defend the very many gains ... made by trade unions across Europe that have brought us better working conditions, longer holidays, less discrimination, and maternity and paternity leave.
"We believe that a Leave vote will put many of those things seriously and immediately at risk – many at work will be significantly worse off when the bonfire of regulations promised by others takes place."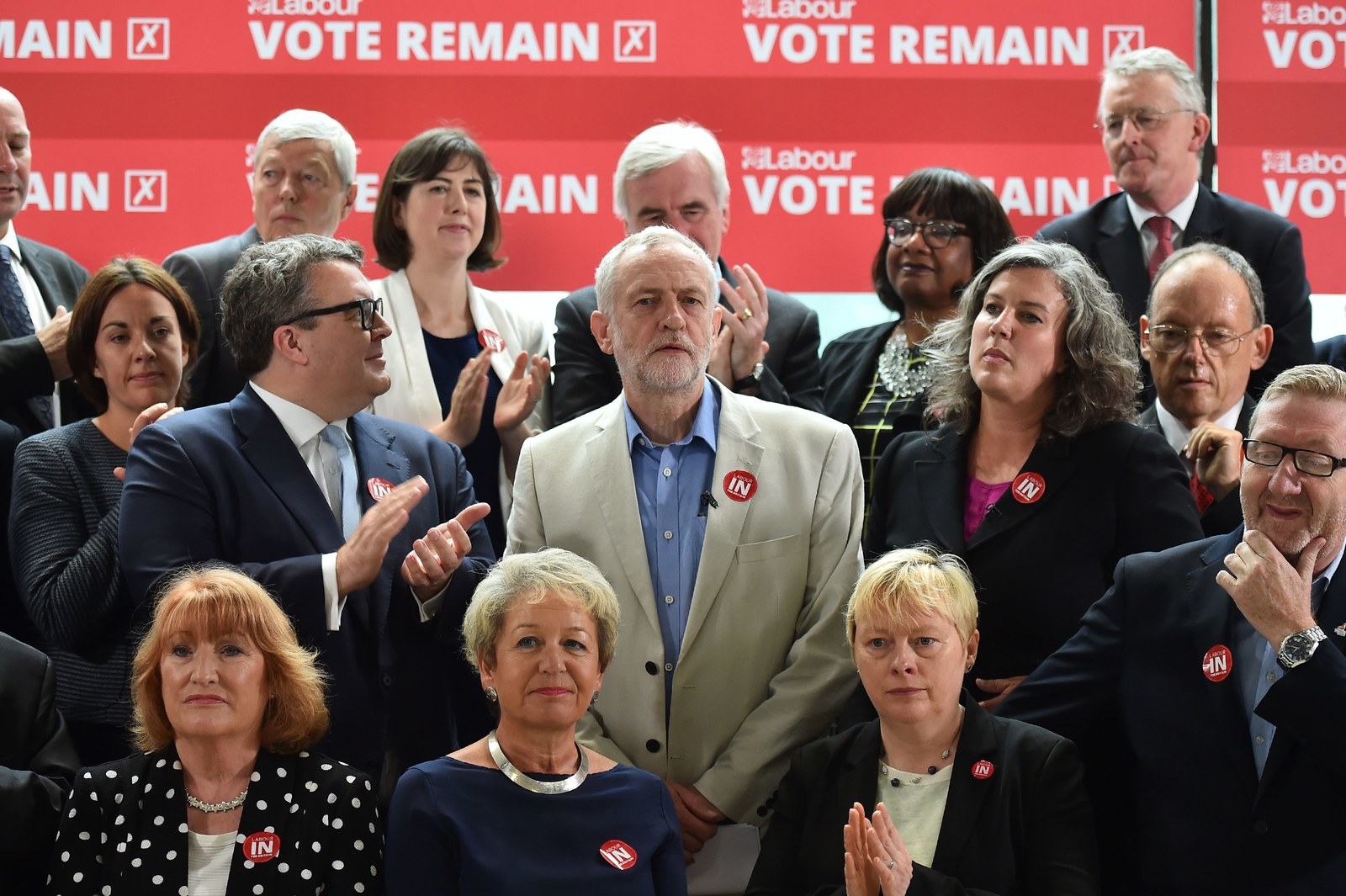 It may have lasted just a few minutes, but this was the most unequivocally pro-EU speech Corbyn has given during the referendum campaign. Two weeks ago he confused a fair few people by attacking predictions from pro-EU Tory ministers and warning against the trade deal being negotiated between the EU and United States.
"We urge all of our supporters to think very carefully about this and vote to remain next Thursday on the 23rd," Corbyn said. "Thank you very much." He then posed for photos with his team while exchanging some banter with Unite boss Len McCluskey on the front row, and everyone trooped up to the fifth floor for a rally on the NHS.
TUC general secretary Frances O'Grady hit out at Leave campaigners Boris Johnson, Michael Gove, and Iain Duncan Smith as "fibbers, fakes, and phonies", while Unison boss Dave Prentis said he's never seen such a "deceitful" campaign.
Then it was time for Corbyn again – and he wasted no time in warning that the NHS was at risk from Brexit. He blasted the "faux concern" about the health service from the Tory Leave camp and said its claim that Britain sends the EU £350 million a week was "damn right dishonest".
Journalists had been sent his speech in advance, and he failed to read out this key line: "If you care about the NHS, as I do, as Labour does, as NHS staff do, then vote Remain." But Corbyn has never been one to stick to a script. He'll find out next week whether his message has hit home with Labour voters.
Looks like there are no comments yet.
Be the first to comment!