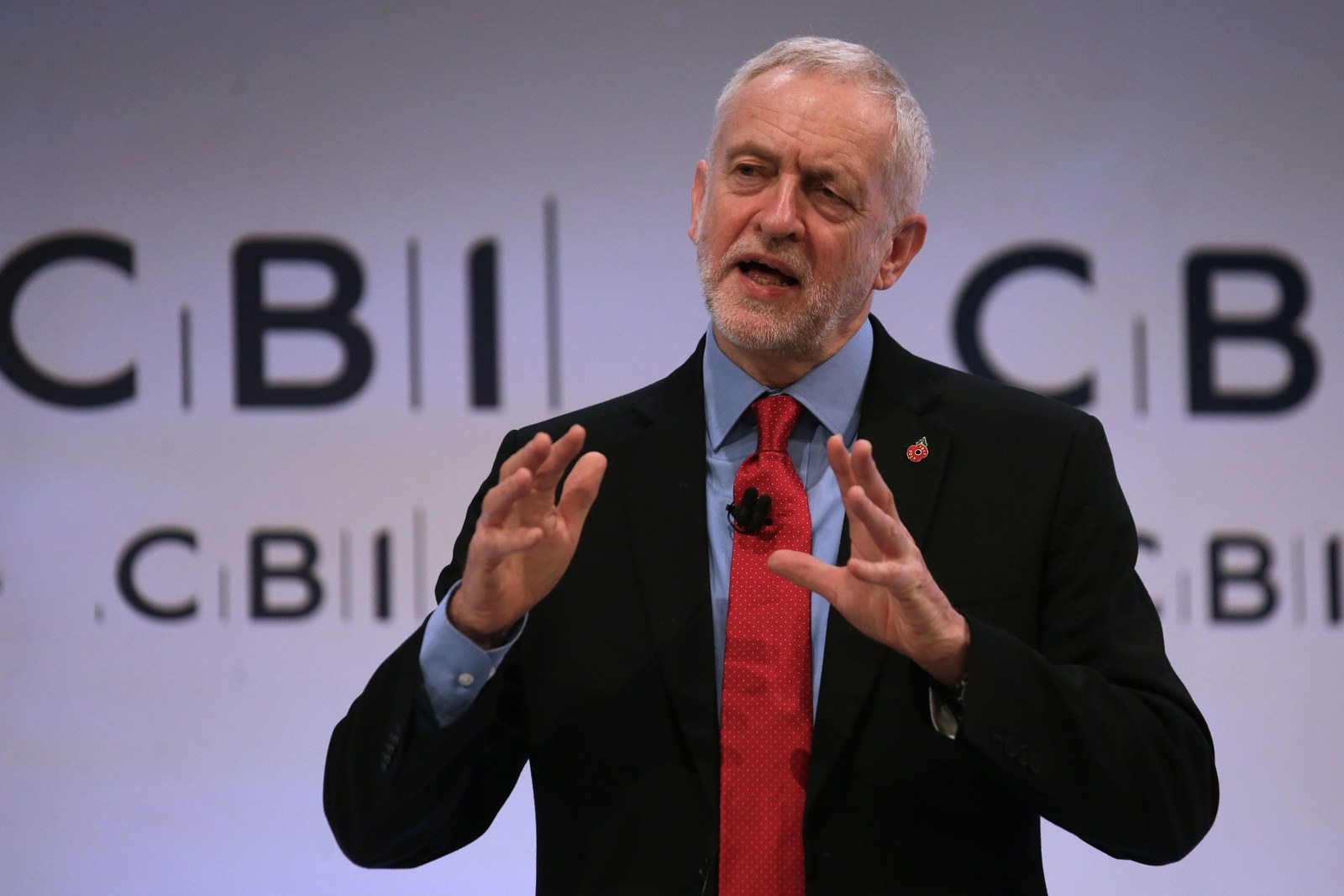 Jeremy Corbyn has said MPs should undergo training after every general election on employment standards and the management of their offices, as allegations of sexual harassment continued to swirl around Westminster.

In a letter to the prime minister ahead of a cross-party meeting later on Monday, the Labour leader also called for an independent authority to provide a "minimum standard of support" for parliamentary staff.
Corbyn will meet PM Theresa May in the House of Commons, alongside other party leaders, to decide on a new system for reporting sexual harassment and violence across parliament.
May said on Monday that the recent allegations – which have so far led to the resignations of a cabinet minister and a government whip – were "deeply troubling" and she vowed to "establish a new culture of respect at the centre of our public life".
Meanwhile the PM's spokesman was forced to deny that her close ally Gavin Williamson, promoted to defence secretary last week after Michael Fallon resigned, had "sat on" allegations when he was chief whip.
A number of Conservative and Labour MPs are being investigated over allegations of sexual misconduct. Tory MP Chris Pincher stood down as a government whip on Sunday following claims that he made unwanted advances towards a party activist.
It comes after Fallon resigned as defence secretary last week as he admitted his past behaviour had "fallen short". The first secretary of state Damian Green is being investigated by the Cabinet Office following a complaint about his behaviour.
Three other Tory backbenchers – Stephen Crabb, Daniel Kawczynski and Daniel Poulter – have been referred to the party's new disciplinary panel following media reports. And Tory MP Charlie Elphicke has been suspended from the party and faces a police investigation.
Labour MP Kelvin Hopkins has also been suspended from his party after a complaint from a party activist, and Clive Lewis also faces investigation. Another Labour MP, Ivan Lewis, has apologised for making some female colleagues "uncomfortable".
In his letter to May, Corbyn said: "We believe there should be a minimum standard of support for parliamentary staff, vetted and certificated by an independent authority.

"Such an authority should offer an independent route for counselling, reporting and representation through complaints procedures, as well as powers to recommend reporting of criminal allegations to the police.
"We further believe it is necessary to introduce a minimum standard training programme for MPs following each general election in best-practice employment standards and management of their parliamentary offices."
Labour's Jess Phillips, who worked for the charity Women's Aid before becoming an MP, welcomed Corbyn's suggestions.
She told BuzzFeed News: "I think it's good, I would also push for a specialist sexual violence organisation to be involved, because from what I've seen in the last few weeks there is a basic misunderstanding of sexual harassment and violence.
"So he's bang-on about the independent element but I also think there needs to be a specialist element too."
She also urged Corbyn to push May on making sure alleged victims had legal aid, if required, to make their case heard against richer, more powerful perpetrators.
Caroline Lucas, co-leader of the Green party, welcomed Corbyn's call for training – but said it didn't go far enough because it meant waiting for a general election to start. "This kind of consent and employment training should be compulsory – and it should start now," she said.
"Today I'll be urging the prime minister to introduce consent lessons, look at reforming employment structures so that MPs are no longer employers, bring in a code of conduct for MPs and resource parties to help them have more robust and independent legal and human resource capacity. We also need a robust independent grievance and complaints process here in Parliament."
In a speech to the Confederation of British Industry conference in London, May said she wanted parliamentary staff to "feel confident that they are working in a safe and secure environment, where complaints can be brought forward without prejudice and victims know that those complaints will be investigated properly".
She said: "Women and men should be able to work free from the threat or fear of harassment, bullying or intimidation. But for too long the powerful have been able to abuse their power, and their victims have not felt able to speak out."
UPDATE
After the meeting, May said the party leaders had agreed to introduce a new complaints procedure and upgrade an existing complaints hotline.
She told reporters: "We are going to ensure that there's an upgrade to the existing phone line for staff so that staff in future will be able to get face-to-face HR support and for that to be in place by the end of the month.
"And we've also agreed that we need a completely new grievance procedure for staff working here, for everybody working here, and that that should come into effect in the new year."