Jeremy Corbyn Has Just Changed Tactics At PMQs And Left Cameron Rattled
The Labour leader pushed the PM on tax credits and he refused to answer six times.
by
,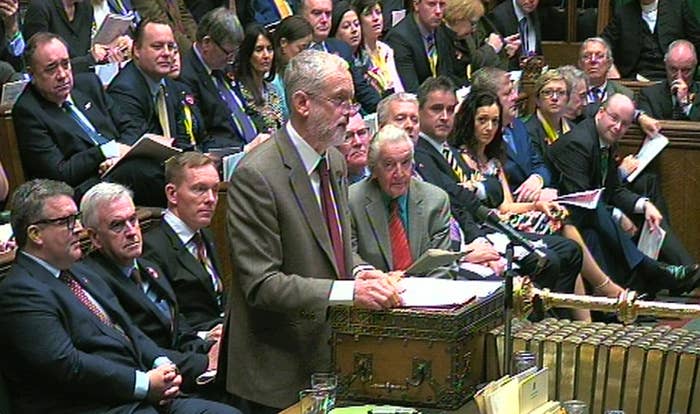 Jeremy Corbyn has surprised MPs by changing tactics at Prime Minister's Questions – focusing all six of his questions on one topic for the first time, and ditching his previous reliance on crowdsourcing.
The Labour leader won praise in Westminster for choosing to focus on planned cuts to tax credits, which have been thrown into chaos following embarrassing defeats for the government in the House of Lords.
David Cameron was left on the back foot, repeatedly refusing to say whether tax credit claimants would still be worse off when measures to "lessen" the impact of the cuts are announced next month.
Corbyn's approach was markedly different to the "People's PMQs" style he has embraced in previous sessions, when he read out a mix of questions sent in by members of the party.
Noticeably, the Labour benches appeared to be fully behind the leader this time round – and repeatedly shouted "Answer the question!" at Cameron as he struggled to get the upper hand.
And political commentators also seemed impressed, with many judging it to be Corbyn's best PMQs performance so far.

But new research released by pollster YouGov on the same day revealed that his approval rating has slumped to minus 20. Only 30% of people now believe Corbyn is doing well, while 50% say he is doing badly.

That compares to an approval rating of minus 8 soon after he was elected Labour leader last month. Meanwhile the prime minister's personal rating has fallen to minus 6 – down from a positive rating of plus 3 last month.
Corbyn's rating suggests that no matter how much he impressed Westminster commentators with one PMQs session, most voters are still far from convinced about him as a potential prime minister.
Labour MPs will hope that he is able to keep Cameron under pressure on all issues, and not just tax credits – which was viewed by some as an open goal after the Tories' week of hell.
Labour and Liberal Democrat peers defeated the Tories twice on Monday night over tax credit cuts, which could see 3 million families lose an average of £1,000 a year. Chancellor George Osborne has promised to "lessen" the impact and said details will be announced in next month's autumn statement.

Corbyn claimed that Cameron had "lost the support of many people in this country who are actually quite sympathetic to his political project" over the cuts.
He said: "This is not a constitutional crisis, this is a crisis for 3 million families in this country." And he couldn't resist using his last question to highlight concerns from public sector worker "Karen" – which sparked loud jeers from the Tory benches.
"Can he give a cast-iron guarantee to Karen, and all the other families who are very worried what is going to happen next April to their income, how they're going to make ends meet?" Corbyn asked.

"He could give them the answer today. I hope he will. I ask him for the sixth time: Please give us an answer to a very straightforward, simple question."

Cameron replied: "The reason the Labour party lost the last election is because they are completely untrusted on the deficit, on debt and on a stable economy. Since then the deficit deniers have taken over the Labour party, that is what happened.
"When you look at their plans: borrowing forever, printing money, hiking up taxes – it is working people like Karen that would pay the price."