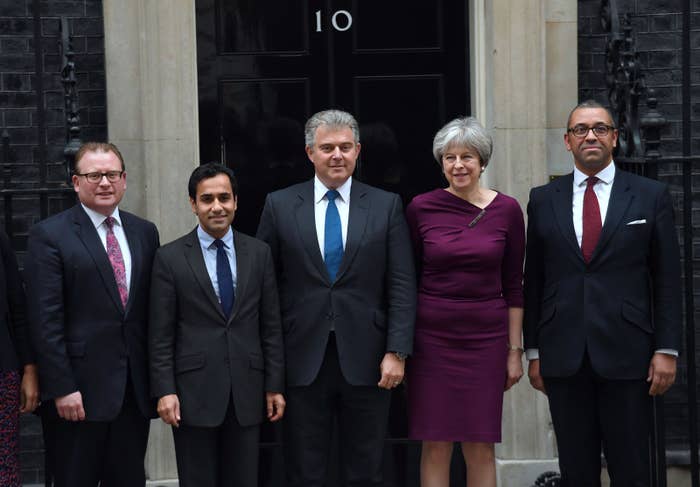 Theresa May kept her most senior Cabinet ministers in post as she carried out a limited and somewhat chaotic reshuffle of her top team on Monday.
However, Number 10 announced that education secretary Justine Greening had left the government. A source close to Greening told BuzzFeed News that she had refused the job of work and pensions secretary and resigned. She was replaced as education secretary by Damian Hinds, a former work and pensions minister.
Another minister who reportedly refused to move job was health secretary Jeremy Hunt, a close ally of May.
After more than an hour in Number 10, he emerged with his old job – for the fifth consecutive reshuffle – with added responsibility for social care services, which has until now been overseen by local authorities.
Foreign secretary Boris Johnson, chancellor Philip Hammond, home secretary Amber Rudd, environment secretary Michael Gove, health secretary Jeremy Hunt, and Brexit secretary David Davis all remained in place.

Andrea Leadsom will continue as leader of the House of Commons. After her reappointment was confirmed, she tweeted: "Delighted to stay in my current job.
"There's a lot to be done and I am very optimistic about the future of our great country as we leave the EU."
Liz Truss, former chief secretary to the Treasury, remains in her post. Julian Smith will also stay on as chief whip.
Esther McVey has taken on the role of work and pensions secretary. The Tatton MP had been a government whip since returning to parliament last year after losing her seat in 2015. Formerly she was a welfare minister under Iain Duncan Smith.

David Gauke was moved from his role as work and pensions secretary to become justice secretary, the third person in the role since Michael Gove was sacked in July 2016.
Meanwhile David Lidington, the former justice secretary, replaced Damian Green in the Cabinet Office after Green was forced to resign last month, but he has not taken on Green's title of first secretary of state.
Greg Clark, the secretary of state for business, energy, and industrial strategy, was tipped to lose his job to Hunt, but he, too, remains in the same post.
The news of Hunt's reappointment was met with some resignation from NHS staff who have been vocal critics of him.

Phil Noyes, a senior NHS nurse, said: "I think many of us believe that health and social care are linked, but the most pressing shared need is for resourcing to meet actual demand.
"If this doesn't follow, it's like being chained together and then being asked to swim in heavy seas. I would like to hear that he has secured a better funding deal, but [Hunt's] record to date has been far too little and far too late."
Confusion reigned early on Monday as the official Conservative account tweeted that transport secretary Chris Grayling had been appointed party chairman – before swiftly deleting the tweet.
Tory chairman Sir Patrick McLoughlin later confirmed he had left the cabinet, with Number 10 tweeting later that Brandon Lewis would take up the role.
Grayling is staying at the transport department, Downing Street confirmed.
McLoughlin's departure follows the party's failure to win a majority in last summer's general election. The Tories' disastrous two-month campaign saw May's personal approval rating plummet.

Lewis's appointment will be welcomed by Tory activists who were frustrated by party's response to the disastrous general election and believe its central structures need to be overhauled if they're to avoid being outgunned by Labour in the next campaign.
Stephen Canning, a Tory youth activist and management consultant who has worked for Lewis, told BuzzFeed News: "Brandon is a huge asset to our party – loyal to his PM and his party, but with an eye on renewal and change. Experienced, but a fresh face who understands the grassroots and can connect with young and old alike."
One Tory MP said that as a "working-class Essex boy", Lewis would help rejuvenate May's plans to broaden the Tories' appeal to voters in Labour's traditional heartlands.
But social media users immediately began to make jokes about the chaotic start to the reshuffle.
David Lidington was confirmed as the new chancellor of the Duchy of Lancaster and minister for the Cabinet Office. He was replaced as justice secretary by David Gauke, the former work and pensions secretary.
Gauke is the third new face in the role since Michael Gove was sacked in July 2016.
Meanwhile, James Cleverly, the MP for Braintree, who is popular among the Tory rank and file, was appointed Conservative deputy chairman.
A former soldier, Cleverly is a combative presence on Twitter – a medium that few Tory MPs have mastered – and has made a point of engaging with activist groups since the election.
At one unofficial drinks function before Christmas, attended by BuzzFeed News, he received a rapturous reception from the dozens of young Conservatives present.
Several Conservative vice chairs were also announced, including Maria Caulfield for women, Ben Bradley for youth, Kemi Badenoch for candidates, Marcus Jones for local government, and Chris Skidmore for policy.
Caulfield's appointment was criticised by pro-choice campaigners because she has vehemently opposed a reform that would see abortion taken out of criminal law.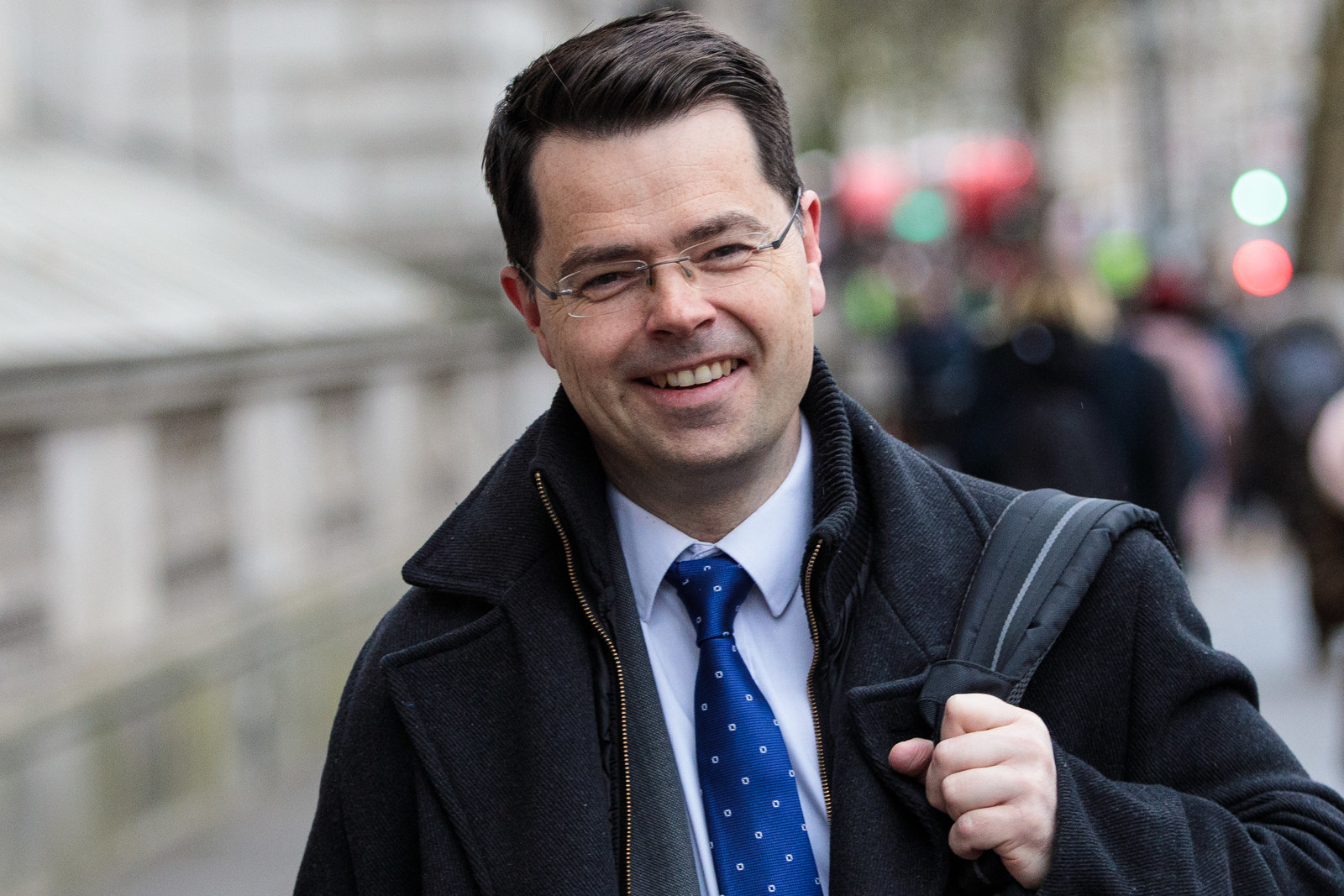 In a separate development, James Brokenshire resigned as Northern Ireland secretary due to ill health. He is set to undergo surgery within the next few weeks for a "small lesion in his right lung".

In a letter to the PM, he said: "Clearly my long-term health and my family are my priorities and I intend to proceed with surgery at the earliest opportunity ... My focus will now be on getting on with surgery, getting on with my recovery and getting back to frontline political duties and my responsibilities as MP for Old Bexley & Sidcup."
Brokenshire has been replaced as Northern Ireland secretary by Karen Bradley, the culture secretary. Like Brokenshire, Bradley was a junior minister in the Home Office when May was home secretary.
The new culture secretary is Matt Hancock, who was formerly a culture minister. Sajid Javid remained in post but his new title will be housing, communities and local government secretary.
The cabinet reshuffle comes ahead of a shake-up of junior ministers on Tuesday. May has come under mounting pressure to shake up her top team and make it more representative of the country at large.
On Sunday, May reiterated that she wanted to carry on as Conservative leader until 2022, when the next general election is due. "I'm not a quitter," she told BBC1's Andrew Marr Show. "I'm in this for the long term. I've said that I want to fight that."