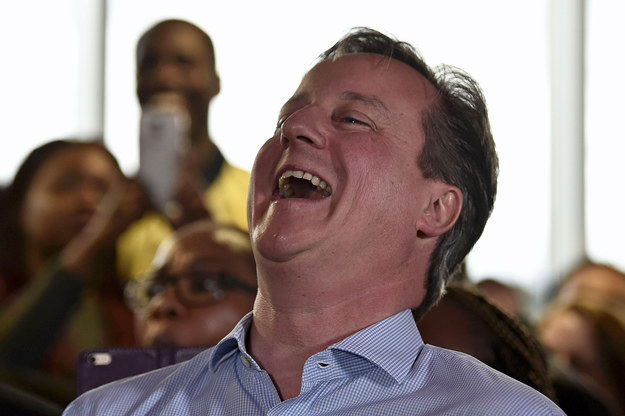 The Conservatives are feeling on top of the world ahead of their four-day autumn conference. This is the moment party members have been looking forward to – the chance to get together and pat themselves on the back for securing an unexpected outright majority in the general election. And they will no doubt be high-fiving each other in the bars over the election of Jeremy Corbyn as Labour leader, who many believe will make the opposition completely unelectable for years to come.
The conference in Manchester begins on Sunday and ends with a speech from David Cameron on Wednesday. Thousands of delegates will descend on the city to hear from cabinet ministers, attend the informal fringe meetings, and circulate in crowded hotel bars. But it won't all be plain sailing. Here BuzzFeed News outlines what to look out for.
Massive protests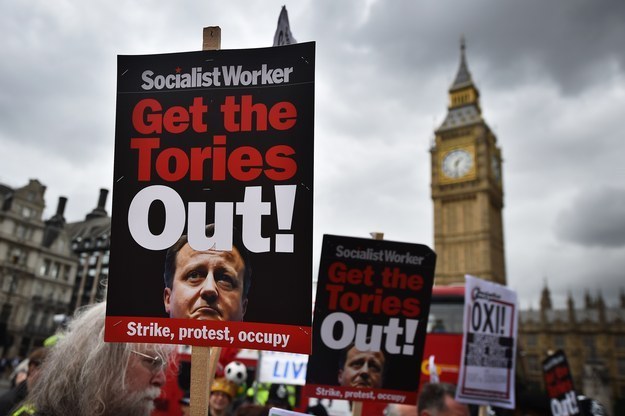 The TUC is planning a huge anti-austerity march on Sunday to coincide with the start of the conference. Tens of thousands of protesters are expected to join the huge march through Manchester, which starts at 1.30pm. Coaches have been laid on from towns and cities across the country to make sure people can join the protest.
Tory members have even been warned to hide their conference badges when walking around the city centre to avoid trouble. In an email, party chair Lord Feldman said: "The march will pass close to the conference venues and I wanted to let you know that there may be road closures and potentially some local travel disruption on the day. It will be particularly important not to wear your conference security passes outside the secure zone."
A cameo from Jeremy Corbyn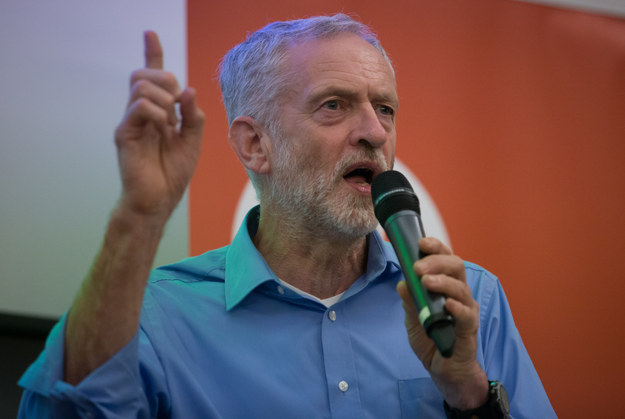 Labour's new leader, Jeremy Corbyn, will prove a massive distraction by joining a big rally in Manchester on Monday evening. Traditionally party leaders have avoided the cities where their political rivals are holding conferences. But Corbyn has agreed to speak at a "People's Post" event organised by the Communication Workers Union at Manchester Cathedral, right in the middle of the Tories' gathering.
The rally aims to protect both postal services and "decent employment standards" in the industry, which the CWU claims are under threat from privatisation and red tape. Corbyn will be joined on stage by CWU general secretary Dave Ward, Green party leader Natalie Bennett, and Milifandom founder Abby Tomlinson alongside others.
Potential leaders jostling for position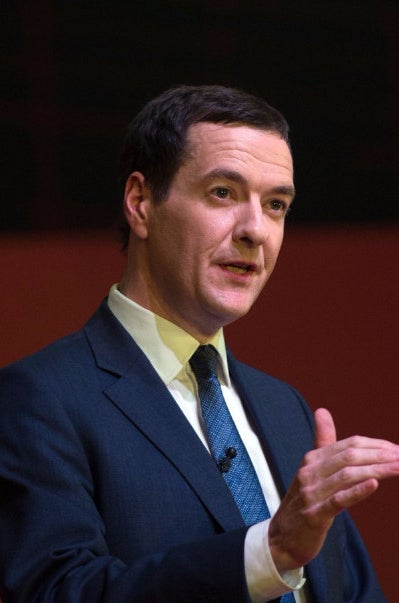 Before the election, David Cameron let slip that he would not serve a third term as prime minister – and tipped chancellor George Osborne, home secretary Theresa May, and London mayor Boris Johnson as potential successors. Speculation is now rife in Westminster that Cameron will step down early in 2019, allowing a leadership race to take place that summer before the 2020 general election.
Osborne, May, and Johnson will each get their chance to shine next week. Osborne's speech will come on Monday lunchtime, while May will speak on Tuesday morning – immediately followed by a speech from Johnson the same day. They will also get involved in fringe meetings where they will get the opportunity to show their softer sides and will tour the big parties to make sure they press the flesh and win over members and journalists.
But there is another minister to watch, too. It emerged this week that Nicky Morgan, the education secretary, is considering throwing her hat in the ring. Her comments sparked memories of another female education secretary who became Tory leader and prime minister – Margaret Thatcher. All eyes will be on Morgan's speech on Tuesday afternoon.
Airstrikes in Syria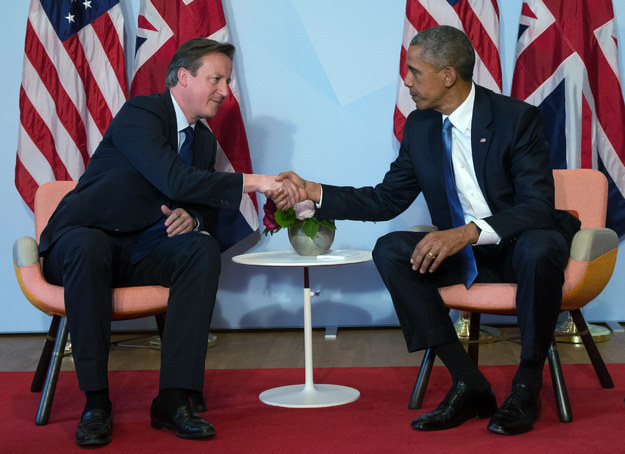 The conference won't be completely inward-looking. Foreign affairs will be high on the agenda after Russia launched airstrikes in Syria just days before. Cameron is understood to be planning for a House of Commons vote soon on whether to extend UK airstrikes from Iraq into Syria to tackle ISIS extremists.
With TV cameras trained on the conference, the PM could use the event to signal his intentions on when this is likely to happen. Foreign affairs, defence, and international development will take centre stage on Sunday. Cabinet ministers will repeatedly underline the "threat to national security" under Labour after Corbyn announced he would never push the nuclear button.
Europe (again)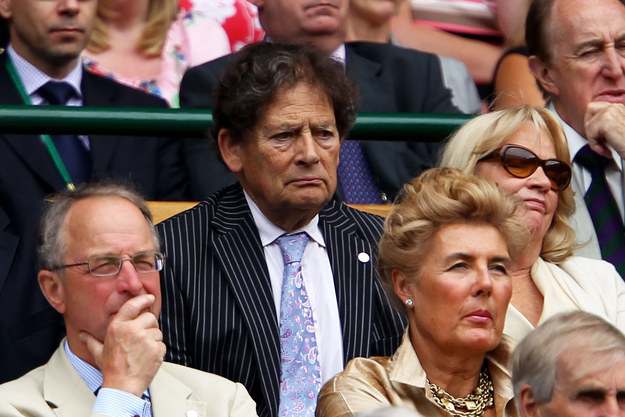 The referendum on Britain's membership of the EU, which Cameron has promised will take place before the end of 2017, will dominate the coming months. The issue of Europe has long divided the Conservative party and this conference will no doubt see new tensions bubbling to the surface. Lord Lawson, the former chancellor, is now president of the Conservatives for Britain group – which will campaign for Britain's exit from the EU.
Cameron wants to be given space to renegotiate Britain's links with Brussels first. But Lord Lawson has said eurosceptics should act early to prevent "less moderate, xenophobic voices" dominating the debate. He will likely be backed by a number of MPs at conference who are growing impatient with the prime minister. Expect to see a few heated arguments in fringe meetings, and an appeal for calm in Cameron's speech on Wednesday.
The timetable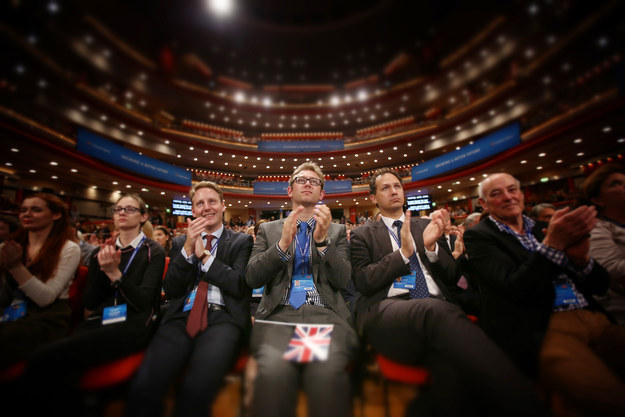 Sunday 4 October – "Britain's place in the world"
– Speeches from the foreign secretary Philip Hammond, defence secretary Michael Fallon and international development secretary Justine Greening.
Monday 5 October – "Party of working people"
– Speeches from the business secretary Sajid Javid, culture secretary John Whittingdale and transport secretary Patrick McLoughlin.
– Speech from chancellor George Osborne.
– Speeches on energy, local government, and the environment.
Tuesday 6 October – "Party of opportunity"
– Speech from home secretary Theresa May.
– Speeches from London mayor Boris Johnson and Tory mayoral candidate Zac Goldsmith.
– Speeches from education secretary Nicky Morgan, plus work and pensions secretary Iain Duncan Smith and health secretary Jeremy Hunt.
Wednesday 7 October – "Bringing the country together"
– Speeches from the ministers for Wales, Northern Ireland, and Scotland.
– Closing speech from David Cameron.